Based on the Gold Coast QLD, Armrock Constructions are bathroom renovation specialists. We use a variety of solutions to achieve optimal results in our renovations. A popular option we're looking at here are timber-look laminates – they look amazing, especially when used as a bathroom vanity solution. On this page we'll discuss the advantages of this approach, discuss products and display completed timber-look laminate projects from our recent work. Alternatively, follow the link below to book a free appraisal and quote with our team for your renovation.
What is Timber-Look Laminate?
Laminate solutions are popular in kitchens and bathrooms for bench-tops, vanity tops, and cabinetry exteriors. Why? They give you access to opulent style options at a fraction of the price. Modern laminates are engineered to be hard-wearing and, once professionally installed, they look just like the real thing. Check out this timber-look laminated vanity from a recent Gold Coast project: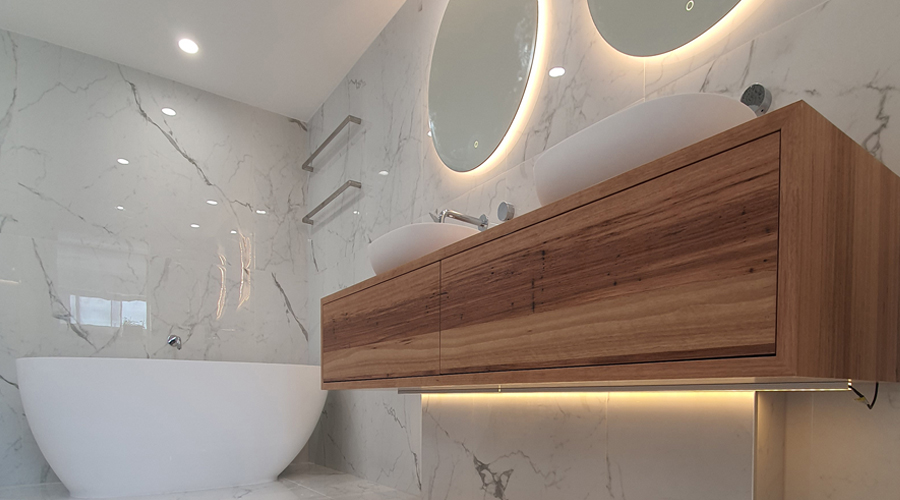 Timber Laminate Products
We've been using Nikpol's EGGER range on a variety of kitchen and bathroom projects lately. Some options include texture enhancement with timber grain making for a complete timber experience and creating a natural, calming aesthetic for this bathroom renovation.
Custom Bathroom Vanities
We build custom vanities for bathrooms and laminated solutions are popular for their bench tops. You can learn more about our custom vanities here.
Successful Gold Coast Bathroom Renovations
Bathroom renovations can be complex – numerous careful decisions and actions are required, in the right order, to build a bridge between your vision, your structure, your budget and your new bathroom. We're here to help you make it a success. Get your bathroom renovation started today with the team from Armrock Constructions and make yours a success too.