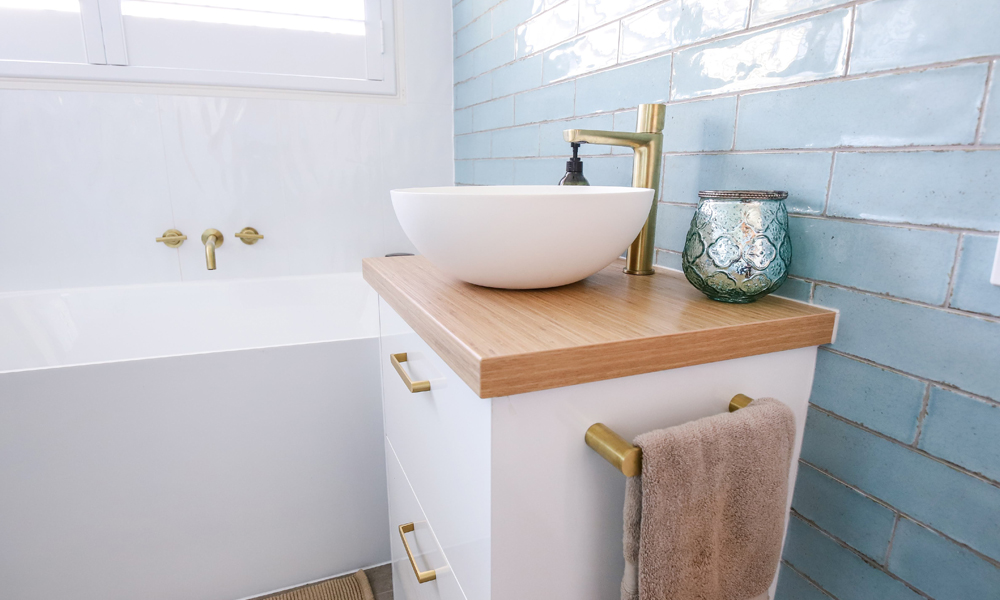 Gold Coast Bathroom Renovations
Is it time to renovate your bathroom? Armrock Constructions is a bathroom renovation company based on the Gold Coast QLD. Talk to our team.
Beautiful Gold Coast Bathroom Renovations
Armrock Constructions specialise in Gold Coast bathroom renovations. We combine experience and expertise to achieve outstanding results, and breathe new life into not only your bathroom but into your entire home, with bathroom upgrades that increase the value of the property and improve the lifestyle of residents. For beautiful bathroom renovations on the Gold Coast QLD, talk to our team today – we offer a free consultation and quote.
The Armrock Difference
Armrock Constructions is different to other bathroom renovation companies. We provide a complete and comprehensive service. Our purpose is to not only achieve the right type of bathroom result to meet your objectives, but to make the process simple, stress-free and streamlined as well.We consider ourselves the leading bathroom renovation company on the Gold Coast. Our team is organised, dedicated and effective. Learn why our clients love working with us:
Builder-Led Expertise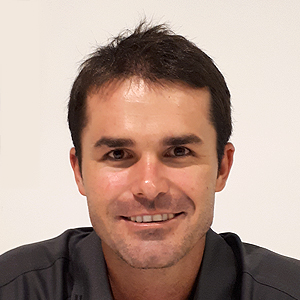 Armrock Constructions is led by founder and builder Roland Balo. Roland takes great pride in delivering high-quality work. He created Armrock Constructions to take the stress out of the process for homeowners often forced to act as project managers. To learn more about Roland and our team, please visit the about page.
Terry Christo
We had the pleasure of dealing with Roland and his team. They are professional courteous clean and most importantly excellent communicators during the process. Their workmanship and pride in achieving an excellent result is a breath of fresh air when dealing with trades people. I highly recommend them.
Lucy Fisher
Great communication, good attention to detail. We were so impressed. Our new ensuite looks amazing!
Joel Boniwell
The moment I contacted the owner Roland I was at ease with proceeding with this company. Not only does he come across as a genuine person, he is punctual and sticks to his word. He had everything organised and the renovation of my en-suite went exactly as planned and the quote was spot on. The tradesman he organised for the job are all extremely punctual and extremely qualified at their specific trades. I can't give this company a stronger recommendation and will be sure to use Roland and his team for any future renovations. A+ Service in an industry that you will seldom find it in.
Richard Anyos
Good, friendly, prompt, reliable service with attention to detail.
Mark & Di Branks
Roland delivered an exceptional product. Our Bathroom upgrade was completed on time and to budget. As with most renovations there were a number of unforeseen issues and Rolands ability to offer practical, cost effective solutions was exceptional. A very professional, clean and tidy builder and we have no hesitation in recommending his services.
Cameron Grant Ruksenas
Great service from the owner Roland. Nothing was a problem and service and price was reasonable! Will recommend to others.
Small Reno Testimonial
I don't often write reviews but felt this time I had too. A huge thank you to Roland from Armrock constructions. From the first time I contacted Roland he could not have been more helpful and professional. Roland was on time, got the job done and left my home clean and tidy. Please if your wanting a small spruce up or a full reno done these are the people to call. Thanks once again Armrock.
Graham Robertson
Roland renovated both the Ensuite & main bathroom, removing the walls around separate toilets which increased the overall spaces. The team of guys who did the demolition & construction were really easy to deal with & the finish is excellent. It was no problem for us to request minor changes along the way. We're really pleased with the outcome & would thoroughly recommend.
Matt Lyons
Attention to detail. Great finish. Highly recommend these guys!
Shayna Kivlins
Highly recommend your company to anyone wanting an amazing and highly professional job done your attention to detail with our kitchen was 120% you were very helpful in all aspects from start to finish and the end product exceeded my expectations. You are a very talented guy and I can't thank you, Luke the sparkie and Chris the plumber enough for making my kitchen dream come to life.
Cameron
Roland from Armrock constructions has completed a few projects for our company and is always a pleasure to deal with. Always reliable, not like some tradies we have chosen in the past. Quality is something Roland strives for and it shows in his work. Would recommend to anyone.
Geoff Haigh
Excellent workmanship. Professional, on time. Easy to deal with.
Andrew Watkins
Roland and his team were very professional and affordable. We had two bathrooms and a laundry renovated by Armrock Construction and we couldn't be happier. Would definitely recommend them.
Renovation Testimonial
From quote to completion, Armrock was outstanding. We couldn't be happier. Hassle free and on budget. If you're after attention to detail you've come to the right place. Highly recommended. Thanks again.
Reiner Ebenhoch
Armrock Constructions did our powder room first. We were so impressed with their work that we contracted Armrock to do a minor reno to our master bathroom and a major renovation of our guest bath room, which also included the complete rebuilt and conversion of one room into a steam room. Again, Armrock did an excellent job! What sets Roland and his team apart is their customer focus, their uncompromising attitude to quality, integrity and customer satisfaction. We can recommend Roland and his team unconditionally and have so already to many of our friends!
Keith Munday
Very pleased with a very professional job completed by Roland and his team. Roland never failed to turn up when expected or respond to a message if he was unable to take a call. He was also helpful and patient while we changed our minds repeatedly about what we wanted. We're getting him back to do the kids bathroom!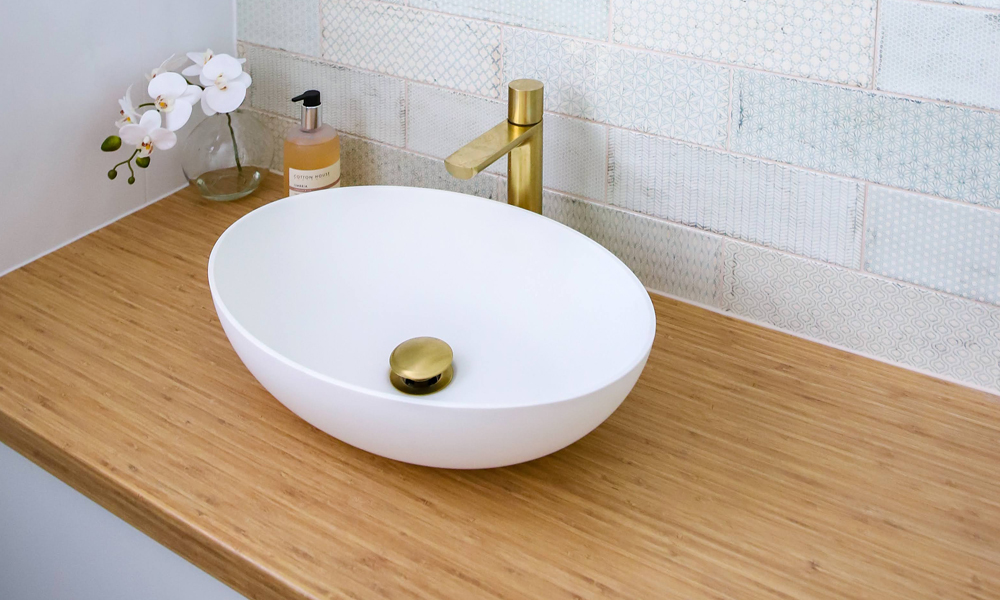 Project Management
A bathroom renovation has many moving parts. An exception result requires an organised, methodical approach. With Armrock's builder-led bathroom renovations, we offer project management to ensure every part of the project proceeds on time and within the priorities and schedule demanded by the job. Discuss what you'd like to achieve, and we will show you how to get it done.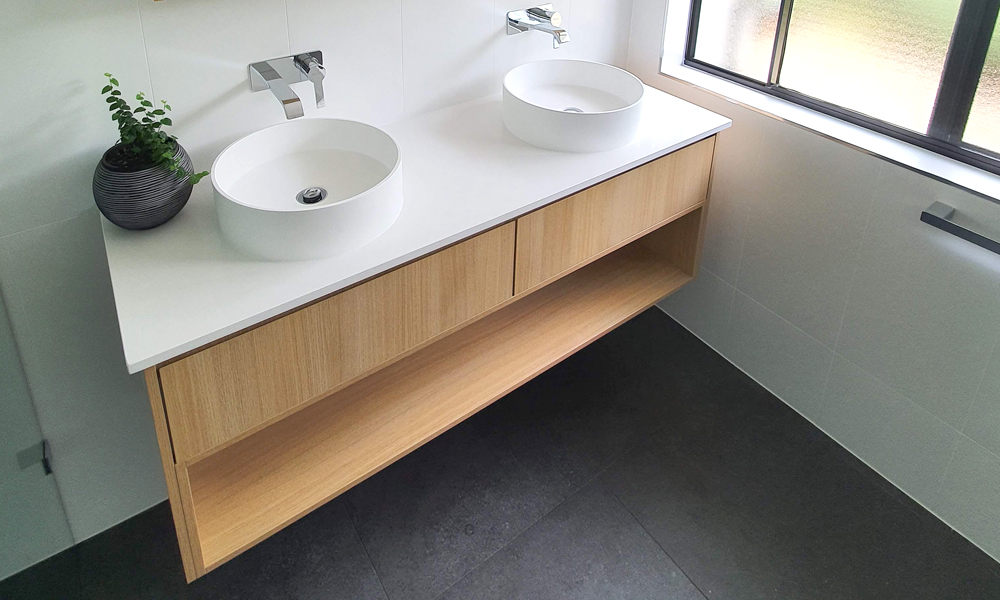 Complete Trade Team
Bathroom projects encompass a variety of professional skills. From design through to construction, connecting with the expertise to complete tasks is imperative. An advantage of working with Armrock is that we include all of the necessary trades to complete your renovation. We deal with rubbish & asbestos removal, and our team includes carpenters, plumbers, electricians, painters, plasterers & shower-screen installers - all organised and lined up to deliver the required work efficiently and seamlessly.
Recent Project Completions
This powder-room / ensuite renovation features an LED-lit circular mirror, a designer basin / mixer, and a variety of high-end touches!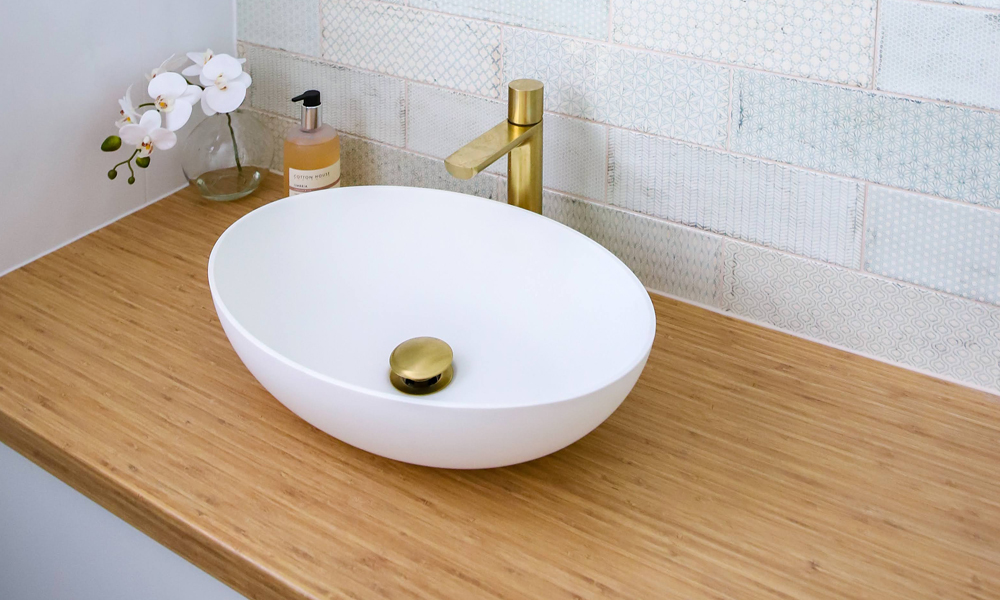 Modern Styles
What's the right style for your bathroom? We help our clients convert interior design ideas into the reality of a beautiful new bathroom. Make the most of our experience and collaborate with the Gold Coast's leading bathroom renovation company: Armrock Constructions.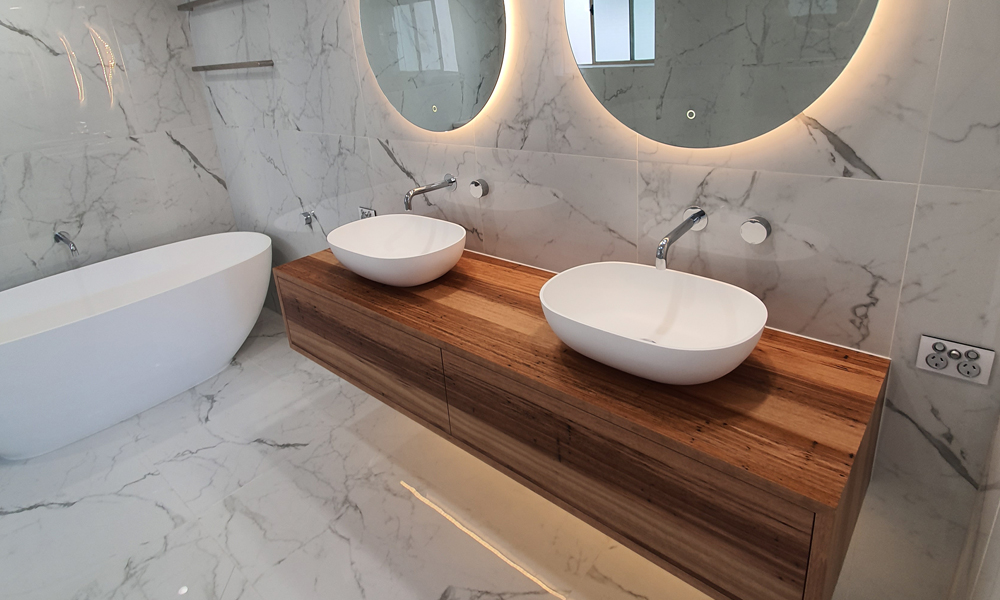 Selection & Acquisition
We're flexible, so whether you'd like to source and acquire your fixtures and fittings yourself, or need some help from our team, just let us know. Every renovation project is different, and we adapt to suit your requirements. Our process is flexible - we work with you towards the type of project you want to achieve.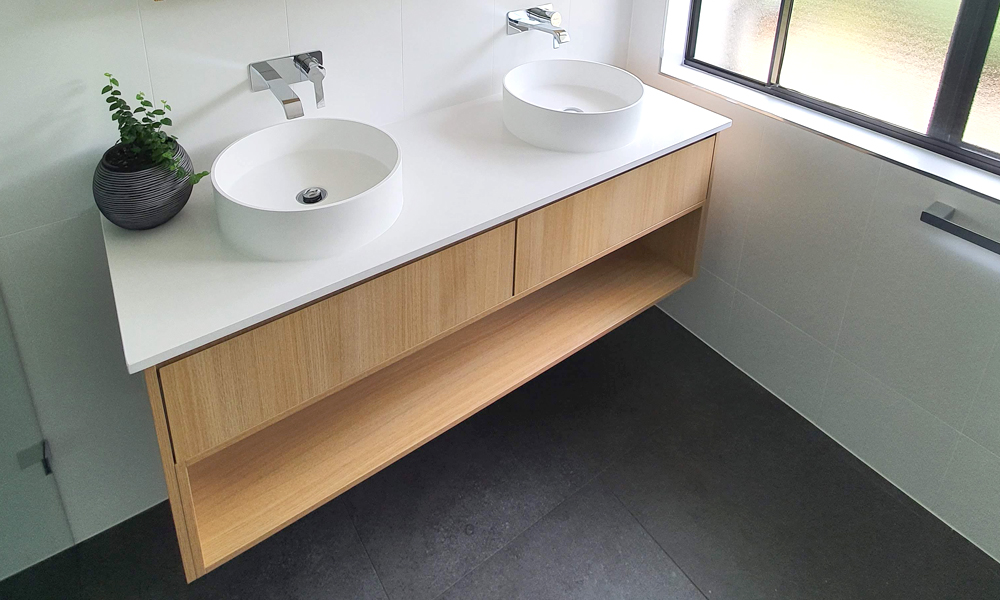 Custom Bathroom Vanities
The vanity unit is the keystone of any bathroom renovation is the vanity. Talk to our team about a vanity option to suit your needs. Custom vanities are the centrepiece of our renovations - designed expertly, specifically for your bathroom.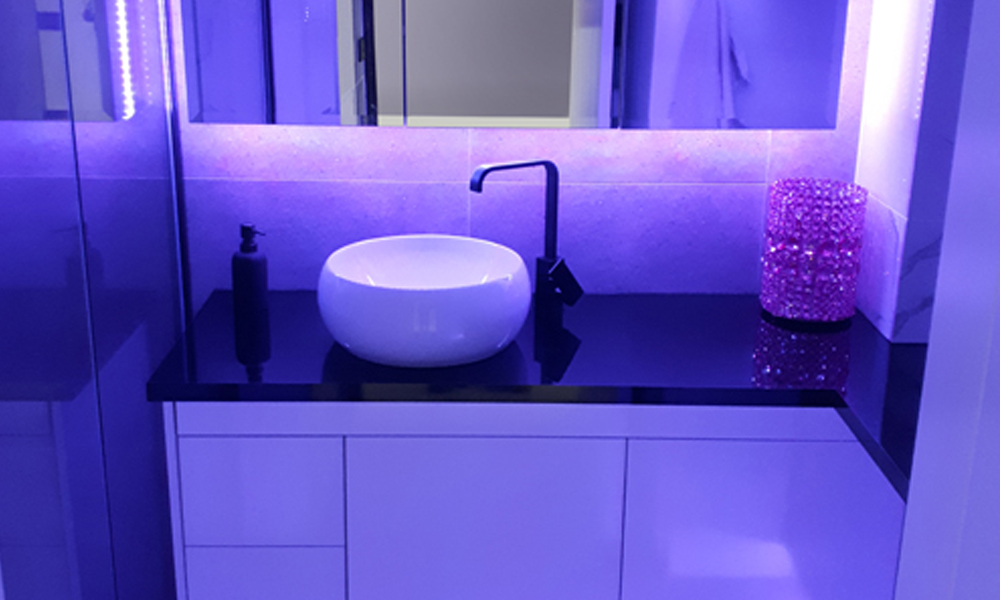 Bathroom Specialists
We specialise in bathrooms, toilets and laundry renovations. With this focus and our team's experience, we're ready to handle all of the challenges of a renovation project.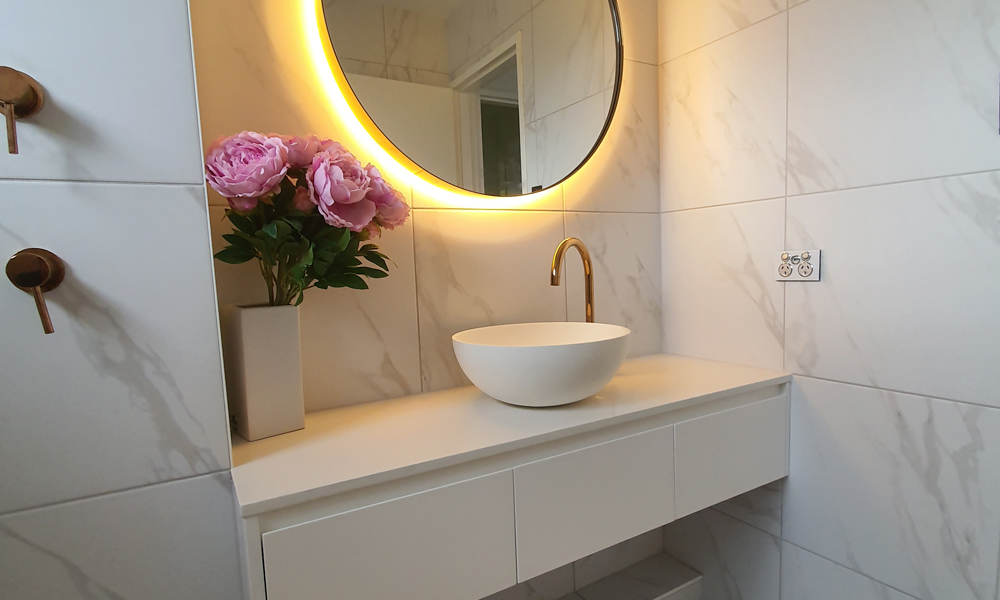 Flexible Solutions
Flexibility is the key to our solutions. We adapt and flex to accommodate budgets, inclusions, structural possibilities, timeframes and within broader construction projects as well.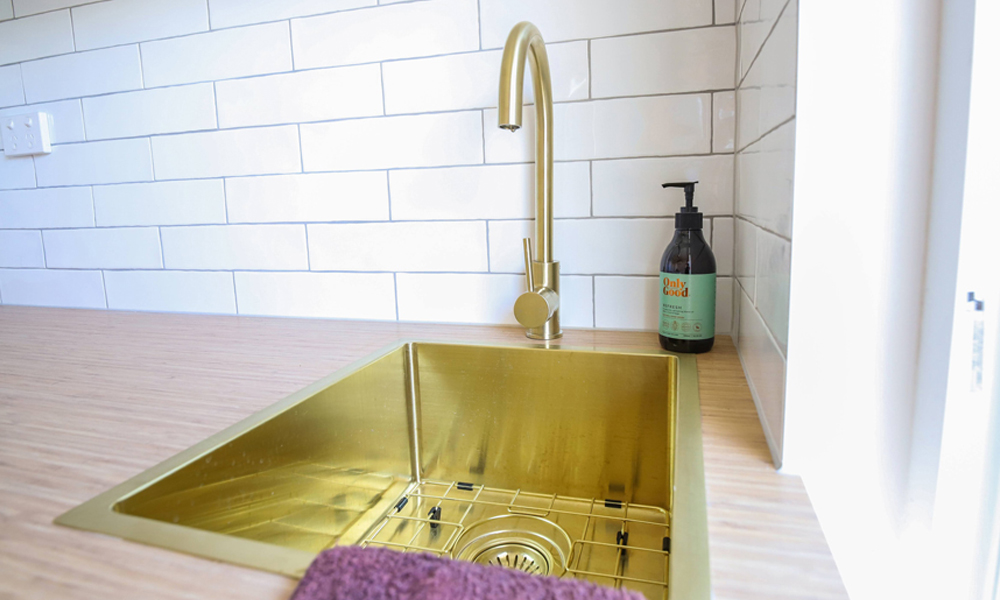 Collaborative Approach
A primary objective of our company is to make the bathroom renovation process easier and less stressful for you. We work together with you to accomplish your bathroom the way you want it to look, feel and function.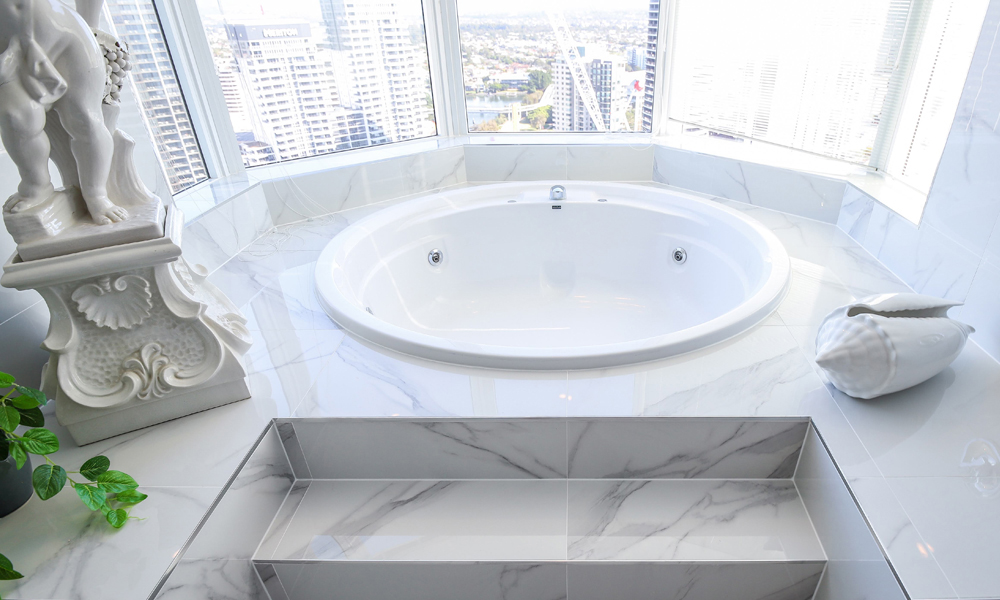 Asbestos Removal
In the demolition phase of the renovation, we test and facilitate the safe removal of asbestos. All sheeting is removed by licensed professionals, ensuring a safe renovation for our team and for residents of the dwelling.
Renovation Budget
Armrock Constructions are experienced Gold Coast bathroom renovators. We understand the important of delivering our projects on a budget and help you achieve this in a number of ways. We give you the flexibility to handle the acquisition of your fixtures, fittings and tiles, ensuring total control over purchasing. Because we work exclusively on the Gold Coast, we can often point you in the right direction for discounted solutions on the fixtures and fittings you're looking for.
Bathroom Renovation FAQ
How much does a bathroom renovation cost?

Every renovation is different – there is not a 'fixed cost' because of the variables such as the demolition, existing structure, fixtures and fitting selection, team required for your renovation, tiles, etc. We provide an obligation-free quote at the beginning which will explain the costs associated with your proposed renovation, and can help you adjust the quote to suit your budget. Our renovations are usually in the range of $7000 – $15,000.
How do I choose fixtures and fittings?

You may select and purchase your fixtures and fittings independently, or our team can take care of this for you. By consulting with us on fixtures and fittings, we can ensure the choices you like are functionally compatible with your renovation.
How long does a renovation take?

This depends on the type of renovation. An average renovation may take about 2 weeks. We aim to work as efficiently as possible. Because we project-manage your renovation, we can ensure the right tradespeople are there at the right time – keeping everything on track.
How many people are involved in a renovation team?

This depends on the type of renovation. A typical kitchen or bathroom renovation requires a builder, a tiler, and an electrician. We provide the entire team for your renovation project, taking the stress out of managing multiple people for you.
What guarantee is there that the work will be completed?

Armrock Constructions is committed to the work we take on. We will complete the work as agreed on your initial quote.
What happens to the rubbish / old kitchen / bathroom?

We will arrange for the removal of demolition rubbish, if this is part of the agreed quote.
What Benchtop Options Are There?

We work with stone, timber and manufactured materials such as laminates. Talk to our team about your renovation, and we'll discuss the available options with you.
Do you have budget and premium packages?
Do you service the whole Gold Coast region?
I'm not sure what kind of colours or styles I'm after, can you help?
Free Consultation & Quote
If you're considering a bathroom renovation on the Gold Coast, contact our team for a free measure and quote. We're sincere about what we do and dedicated to achieving great results, while making the process efficient and easy for our clients. We look forward to discussing your renovation.