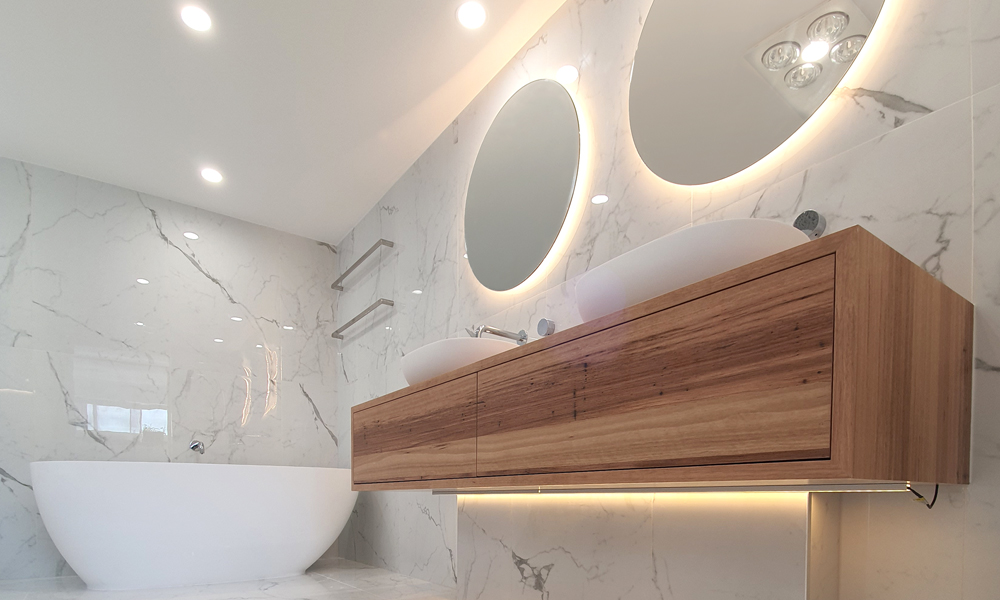 When it's time to plan your custom bathroom vanity, it's best to keep an open mind – to not be limited by the functionality of the previous vanity. When you're designing the look, feel and function of your new vanity, there are multiple ways of aligning your budget with the vanity of your dreams.
If you're on the Gold Coast QLD, our renovation team is here to help with custom vanity solutions that rapidly become the centrepiece of our new bathrooms. You can learn more about our custom vanities here. Don't hesitate to contact our team. We're here to help, and every new vanity includes a free consultation and quote.
Following is a collection of ideas to keep in mind to help with the process of designing your new bathroom vanity – brought to you by the Gold Coast's leading bathroom renovation company, Armrock Constructions.
New Location or Same Location?
A renovation is an opportunity to change the layout of your bathroom. Everything can be moved – the shower, the bath, the toilet, and the vanity. Generally, the decision to relocate any major aspect of the bathroom needs to be weighed up carefully. Every move has implications due to the dependency of these types of features on plumbing and electrical.
The decision to retain your vanity location or change it to a new one is best made with professional assistance. We can help you understand what's involved and help you make a decision.
How Many Sinks?
Custom vanities may feature a single or double sink setup. Double sinks are popular at the moment and are a luxury option that serves the function of improving bathroom efficiency as well as creating a more individualised bathroom experience. If you're looking to transition from a single sink to a double, talk to our team to understand what may be involved from a plumbing point of view.
Floor Mounted or Wall-Mounted?
Vanities can be floor mounted or hung on the wall. By raising them up and mounting them on the wall, space underneath the vanity is freed up which provides space for feet and may improve the visual flow of the room. This is especially important in smaller rooms, but is relevant in rooms of all sizes.
Tap & Basin Range
Have you ever tried to wash your hands under a tap that's too low, in a basin that's too high? When you're looking at taps and basins / sinks, keep in mind the usability and effortlessness of the solution. The combination should be workable and effective. Ideally, you should be able to freely wash your hands without hitting them on the tap or basin when you do so.
Integrate Your Vanity
The great thing about custom vanities is the ability to match them to the design of your new bathroom. A popular way to do this is to remember that the highlight features of your vanity (taps, handles, plugs) can be matched with other parts of the bathroom such as door handles, drains, shower taps, etc. This creates an easy integration that will help your vanity to fit into the bathroom.
Benchtops
If a vanity is the centrepiece of a bathroom then a vanity bench top is the centrepiece of the centrepiece. The style, texture and layout of the bench top all deserve careful attention. We work with natural and engineered stone, timber and laminates to achieve a variety of results across budgets.
A popular option at the moment is timber-look laminates. These help you to bring a modern design touch to even the simplest bathroom reno.
When you're designing a vanity benchtop, there may be established factors that constrain decision-making to certain choices, depending on the situation. However, we bring a variety of experience to such situations and will be able to help create options that work for your bathroom. Learn more about vanity benchtops here.
Splashbacks
Splashbacks (the tiled wall section behind your vanity) play an important role in connecting the vanity aesthetically to the rest of the room. When you're designing a custom vanity, the design of Splashback needs to be taken into account.
At the most basic level plain white tiles are always a popular option, and from here your imagination is the limit. Tiles come in a wide variety of shapes, styles and aesthetics. Keep in mind that a flamboyant inclusion may not prove as timeless as a simple and practical solution.