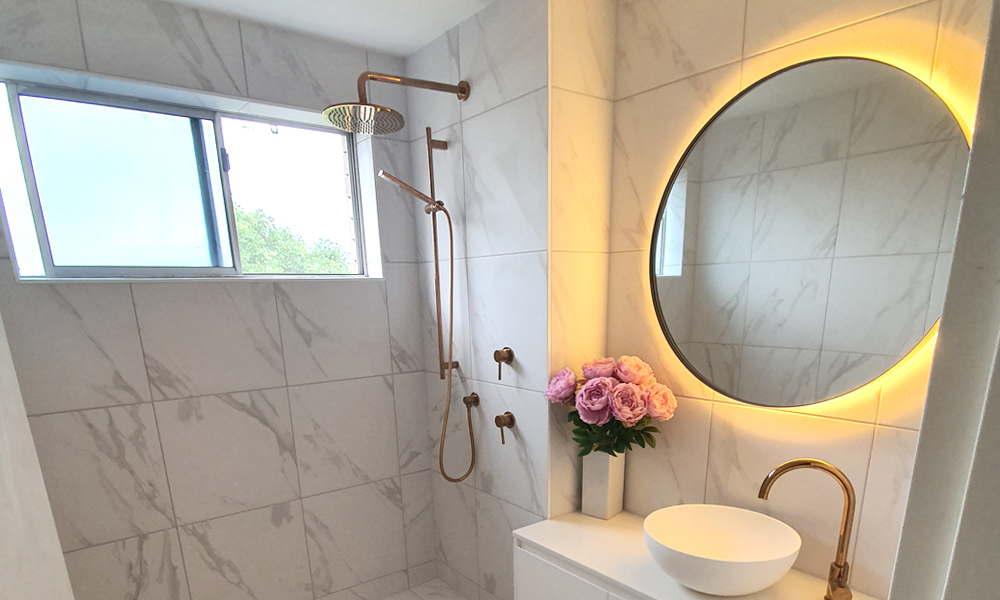 A shower is an essential addition to any bathroom. Armrock Constructions specialises in bathroom renovations on the Gold Coast, and in this article we're going to discuss important considerations around upgrading your shower, including choices on location, screens, tapware, tiling and plumbing.
If you're considering upgrading your Gold Coast shower, don't hesitate to contact our team. All of our projects begin with a free consultation and quote.
Dealing with Shower Shape in Bathrooms
Showers are often the tallest feature AND the most vertical feature in the bathroom. For medium-sized and larger bathrooms, this can present a design challenge – how to include a different shape in the room. Typically, bathroom features are horizontal (vanity benchtop, bathtub) or low-set (toilet, rails). Showers are they opposite – vertical and tall – how can they be included without looking out of position?
Shower Size
It's always worth looking at the size of the shower relative to the rest of the bathroom. There may not be any flexibility because of bathroom size or shower-screen size, but since it's a renovation it helps to think with an open mind. A larger shower is not only more functional but also allows the room to breath, and expanding the verticality of the shower solution also helps to integrate it with the rest of the room as well. 
Shower Heads
There are a wide range of ways to approach the shower head for your renovation. Factors to consider include your budget, the style you're going for, efficiency ratings, access to the components, the existing structure, and of course, the right renovation company for a successful result. Here's how we help make it easy for you:
Shower Head Selection
Like all fixtures and fittings in an Armrock renovation, you can acquire your own or discuss what you need with our team – we're happy to help. Acquiring your own gives you the opportunity to shop around and find the best price. We can guide you to local suppliers we know have got the right shower heads at great prices as well.
Shower Head Options
From budget shower head solutions to integrated plumbing masterpieces, there are a wide range of possible approaches to organising this important part of your renovation. The best way is to look around and create an idea of what you're looking to achieve – our team can then help by showing you how to approach it, and present alternatives as well.
Storage Solution
Yes – items will be kept in your shower! To avoid the worst-case scenario of storing them on the floor, consider a storage solution that suits your lifestyle. A permanent solution that's popular with our Gold Coast clients is a tiled niche – a nice design touch that adds visual value as well as creating a permanent place to store items.
Waterproof
Especially for open shower designs, identifying and controlling the way water may be controlled in the bathroom is a matter of good design and drainage. This is the difference between a solution that looks great and one that works well in a practical sense.
---
Relocating Your Shower
In a bathroom renovation, the old shower is often replaced without being relocated. Keeping the shower in the original position may be the best outcome, but it's always worth considering your options. A new bathroom may be best realised by a complete reconfiguration of the layout.
There is a popular school of thought that the relocation of any plumbing should be avoided due to the increased costs associated, but this decision should be made in the context of the scale of renovation, your ambitions for the new bathroom, and other construction considerations.
Because Armrock's services combine vital trades such as carpentry, tiling and plumbing, when we consult on your renovation, we can help you evaluate alternative approaches and their costs and benefits.
---
Types of Shower Enclosures
The type of enclosure your new shower will use is as much a case of personal preference as it is practical consideration. Shower screen options have changed a lot in recent times and sometimes the hardest part is making a decision! Here are some examples from our recent Gold Coast renovations.
---
Showerhead Water Efficiency
Whether you're motivated to save water or to save money, being aware of the water-efficiency benefits of different shower heads is a worthwhile exercise. Learn more about these here: water efficiency.