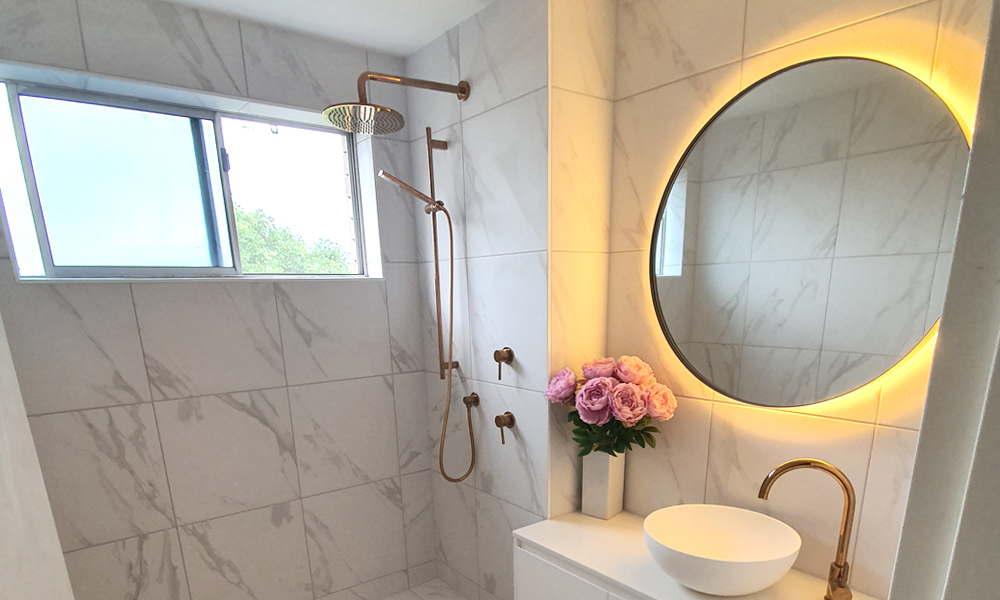 When it's time to remodel your Gold Coast bathroom, there are a number of essential choices that revolve around the shower. Not every bathroom has a bath, but every bathroom will definitely have a shower, and if you get this part right your will be well on your way to a successful bathroom renovation. On this page we take a look at these considerations and help you get started on the journey to the perfect bathroom renovation!
If you're considering a bathroom renovation, or have questions about upgrading your shower, please don't hesitate to contact our team. We're here to assist, and all of our projects begin with a free consultation and quote.
Shower Shapes and Sizes
A shower is often something of an odd shape in a bathroom renovation. Showers are the tallest feature in a bathroom, which can present a design challenge. How do you include an odd-shaped element like a shower in a bathroom, and get a result that is not just satisfactory but exemplary?
Read about tackling shower shapes and sizes
Shower Heads
The shower head is a key consideration in your bathroom renovation. Factors to consider include your budget, the style you're going for, efficiency ratings, availability of components, the existing structure, and of course, the right renovation company for a successful result.
Read about shower head considerations
Shower Storage – A Tiled Niche
Don't make it an afterthought.. you will be needing somewhere to store that soap and shampoo, and while there isn't anything wrong with retro-fitting a holder, you may consider a more integrated look with an Armrock Constructions tiled bathroom niche – a suave design touch that adds visual value as well as creating a permanent place to store items.
Read about tiled bathroom niches
Relocating Your Shower
A bathroom reno is a great opportunity to relocate your shower. Because the shower and the vanity are the main components in a typical bathroom, moving them around can create dynamic new interiors over which you have total control. But there are a few things to keep in mind!
Read about reconfiguring your bathroom
Building Your Shower In
When you're consider a shower for your new bathroom, you can go one of two ways: pre-fabricated or custom-made. Both of them have advantages. In this article, we look at how a custom-made shower can help bring the design of your bathroom together.