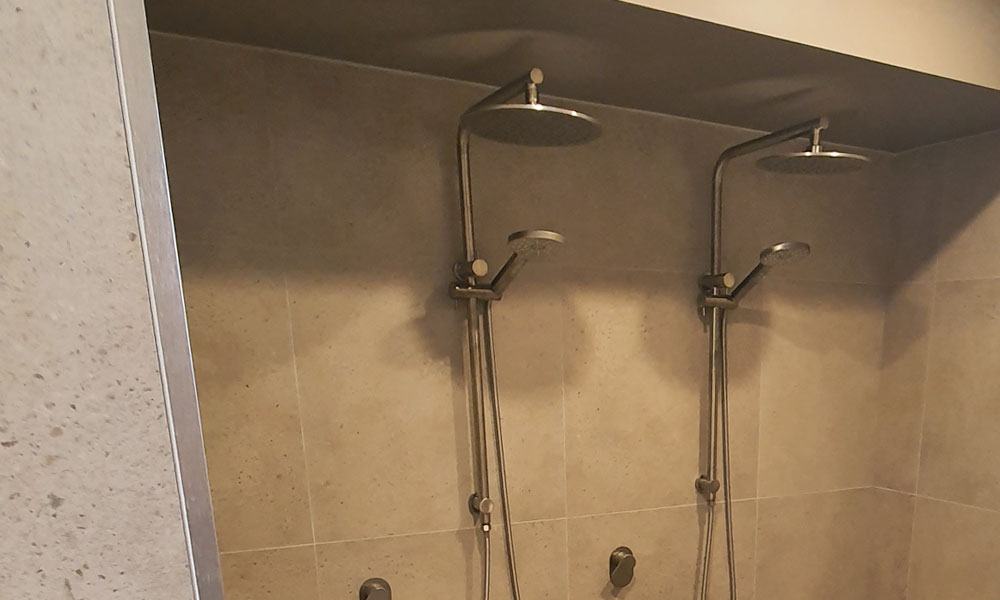 A shower is often something of an odd shape in a bathroom renovation. Showers are the tallest feature in a bathroom, which can present a design challenge. How do you include an odd-shaped element like a shower in a bathroom, and get a result that is not just satisfactory but exemplary?
Shower Shape and Room Shape
Making a shower work aesthetically is more of a challenge in some rooms than others. In particularly small bathrooms (like an ensuite), a shower tucks perfectly into the room: The tall vertical shape of the shower appears right at home. However, in larger guest and main bathrooms, it can be harder to make sense of a shower that stands alone as the only vertical addition in a room of otherwise low-set elements: the toilet, the vanity, the bath, are all waist-high or lower. So how do you make a shower work in a bathroom renovation?
Shower Screens and Room Relationships
An important consideration is the type of shower screen to be used: to a large extent, this choice can determine the visual presence of your shower in the bathroom. The lower the visual presence, the easier it is to get the tall, vertical shape of the shower to work harmoniously with a collection of otherwise low-set elements. Low-profile shower screens, or the complete absence of a shower screen, make it easier to accomplish this.
Shower Shapes and Fresh Ideas
The whole point of having a bathroom renovation is to refresh the old bathroom with a new, invigorated take on the bathroom, informed by your best sensibilities. Old showers were quite unimaginative compared to the modern possibilities on offer. One such example is in the shape of the shower. Traditional, square showers create traditional, vertical shower shapes – which may be harder to visually rationalise.
Remember, in bathroom renovation situation, there will be possibilities you haven't considered. One of the great aspects of our service lies in problem-solving. If you're worried about getting a good result from you choice of shower, just ask our team. We provide a free consultation, and we'd be glad to help you find a solution that is just right for your perfect bathroom.
Successful Gold Coast Bathroom Renovations
Bathroom renovations can be complex – numerous careful decisions and actions are required, in the right order, to build a bridge between your vision, your structure, your budget and your new bathroom. We're here to help you make it a success. Get your bathroom renovation started today with the team from Armrock Constructions and make yours a success too.