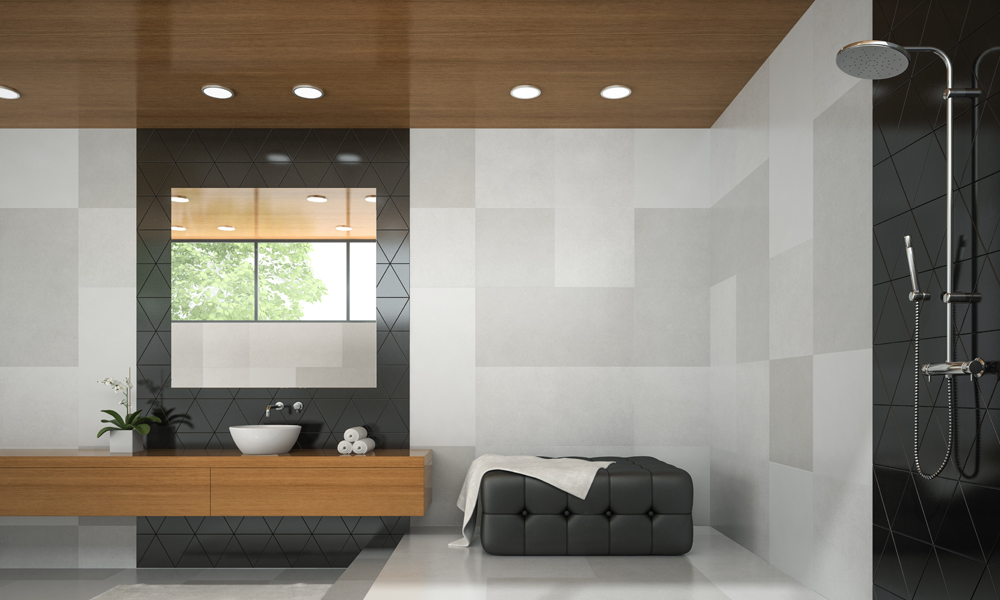 Typically, a shower is an odd-shaped feature in the range of elements that make up a bathroom. Unlike the other low-set, horizontal features, a shower is tall and vertical. Integrating the shower so it feels nicely in the room can be a challenge. One way overcoming this challenge is by using showers of different shapes and sizes. This is the topic we explore here today.
A Most Important Choice
The most important choice at the beginning relates to your budget, and how you intend to approach your shower: will you opt for a prefabricated or a custom-built shower? This decision will greatly affect the shapes and sizes available to you. A brief word on each follows:
Prefabricated Showers
Prefabricated showers are purchased ready-to-use. We install them as they come. Prefabricated showers are manufactured in standard shapes and sizes, so their options are somewhat limited in this regard. Prefabricated showers are a less expensive option.
Custom Showers
Custom showers are designed and built by our team. Their shape and size is only limited by the bathroom itself. Stylistically, custom showers are much easier to integrate into a room, since they are part of the room. Custom-built showers may cost more, but have the potential to really take your bathroom to the next level.
The Room Shape Factor
Different shaped rooms create different kinds of challenges for accommodating a shower into the design. In small bathrooms (like an ensuite), a shower tucks perfectly into the room. No wider and not much lower than the ceiling, it's easy to make a shower feel right at home.
However, in larger guest and main bathrooms, it can be harder to make sense of a shower when it's the only vertical addition in a room of otherwise low-set elements. In contrast to the the toilet, the vanity & the bath, which are all waist-high or lower, the shower can tend to stand out if no diligence to this problem is given.
The Role of Shower Screens
Regardless of the type of shower you opt for, one way to help fit the shower into the room is to minimise its presence. This can be accomplished by the type of shower screen used. A shower screen is comprised of screens, frames, and hinges. All of these components can accentuate or diminish the visual presence of your shower inside the bathroom.
By minimising the presence of your shower with a lower-profile shower-screen, the shape becomes easier to incorporate into the room. Generally, less expensive shower solutions also tend to have a stronger visual presence. With a custom option, we can help you create whatever type of effect you would like.
Shower Floor Concepts
The whole point of having a bathroom renovation is to refresh the old bathroom with a new, invigorated style. In the design phase, it's important not to be limited by preconceptions about what a shower should be. The traditional concept of a shower as a square-based, vertical enclosure is only one way of approaching a shower.
A custom shower floor can be a square, rectangle, circle, or a multifaceted shape. A key advantage of custom showers is the capability to build the shower with sympathy to the room. Using shapes that reflect, or complement the overall shape of the room helps the shower to find a home in the space. For example, in a long rectangular bathroom, a longer, rectangular shower-floor will have an integration advantage over a square-shaped floor.
One of the great aspects of our service lies in problem-solving. If you're worried about getting a good result from you choice of shower, just ask our team. We provide a free consultation, and we'd be glad to help you find a solution that is just right for your perfect bathroom.
Successful Gold Coast Bathroom Renovations
Bathroom renovations can be complex – numerous careful decisions and actions are required, in the right order, to build a bridge between your vision, your structure, your budget and your new bathroom. We're here to help you make it a success. Get your bathroom renovation started today with the team from Armrock Constructions and make yours a success too.