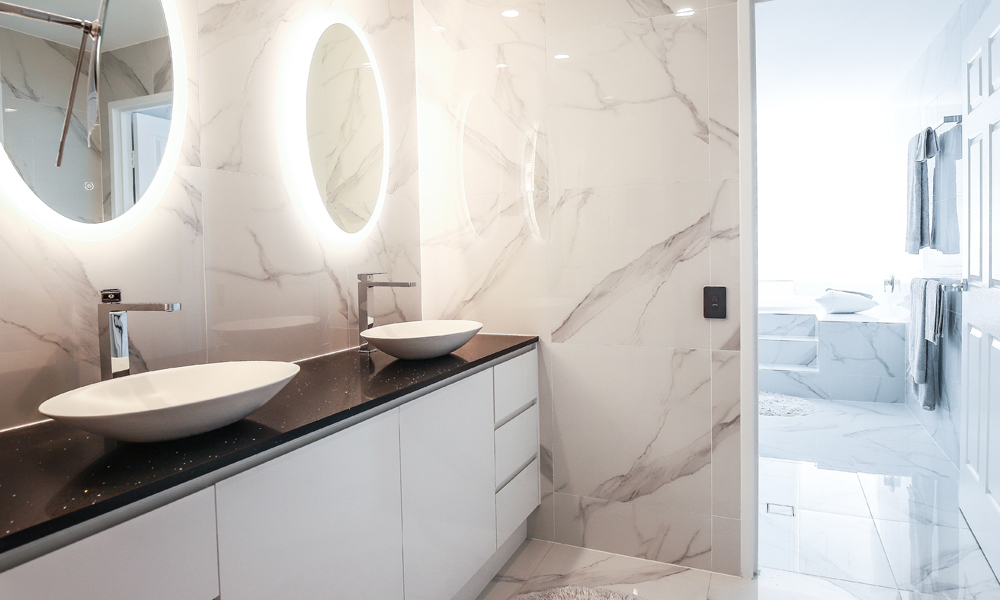 Armrock Constructions designs, produces and installs bathroom vanity units in our Gold Coast bathroom renovation projects. There are many important parts to a successful bathroom reno, but the vanity unit is an absolute cornerstone of any project. When you discuss your project with our team, we will work closely with you to get your vanity unit just right. Read on to learn about vanity options with the Gold Coast's leading bathroom renovation company, Armrock Constructions. Contact our team for a free bathroom renovation quote & get started on your renovation today!
What is a Bathroom Vanity?
A bathroom vanity is the low-set cabinet found in most bathrooms, used for storage and as a station to undertake common bathroom tasks like brushing your teeth, putting on makeup, shaving, etc. It's worth taking a look at the components involved in a vanity. Each and everyone one of them has an important role to play in the finished result:
Vanity Components
Vanities come in a wide range of styles, but these are typically the components you will find in any bathroom vanity unit:
Cabinet
Doors
Doorhandles
Shelves & Drawers
A bench top, or vanity top
Splashback
A basin / sink (or two)
Taps
What is Important with Vanities?
There are two simple principles a vanity must meet: functionality & style:
Functionality
The vanity unit needs to work well within the bathroom, and also for its intended tasks. For example, you want to make sure the doors & drawers can open unimpeded.
Style
Vanities need to look great! A successful vanity expresses the essence of the bathroom, and is the crown jewel in any bathroom renovation.
Decisions with Vanities
Because of their central role in any bathroom renovation, there are a number of important decisions to make with your vanity unit. We work together with you to achieve results aligned to your budget and design goals, but these important points should be taken under consideration when appraising your renovation.
Vanity Relocation
When you renovate, will the new vanity go in the same location, or be relocated? Just because a vanity was in a particularly place doesn't mean that was the best place for it. A renovation is an opportunity to move things around. It's important to remember that this could affect the scope and cost of your renovation project.
Ready-Made Vanities vs Custom Vanities
There are two primary options to consider with bathroom vanities: ready-made vanities and custom-made vanities. What's the difference? Ready-made (or pre-fabricated) vanities are purchased as a pre-made unit, whereas custom-made vanities are built to your design specifications by our team. We facilitate both options – the choice is up to you. Here are the key differences between ready-made and custom-made vanity units: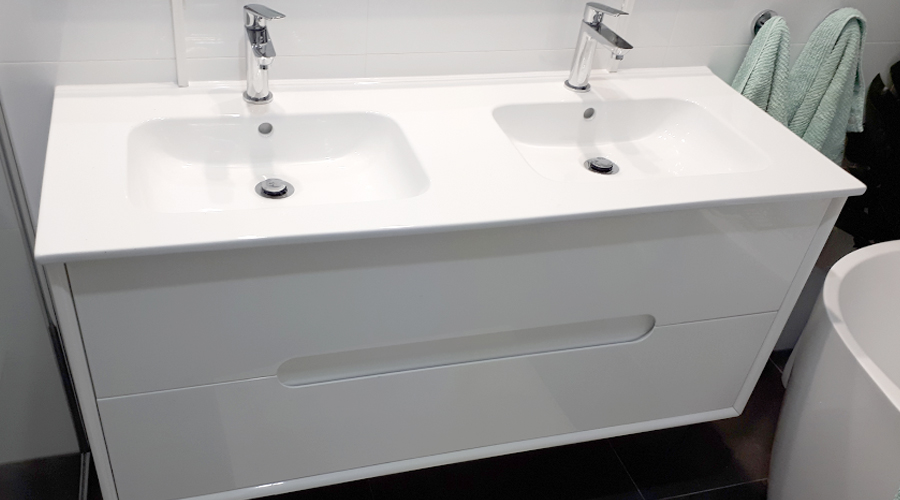 Purchased from a supplier
Installed by our team
Contemporary colours & style
Fixed size options
Select from limited range of finishes
If you're not sure which way to go with your vanity (ready-made or custom-made), just ask our team. We help you figure out the best way to achieve your renovation, including selecting an approach to your vanity that suits your goals.
Custom Vanity Solutions Gold Coast
Custom bathroom vanity solutions are a signature of Armrock renovations. We work closely with you to determine the best approach for your vanity – then we make it happen. We've got lots of great ideas, so if you're stuck for a solution we can easily point you in the right direction. In addition to the vanities displayed on this page, you can review our recent renovations to see more examples of custom Armrock vanity installations.
Benchtops and Splashbacks
Decisions regarding Benchtops and splashbacks for your vanity are particularly important. They largely affect the appearance of your vanity in the room, and also its functionality. The wide range of options in both natural materials, laminates and tiles provide a range of compelling options to choose from. With an eye on the latest Gold Coast styles, our team can help you design your perfect solution. Following is a word on popular choices:
Vanity Benchtop Solutions
We're getting great results with our vanity bench tops. These can be approached with quite a few different materials including laminates, stone and timber finishes.
Laminate Solutions
Laminates are a popular option for many of our Gold Coast vanities. Hard-wearing, great-looking materials that create an almost-flawless representation of natural materials such as stone or timber, and come in at a much more affordable price-point.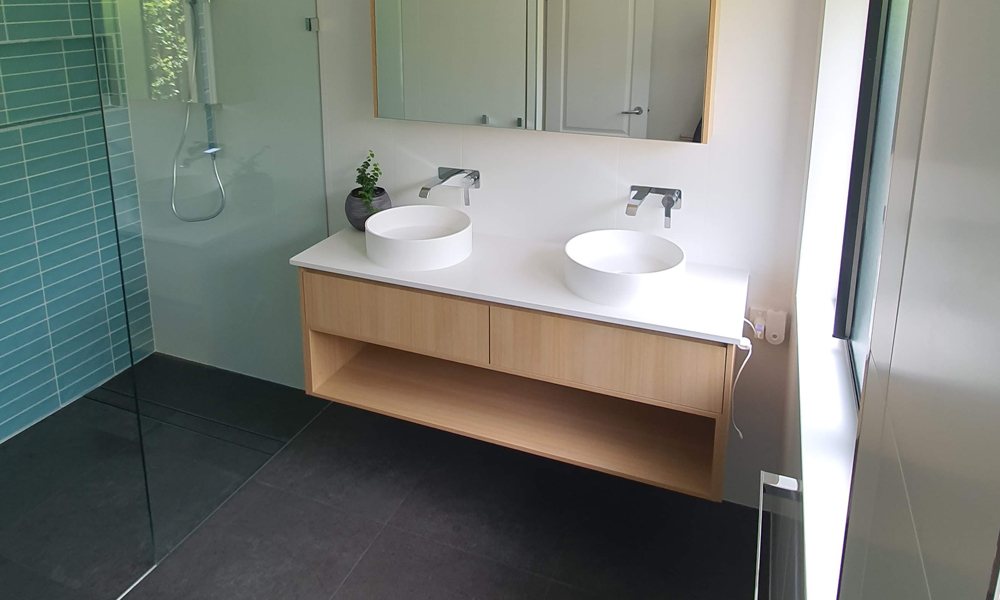 With the capability of displaying texture as well as a wide range of materials, and engineered for accurate folding and corners, laminates bring a massive variety of stylistic possibilities to your Gold Coast bathroom renovation. Whether you're going for the natural look, or a plain colour like black or white, laminates are always a viable option.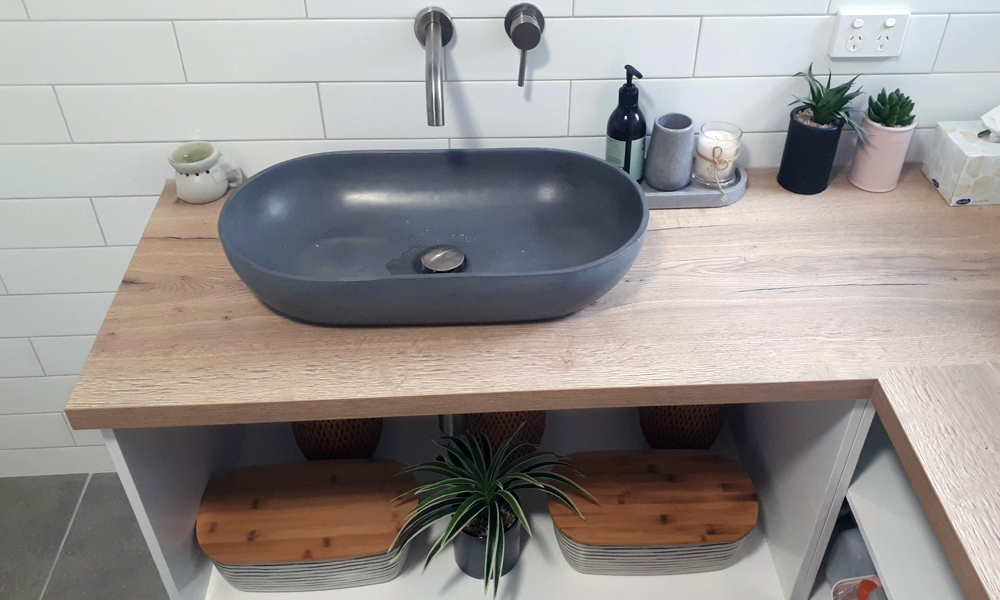 Talk to our team about a laminate solution for your vanity – we've got great ideas and can work with you to make your concept into a reality. Laminated vanity benchtop links:
Stone Vanity Benchtop Options
Natural stone such as granite & marble are high-end inclusions to a bathroom renovation. If you're considering a stone-topped vanity, talk to our team about options. Apart from natural stone, you can also look at a laminate solution or an engineered stone such as Silestone, Smart Stone and Caesarestone. These enable the achievement of a natural look at an optimised price point. Learn more about these products here: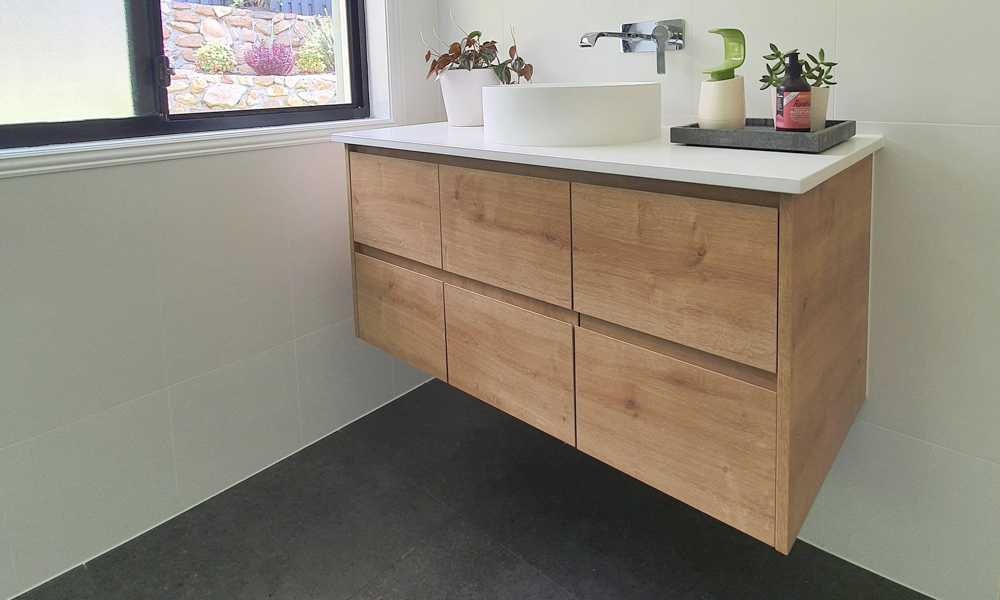 Vanity Mirrors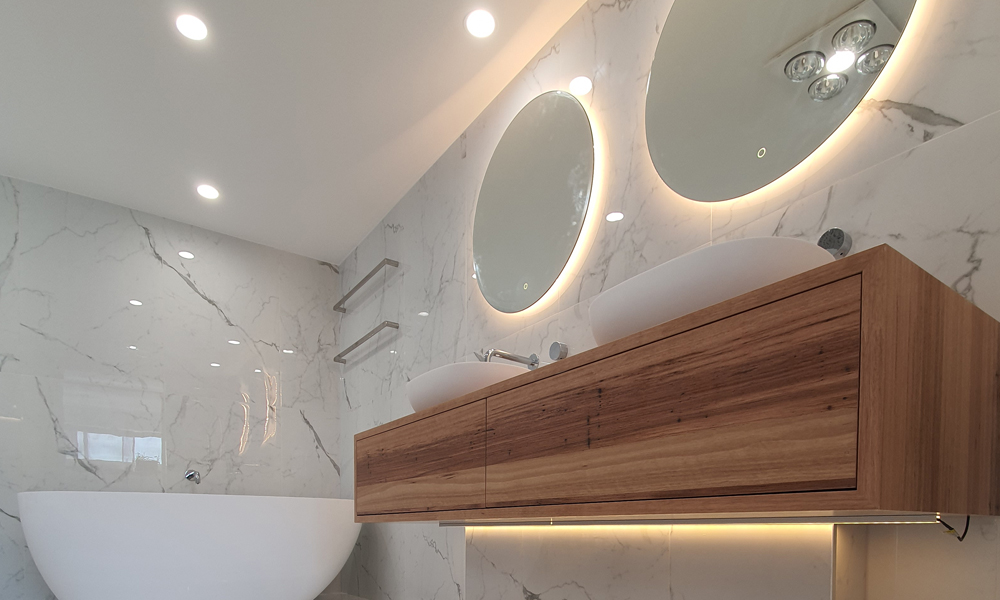 The relationship between a vanity and its mirror should not be understated! Vanities have a low, horizontal shape, but they're always paired with a mirror which (in addition to helping you see your teeth when you're brushing) also gives the vanity vertical dimension in the room. Because the type of mirror you choose will define the relationship between the vanity and other bathroom elements, choose wisely! One option you may like to consider are round mirrors. They've been a popular choice in many of our Gold Coast renovations. You can learn about using round mirrors in your bathroom design here.
Basins and Tapware
If you're considering a custom bathroom vanity, the basin and tapware choice is key. (This may also apply with a ready-made vanity unit, depending on how it is made). The basin and tapware not only contribute to the look of the vanity, but also how well everything works.. Have you ever tried to wash your hands under a tap where there's not enough space? Our experienced team can help. Talk to us about single and double basins, mixer & seperate taps, high & low-set taps, tap-basin combinations, inset and mounted basins – and much more!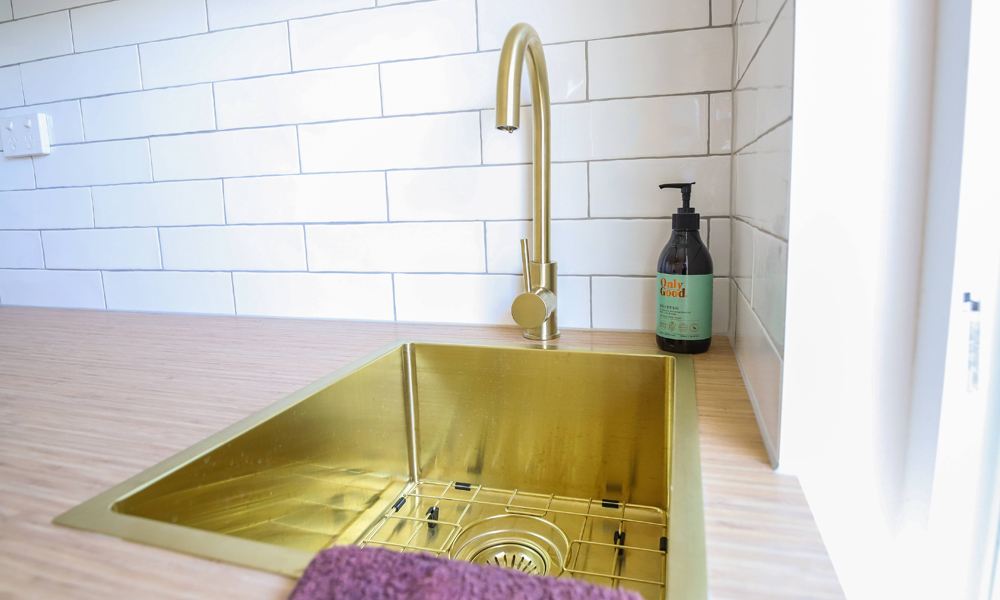 Bathroom Vanity FAQ
Common questions and answers regarding bathroom vanity construction and installation. Got a question we're not covering? Contact our team to get an answer!
How much does a bathroom vanity cost?

To get a quote for your vanity, please contact our team. There are a number of factors involved in assessing vanity costs in a renovation project, including the existing bathroom structure, the post-renovation bathroom structure, whether the vanity is ready-made or custom-made, and what inclusions are involved with your vanity. There are many points to clarify, but don't worry – we cover them all when you book a free bathroom renovation quote.
What are the bench top options?

If vanities are the centerpiece of the bathroom, vanity benchtops are the centerpiece of the vanity! This choice is more relevant for custom vanities – with ready-made vanities, the benchtop will usually be built into the unit. With custom vanities, the selection of materials, design and construction of your benchtop are all part of the process. Popular options include either natural materials (timber, stone) or man-made materials (laminates, engineered stone). We can help you find the right material for your bathroom and your budget – just ask our friendly team!
Is it expensive to move plumbing?

Moving plumbing, or adding new plumbing functionality, is additional work that will bring additional costs. However, like all decisions, these need to be weighed against the objectives of the project and the project budget. We help you by appraising the situation and providing options to suit.
Vanities with Armrock Constructions
A bathroom vanity is only one decision amongst many during the bathroom renovation process. Our team is experienced and we can help you arrive at the best approach for your bathroom and your budget. Simple contact us to book in a free bathroom renovation quote – we service the Gold Coast area and we look forward to working with you to make you dream bathroom a reality!