Armrock Constructions designs, produces and installs vanity units to compliment our Gold Coast bathroom renovation projects. The cornerstone of any bathroom, the vanity unit combines function and presentation to achieve a winning result. In order to best accomplish the right vanity for your new bathroom, our team will work closely together with you on the style, materials, functionality and appearance of your vanity to get it just right. On the page, learn more about vanity options with the Gold Coast's leading bathroom renovation company, Armrock Constructions. Alternatively, book a free appraisal and quote with our team for your renovation today.
What is a Bathroom Vanity?
A bathroom vanity is the low-set cabinet found in most bathrooms designed to provide storage for everyday items and a station to undertake common tasks, such as brushing teeth, shaving, putting on makeup etc. Vanities can be custom-made to suit your structural and aesthetic requirements.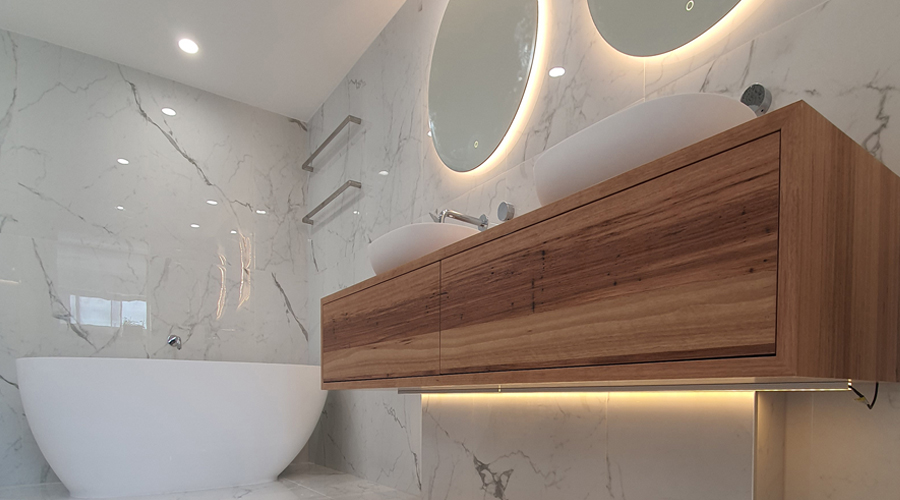 A vanity unit typically includes:
Vanity cabinet
Doors and drawers
Storage space
A bench top, or vanity top
A basin, or sink
Taps
Because the vanity is used so frequently, and because it is a prominent piece in the bathroom, it is one of the most important aspects in your renovation. Armrock Constructions works with you to get your vanity right, with a wide range of configurations and customisations available. Just ask our team what you'd like to achieve, and we'll help you make it happen.
Custom Vanities vs Prefabricated Vanities
There are two main types of vanities available for your bathroom: custom vanities (custom-made to your specifications & requirements) and pre-fabricated vanities (these are pre-made vanity units). Armrock Constructions works with both options. The choice is up to you.
Benchtops and Splashbacks
With custom vanity units, the selection of the benchtop and splash back are important aspects. The wide range of options in natural materials (timber, stone), laminates (timber-look, stone-look) and tiles provide a range of compelling options for your interior design. With an eye on the latest Gold Coast styles, our team can help you design your perfect vanity including the benchtop and splash back. Following is a word on popular choices.
Laminated Vanity Benchtops
We're getting great results with laminated tops for our vanities. Make sure you're up to speed with the benefits of modern laminates. Hard-wearing, great-looking laminated solutions enable nearly flawless representation of natural materials such as stone or timber, and come in at a much more affordable price-point.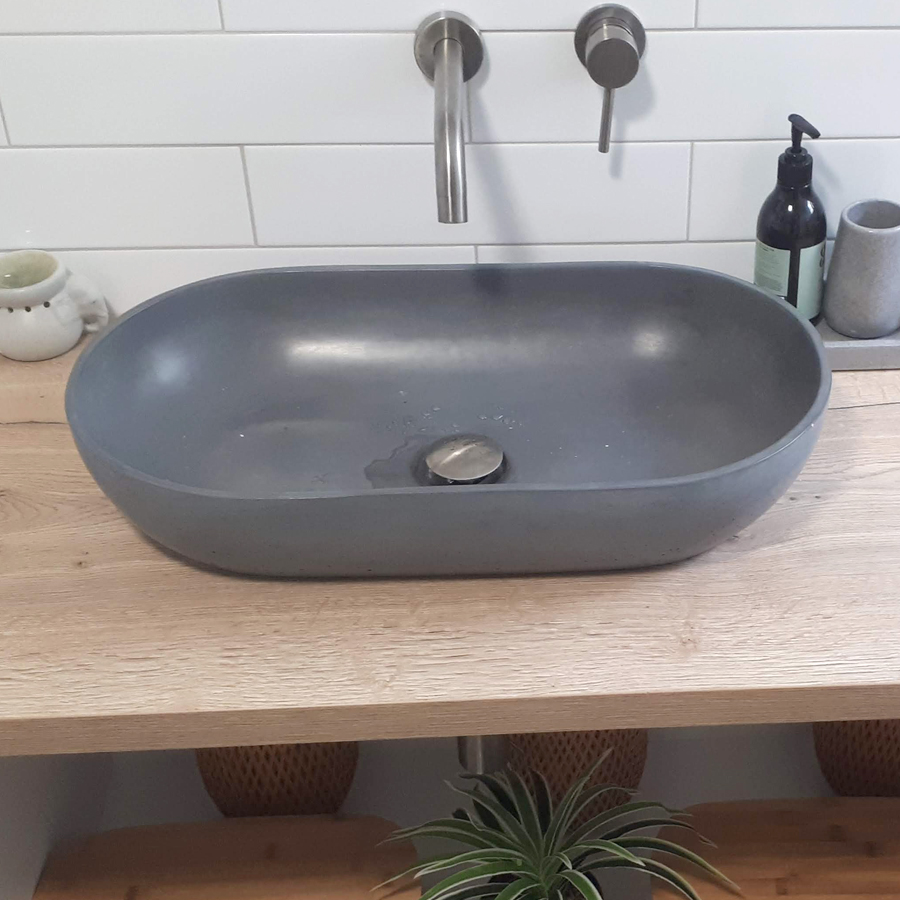 With the capability of displaying texture as well as a wide range of materials, and engineered for accurate folding and corners, modern laminates are a favourite choice in many of our Gold Coast bathroom renovations. Of course, it's not always about being au-naturale. Glossy blacks and whites are always popular being classical colours with high compatibility for many different bathroom designs as well.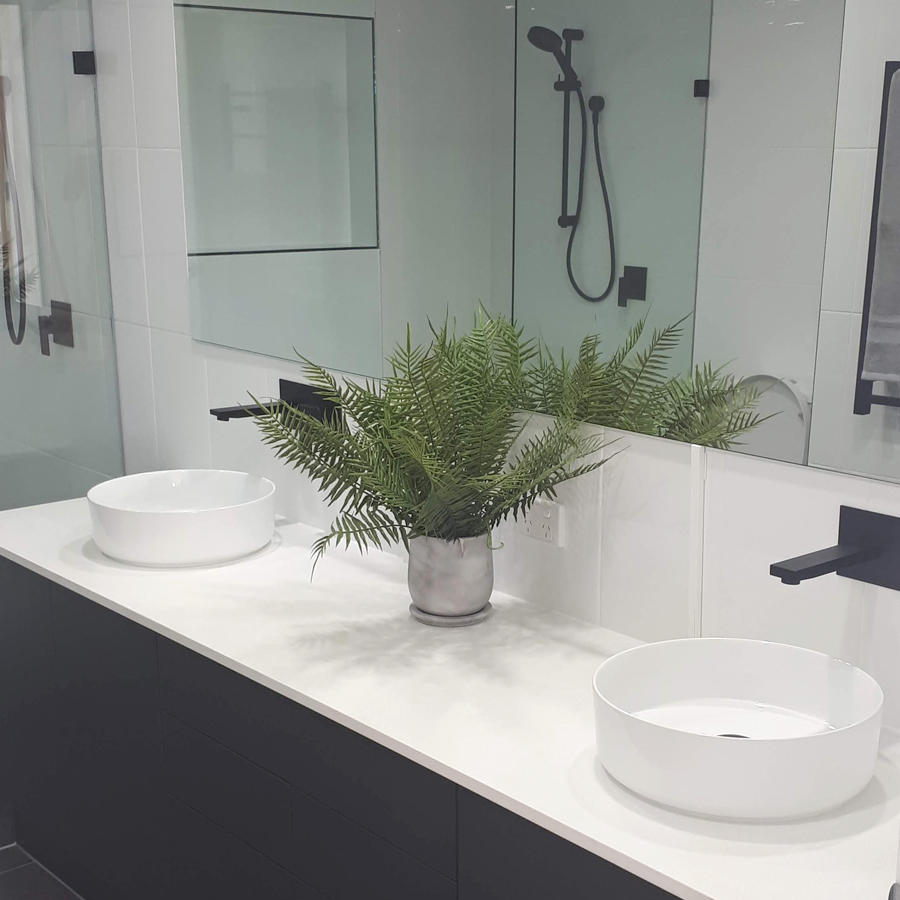 Talk to our team about a laminate solution for your vanity – we've got great ideas and can work with you to make your concept into a reality. Laminated vanity benchtop links:
Stone Vanity Benchtop Options
The beauty of natural stone is matched only by it's price point. Stone is expensive because of the material and labour associated with developing a raw product to your specific requirements. Natural stone is complimented by engineered stone solutions such as Silestone, Smart Stone and Caesarestone – purpose-made stone in a variety of finishes. These enable the achievement of a natural stone look at a more optimal price point. Learn more about these products on their websites:
Basins and Tapware
With custom bathroom vanities, they choice of basin (or sink) and tapware are always key. Getting the right look, as well as a design that will work everyday is the objective. Our experienced team can help. Our custom vanity solutions include options for different configurations of basins and tapware, enabling the achievement of a wide variety of styles. From inset basins to mounted basins, single and double configurations, professionally installed and plumbed, Armrock Constructions is here to help with your Gold Coast vanity basins and tapware.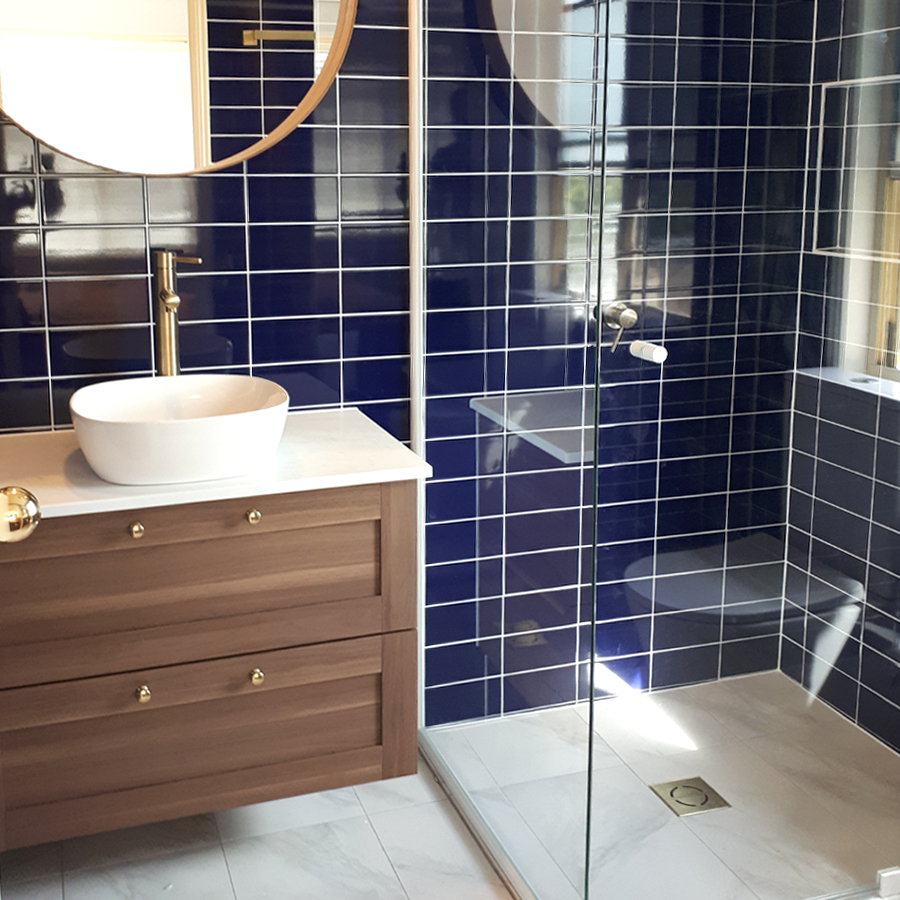 Bathroom Vanity FAQ
Common questions and answers regarding bathroom vanity construction and installation. Got a question we're not covering? Contact our team to get an answer!
Custom Vanities vs Prefab

There are two main categories of bathroom vanities: custom vanities and pre-fabricated vanities. Custom vanities are made specifically for your bathroom – all aspects are customised to suit your design, structure, and budget. Pre-fabricated vanities are 'ready-made' or 'pre-made' and are purchased from suppliers ready to be installed. Armrock constructions works with both custom vanities and pre-fabricated vanities.

Like all choices in your bathroom renovation, this choice needs to be weighed against requirements and budget. The advantage of custom vanity units is that they can be deliberately adapted for an optimal look, feel and function within your bathroom. Following are examples of a custom and prefabricated vanity, both installed by Armrock Constructions:
How much does a vanity cost?

A vanity is just one component of a bathroom renovation. Costs vary depending on the type of vanity and installation requirements too. Please contact us for a free consultation and quote – a structural assessment is necessary to assess vanity installation options.
What are the bench top options?

If vanities are the centerpiece of the bathroom, vanity benchtops are the centerpiece of the vanity! The materials, design and construction of your vanity benchtop is an extremely important part of the custom process. Generally, for custom vanities you're looking at options that include either natural materials (timber, stone) or man-made materials (laminates, engineered stone). We can help you find the right material for your vanity and your budget. Here are some notes on the popular options we work with.
Can I relocate my vanity in my renovation?

Yes – you can relocate your vanity. However, it's important to remember that vanities are linked to plumbing and possibly electrical as well. Relocation increases the scope of the project and what's involved. These type of choices should always be evaluated on an individual basis to develop an understanding of the implications.

It's important to keep an open mind – a renovation is an opportunity to start anew! Custom-made vanities will give you much more control over your options, because they can be made to suit your specific needs.
Is it expensive to move plumbing?

Moving plumbing, or adding new plumbing functionality, is additional work that will bring additional costs. However, like all decisions, these need to be weighed against the objectives of the project and the project budget. We can help you by appraising the situation and providing options to suit your bathroom renovation.
Custom Vanity Solutions Gold Coast
Custom vanity solutions with Armrock Constructions go further than a great-looking vanity installation. Our team provides a complete renovation service, so in addition to managing the vanity component of your project, we also ensure it is included within the correct sequence of your renovation for an optimal result. We're committed to getting great results for our renovation clients. Contact our team today to discuss your bathroom vanity. We're looking forward to hearing from you.