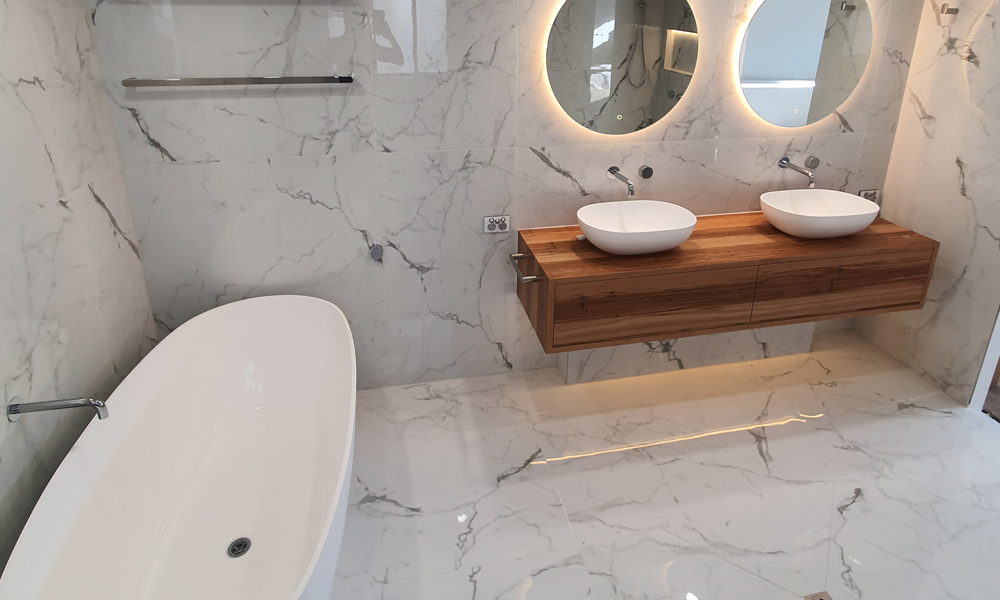 In bathroom design, the approach to the bathroom benchtop is one of the most important decisions to make. This is because bathroom style revolves around the vanity unit, and the benchtop is the strongest visual expression of the vanity.
Therefore, decisions regarding your bathroom benchtop solution are very important. They will affect your budget, bathroom style and bathroom functionality. In this article, we look closer at the important considerations involved in selecting your bathroom vanity benchtop.
We specialise in bathroom renovations on the Gold Coast, so if you're looking for assistance with your renovation, simply contact our team for a free consultation & quote:
The Role of The Bathroom Benchtop
While the bathroom benchtop is an integrated aspect of bathroom vanity design, it also has its own individual role to play. Whether you opt for a custom bathroom vanity or a prefabricated unit, the benchtop utilised will have two main roles:
Aesthetic: It contributes to how your bathroom looks
Functional: It contributes to how well your bathroom functions
These are equally important considerations. Presentation is always important, but so is functionality. For example, a bathroom benchtop must be sufficiently strong and water resistant.
Materials Used For Bathroom Benchtops
Bathroom benchtops can be made from raw materials or manufactured materials. Examples of raw materials include types of stone, such as marble or granite, and timbers, such as hardwood. Examples of manufactured materials include manufactured stones, laminates, acrylics, steels, ceramics, tile & porcelain. Manufactured products may resemble raw materials, or otherwise come in a variety of bespoke designs, patterns, and colours.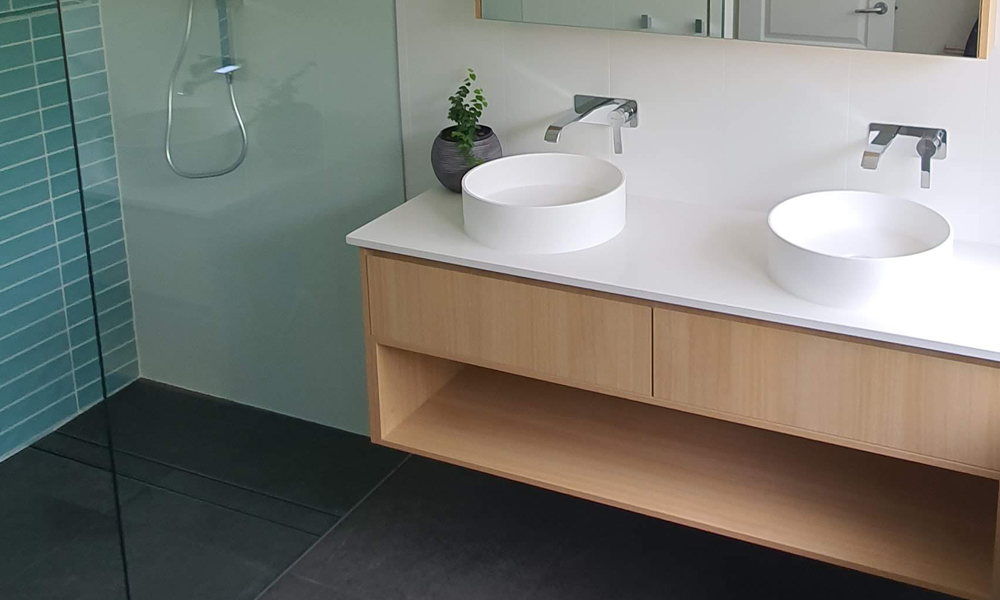 Bathroom Benchtop Functionality
In renovations and building, benchtops (also known as countertops) are most commonly found in bathrooms, kitchens, and laundries. In these type of rooms, they go on top of the cabinet to create a platform for functional activities. In a bathroom vanity unit, the benchtop provides a station for people to brush their teeth, shave, wash their hands, etc.
Regardless of the material you choose for your bathroom benchtop, there are an important range of functional considerations to be kept in mind. Examples include:
1. Hard-Wearing
Bathroom benchtops need to be hard-wearing. You don't want their edges getting chipped, or scratches in their surface from everyday use. Additionally, you want them to last for a long time.
2. Suitably Strong
Bathroom benchtops must also be strong enough for their role within the vanity unit, and to support the basin, tap, and other construction aspects.
3. Stain Resistant
There are a variety of chemicals and colours used in bathroom products. Ensure you select a non-porous product for your bathroom benchtop, which will be more resistant to staining.
4. Water Resistant
Bathroom benchtops need to be water resistant, so they can handle the daily exposure to water splashes and spills without being compromised, or compromising other parts of the vanity unit.
5. Easy to Clean
Some materials are easier to clean than others. Select an option that will be easy to clean and hygienic.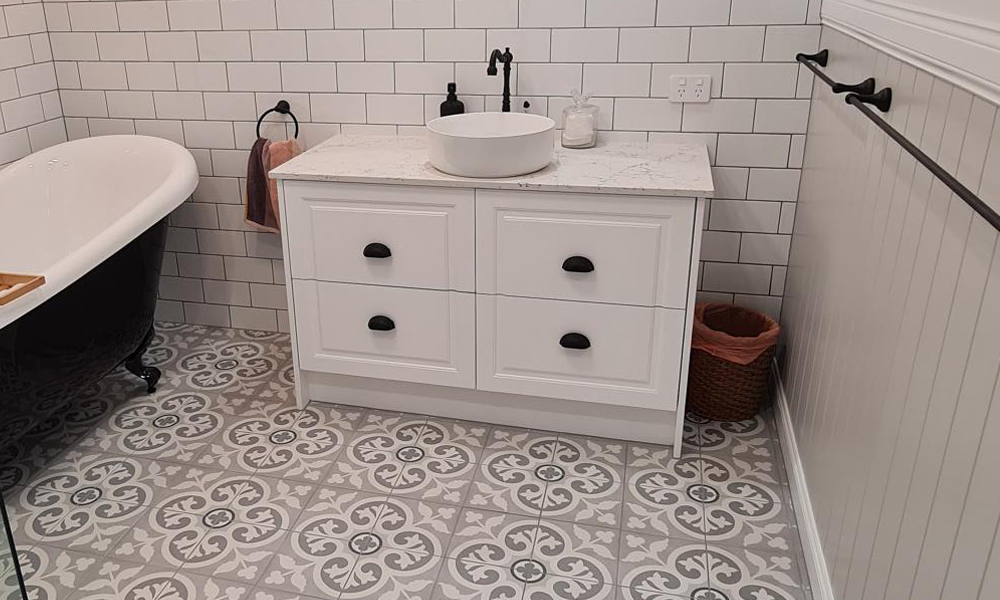 Customising Your Benchtop
We design and manufacture custom bathroom vanities. Working with our team, this enables you to access any type of design you would like for your own vanity unit.
We can also provide assistance with material selection to suit your budget and determining the best style of benchtop to suit your bathroom design goals. Simply contact our team for a free consultation and quote. We'd love to discuss your new bathroom with you.
---
Laminated Bathroom Benchtops
One option that is particularly popular in many of our Gold Coast bathroom renovations is laminated vanity benchtops. Coming in at an inexpensive price point, laminated benchtops are available in a wide range of designs which can be customised to suit your vanity requirements.
Advantages of Laminates in Bathroom Renovations
Laminates have quite a few advantages as a benchtop material in bathroom renovations. Following are reasons why you may wish to consider this option in your project:
1. Design Predictability
Raw materials are beautiful, but not predictable. Working with laminate solutions gives you access to material variations that can be used to create predictable outcomes regardless of the extent to which you are using the design in your bathroom renovation. This also enables us to produce beautiful unified vanity designs such as this one, where the cabinet and benchtop share the same style: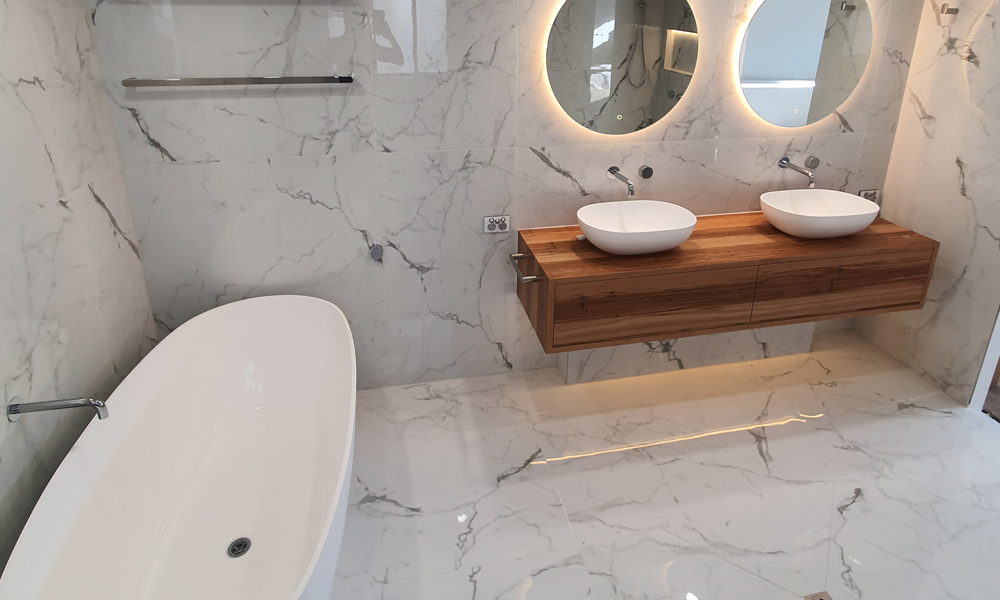 2. Price Point / Bathroom Budget
In bathroom renovations, possibilities are defined by your budget. Using marble laminates is an affordable solution that has a great outcome. It can be applied in high-end designs, such as this Gold Coast penthouse, to create a winning effect: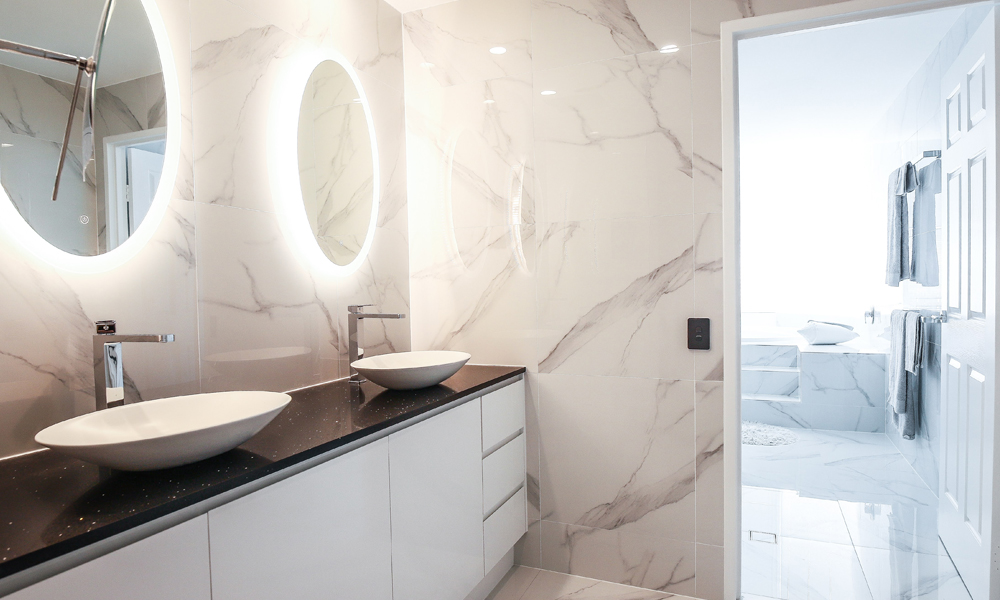 3. Versatility
laminates are versatile – we can easily work with them to create any bathroom cabinetry you require as part of our custom vanity solutions. They're also strong and lightweight.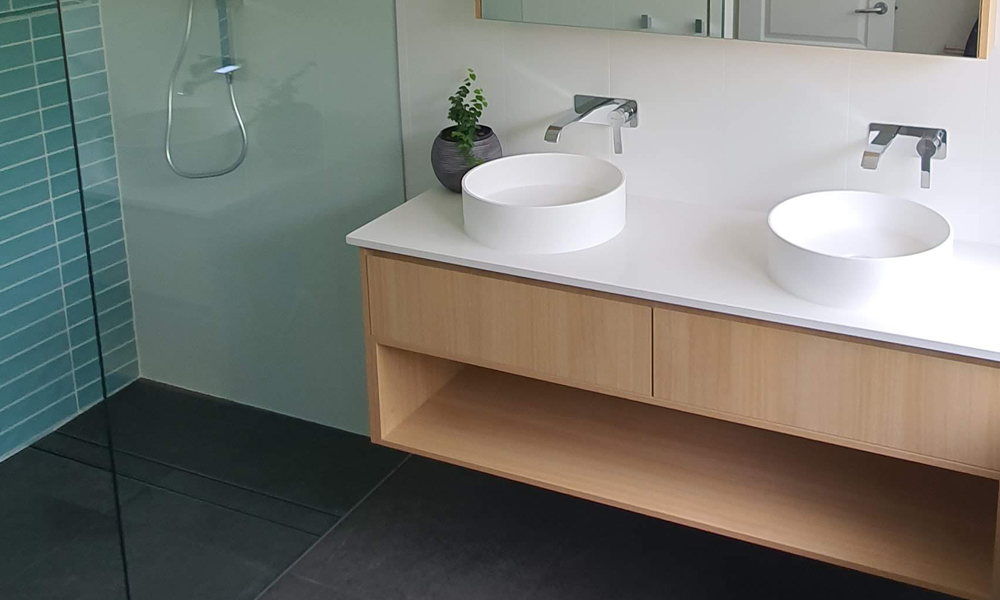 4. Accessing Style
Laminates come in a wide range of styles, which may be more accessible than other solutions given some of the shipping and logistical challenges being experienced around the globe. Timber laminates are a popular option, and come in a wide range of different timber styles.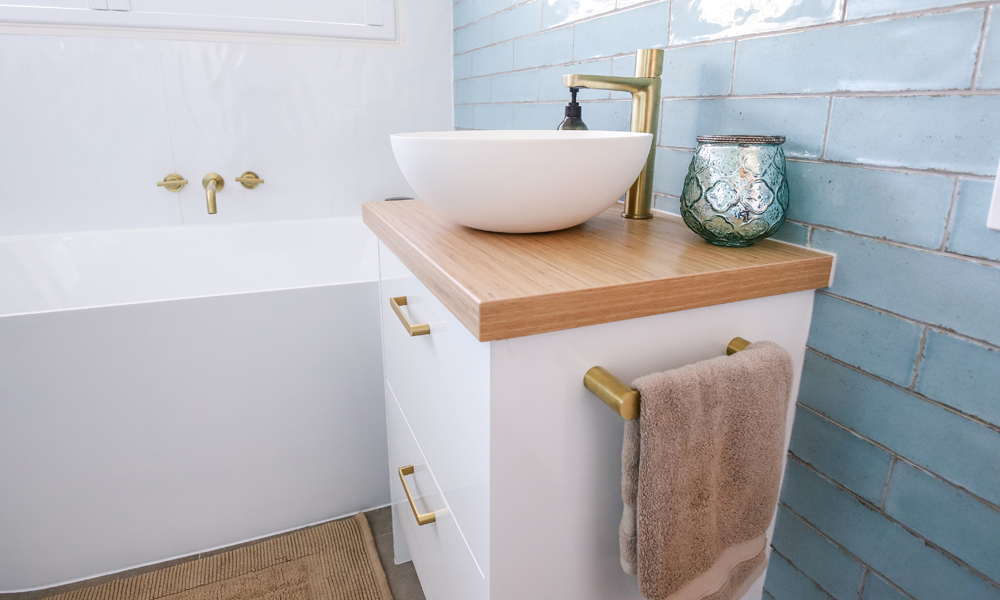 5. Design Detail
In addition to the look of marble, some laminates also include texture to create a complete impression. In conjunction with their other attributes, this helps them to transform and elevate bathrooms to the next level.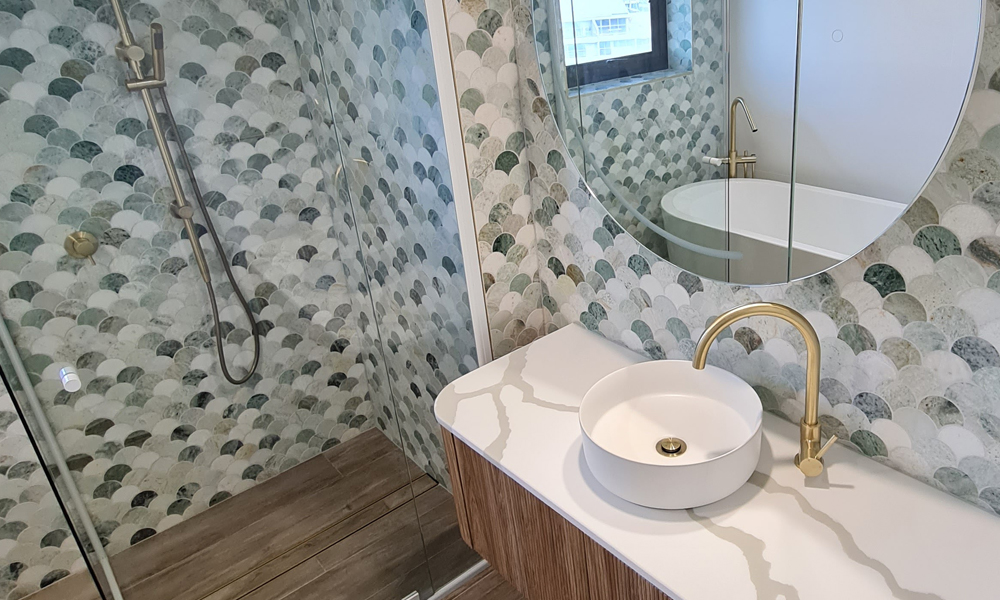 6. Hard-Wearing
Modern, high-quality bathroom laminates are hard-wearing and purpose-designed. They are made for the task at hand, and are products supported by a proper R&D and testing process.
---
Nikpol Laminate Benchtops
We're achieving great results working with products made by the Austrian company Nikpol. Hard-wearing and coming in a variety of different designs and styles, their ranges give you easy access to all kinds of bathroom and kitchen design options.
Nikpol Laminate Samples
This is a great example of the effect that can be achieved with a laminate solution. This Gold Coast kitchen renovation featured laminate by Austria's Nikpol. Included below are some more samples of the results that can be achieved with this range.
How Much Does a Bathroom Benchtop Cost?
In a renovation, the cost of a bathroom benchtop may depend on a variety of factors such as the material used (laminate, quartz, acrylic, etc) and the size and configuration of the benchtop. We offer a free renovation quote as part of our service. To learn more about the costs for your renovation, contact our team. We look forward to discussing your Gold Coast bathroom renovation with you.