Laminate benchtops are a fantastic way to get the look and feel of natural materials such as timber and stone, at a fraction of the price. On the Gold Coast QLD, Armrock Constructions is getting great results with laminate options and a particularly popular version is marble laminate. Opulent, lavish and design-oriented, a touch of marble lifts the bathroom with connotations of grandeur, wealth and abundance.
Decorate your bathroom vanity benchtop in the opulence fashion of this famous look with a hard-wearing laminate for a transformative result. Read on to learn more about marble laminate with Armrock Constructions, or follow the link below to book a free appraisal and quote for your Gold Coast bathroom renovation. We're looking forward to hearing from you.
What is Marble Laminate?
Marble is a popular and famous type of stone, known for its high-end style, with swirls and veins creating an opulent look. In design, it's as old as ancient Greece. Marble can be incorporated into kitchen and bathroom designs, generally as either a benchtop or floor or wall tiling option, or as a splashback solution.
Marble is expensive, but like many modern solutions, products such as modern laminates are made to replicate raw materials enabling the same style to be achieved at a fraction of the cost.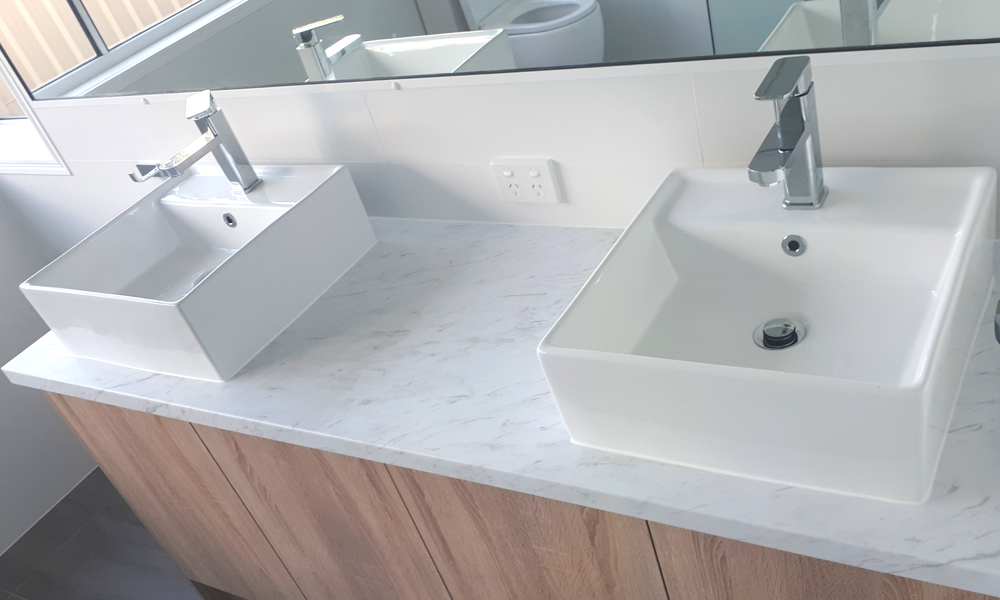 Alternatives to Marble
Marble is just one possibility with laminates. Other popular options include different types of stone, timber-look laminates, or plain colours such as black and white. Regardless of the style, professionally-installed laminates create an effect which resembles the real thing so closely it's hard to tell them apart – in addition to being hard-wearing, some manufacturers are also introducing textures into their products for a complete effect.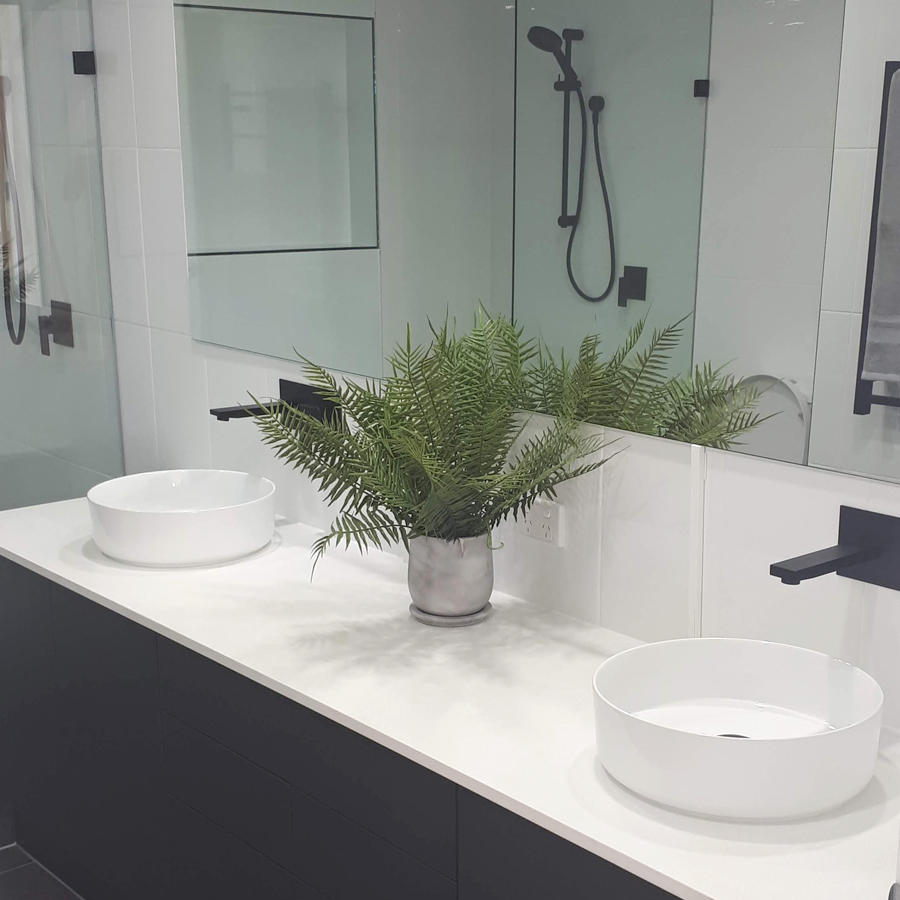 Laminated Benchtops for Gold Coast Bathrooms
Laminate benchtops are a great solution for both kitchen and bathroom renovations. They enable a means to easily and quickly refresh and revitalise surfaces and rooms alike. Reasonably priced, they're popular with Armock's Gold Coast renovation customers. Just talk to our team about the best solution for your bathroom or kitchen. 
Marble Laminate Design Options
Marble (stone) comes in a variety of different styles. Part of its popularity is related to the random swirls and veins that constitute its patterns. Marble is varied – each piece has its own style. Marble laminates mimic these attributes in a variety of popular styles which are designed for use in kitchens and bathrooms. Light, dark, and with different patterns, there are many options to consider.
Nikpol Laminate Benchtops
We're achieving great results working with products made by the Austrian company Nikpol. Hard-wearing and coming in a variety of different designs and styles, their ranges give you easy access to all kinds of bathroom and kitchen design options.
Nikpol Laminate Samples
This is a great example of the effect that can be achieved with a laminate solution. This Gold Coast kitchen renovation featured laminate by Austria's Nikpol. Included below are some more samples of the results that can be achieved with this range.