There's nothing like the feeling of walking into your own bathroom and feeling like you're in a 5-Star resort. In this recent Gold Coast Renovation, the team from Armrock Constructions worked with our clients to create a striking, innovative and intensely modern bathroom experience. We're proud of the results we've achieved. Read on to learn more about this renovation.
Subtle Entry Details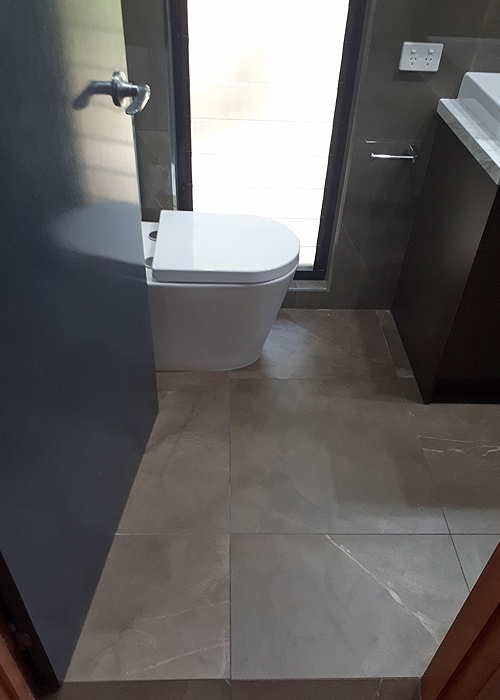 As soon as you step in the doorway of this bathroom, you know you're into something special. The deep blue-greys in the door bounce off the warm timber frame for a positive transition into this expansive bathroom.
Take a look at the colour palette from the entrance. These darker tones create a backdrop against which white features such as the cistern and bathtub generate an emphatic visual appearance.

Cube Vanity Solution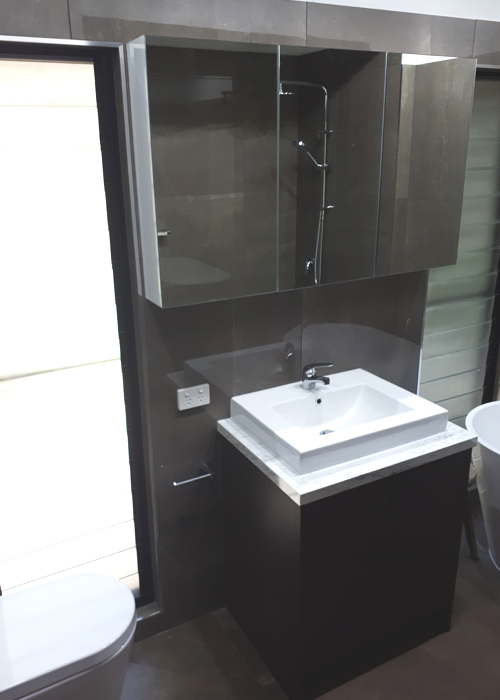 This innovative vanity breaks away from pre-conceived vanity ideas to create a cube-like feature for the basin. It's dead simple and it's always going to be nice and tidy – no collection of clutter for this vanity! With its central location, it also serves to divide the room between the cistern and bathtub.
Sometimes in renovations, decisions are made for you – utilising this position for the vanity, you can see how the width is constrained by the presence of the windows on each side. We've turned this into a strength here by condensing the vanity for an emphatic statement.
If you're interested in vanities, talk to our team about a custom vanity to suit your project. Learn more about custom vanities here.
In this image, you can see how the cistern, basin and bathtub are linked together by their white colour. This elevates the room and accentuates these features against the darker tones of the walls and floor. Because the bathroom has got two tall, louvred windows, a fabulous relationship occurs in which the eye is drawn up towards the twin towers of light!
Free Standing Bathtub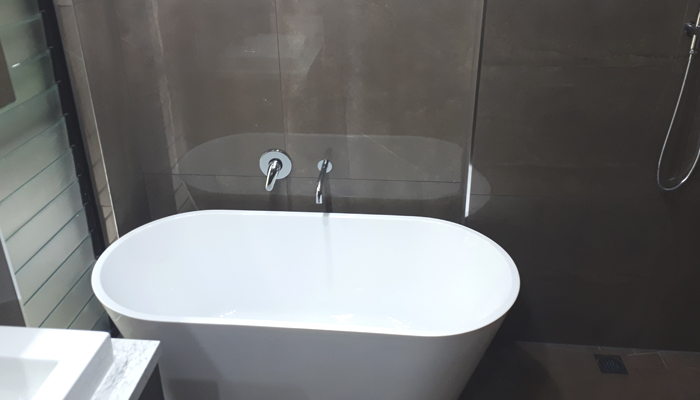 This free-standing bathtub enjoys the benefit of natural light from the louvres directly behind. It joins with the open shower to create a wet area and designated bathing zone on this end of the bathroom.
5 Star Shower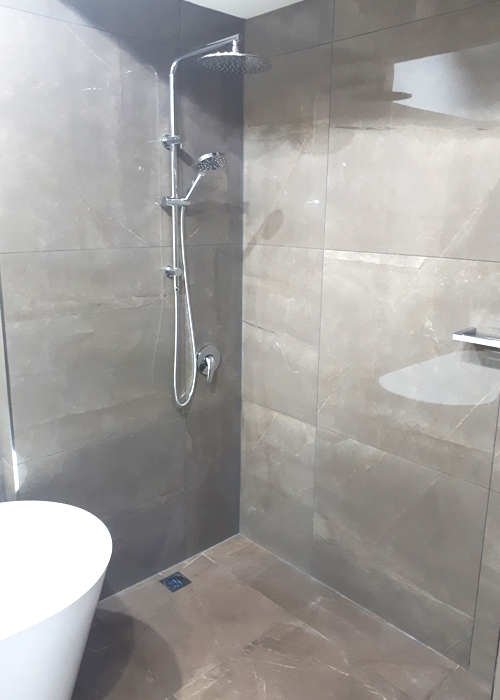 Rounding out this fantastic bathroom is the frameless shower. Featuring a large rainfall showerhead & handheld combo, it's simple and elegant. The oversized wall tiles to all the talking here. This shower solution is functional, looks fantastic, and finishes off this 5-star bathroom renovation.