This Gold Coast bathroom project included a complete makeover. The new bathroom features a modern bath, custom built vanity with a stone top, brushed brass tapware, a double shower niche, rain dropper shower head, back-to-wall toilet, in-wall cistern and floor to ceiling tiling. With this project we would like to give a shout out to our colleagues and collaborators:
Floor & wall tiles: Gold Coast Tile Market
Shower niche tiles: Nerang Tiles
Tap ware: Builders World
Shower screen: REGAL Shower Screens
Plumbing: Consistent Plumbing Services
Electrical: LCMB Electrical
Warm Inviting Bathroom Renovation
The timber elements in this bathroom renovation make it a cinch to create a warm and inviting feeling. Adding warm tones in the towels and floor mat completes the effect. It's interesting to note that the timber could easily go well with any number of alternative colour schemes.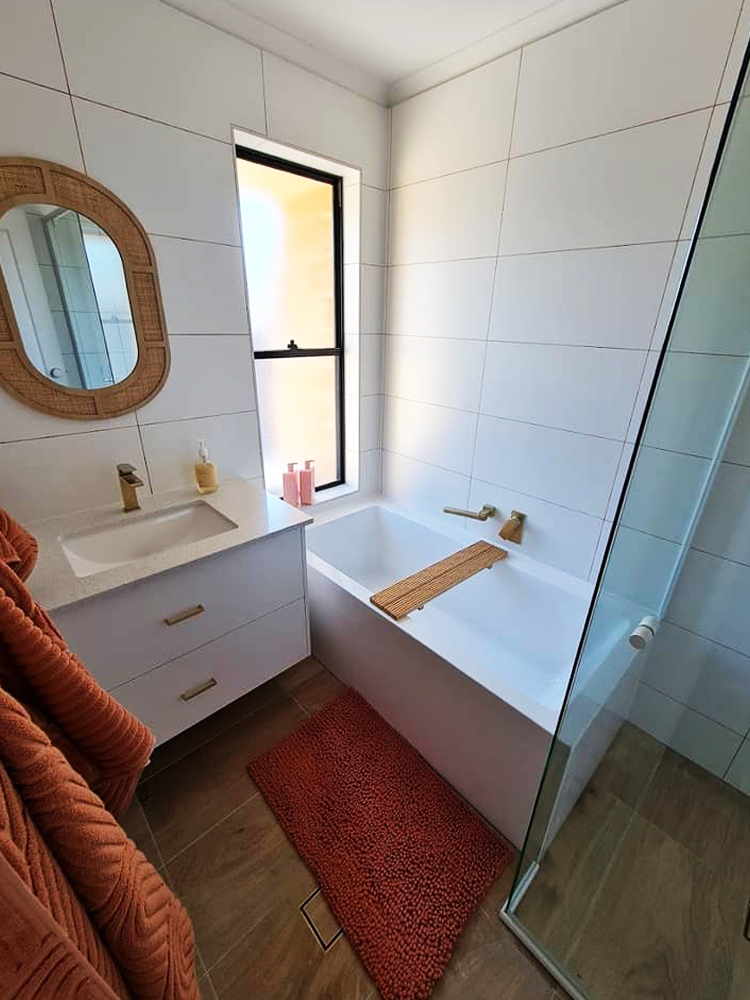 Floor to Wall Tiling
This unconventional approach to tiling creates a strong design impression. Utilising timber-style tiles in this way achieves the benefits of creating an immersive experience that also highlights the whites of the porcelain and plastic in the fixtures and fittings. In all-white bathroom designs, the raw beauty of such elements is easily lost – here they stand out, to be noticed and enjoyed.
Learn more about tiling with Armrock Constructions here.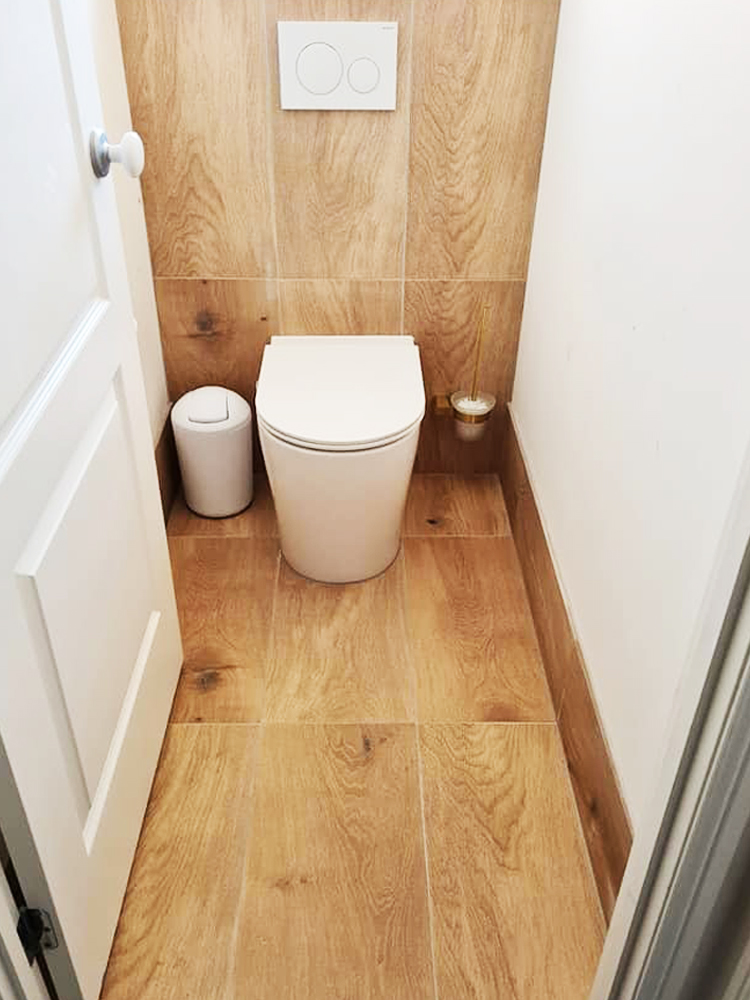 Shower with Rain Dropper Showered
This photo easily describes why this is a bathroom to love! From the rain-dropper showerhead to the tiled niche, the timber floor with tile inset drain, brushed brass tapware and replete with warm tones, it is made to be used and enjoyed.
Learn more about shower options here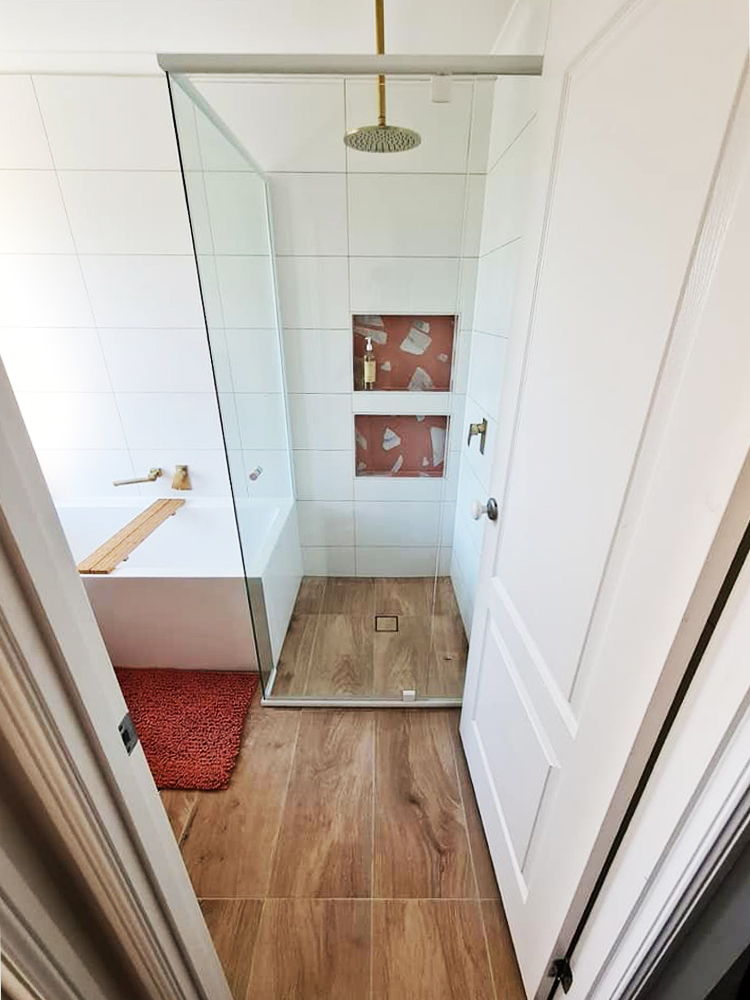 Custom Vanity with Stone Top
Armrock Constructions specialises in custom bathroom vanities. In this Gold Coast renovation, the vanity is relatively concise in keeping with the available space. With a stone top, brushed brass tapware and handles, it's the perfect accompaniment to this beautiful bathroom.
Learn more about custom vanities here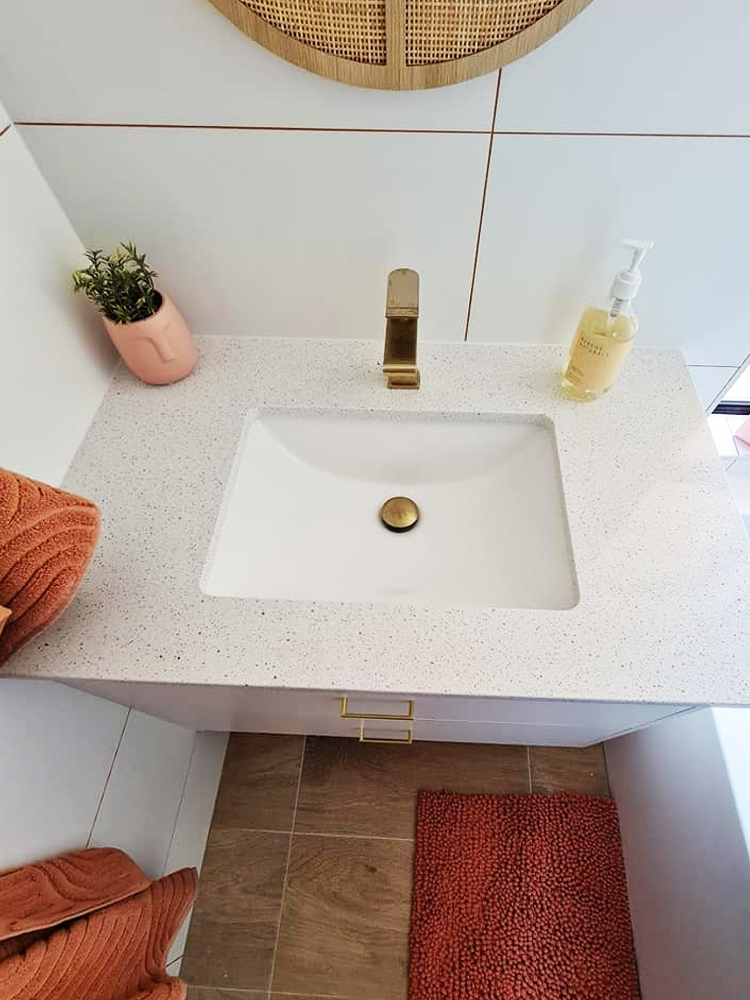 Custom Tiled Bathroom Niche
We love bathroom niches – they're practical and they bring an element of interest into the bathroom. This one is particularly interesting. It brings a textural, asymmetrical random element into the bathroom which creates interest and helps to accentuate this aspect of the room.
Learn more about tiled bathroom niches here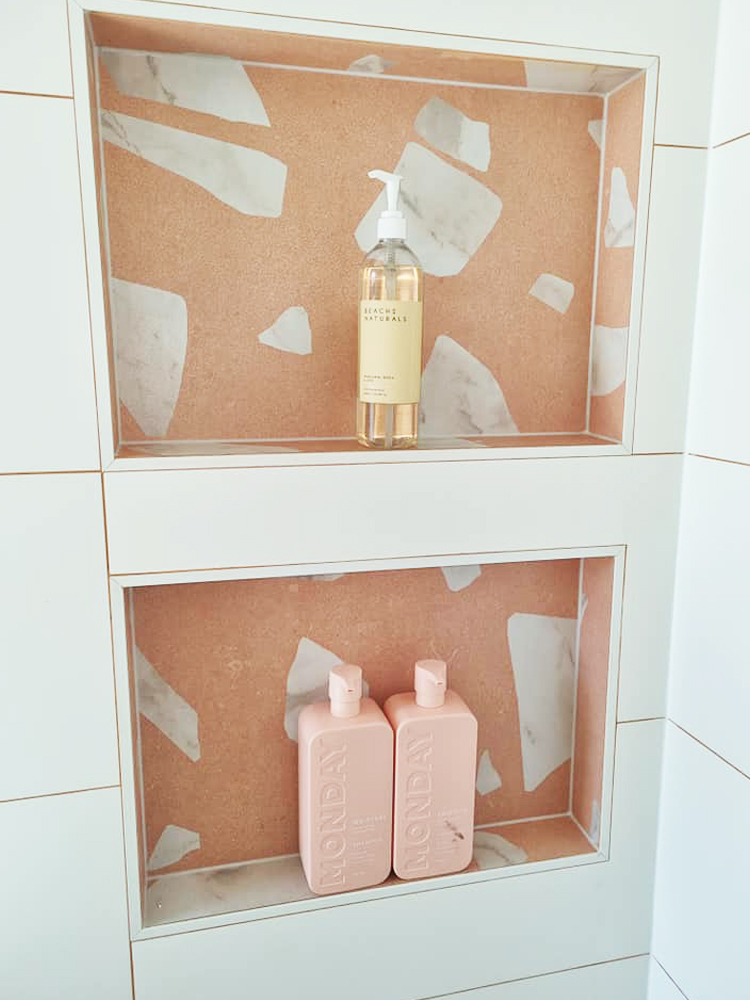 Brushed Brass Accessories
Brushed brass tapware and accessories create the highlights in the bathroom renovation which provide touches of class and style. Brass goes beautifully with timber, helping to warm the room as well as provide key notes for complete enjoyment of the design.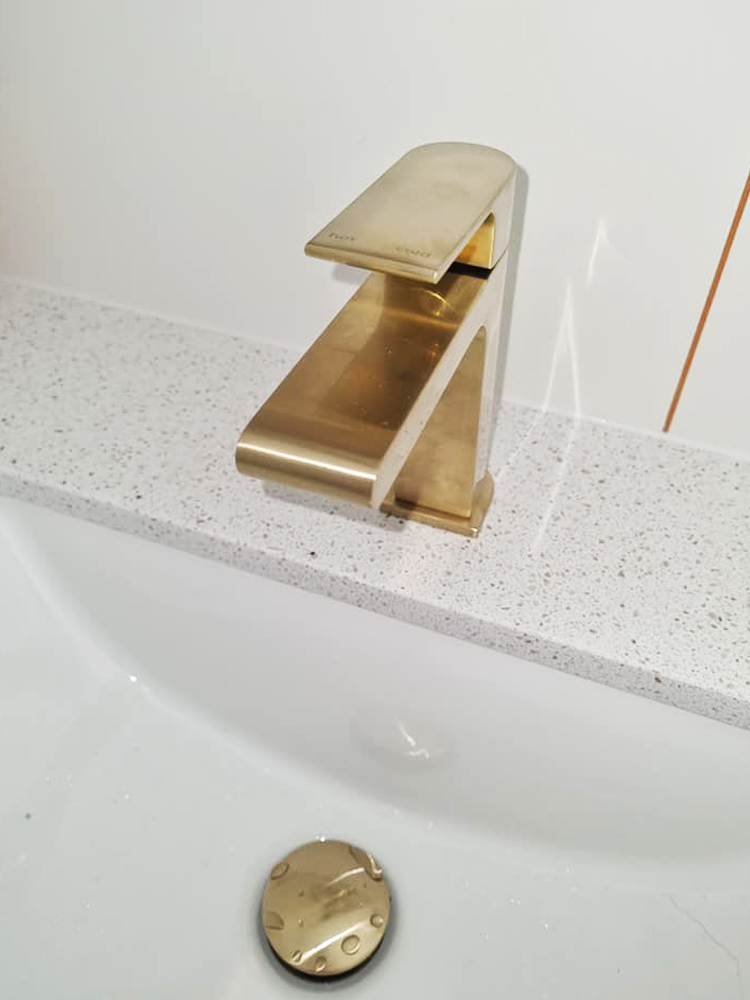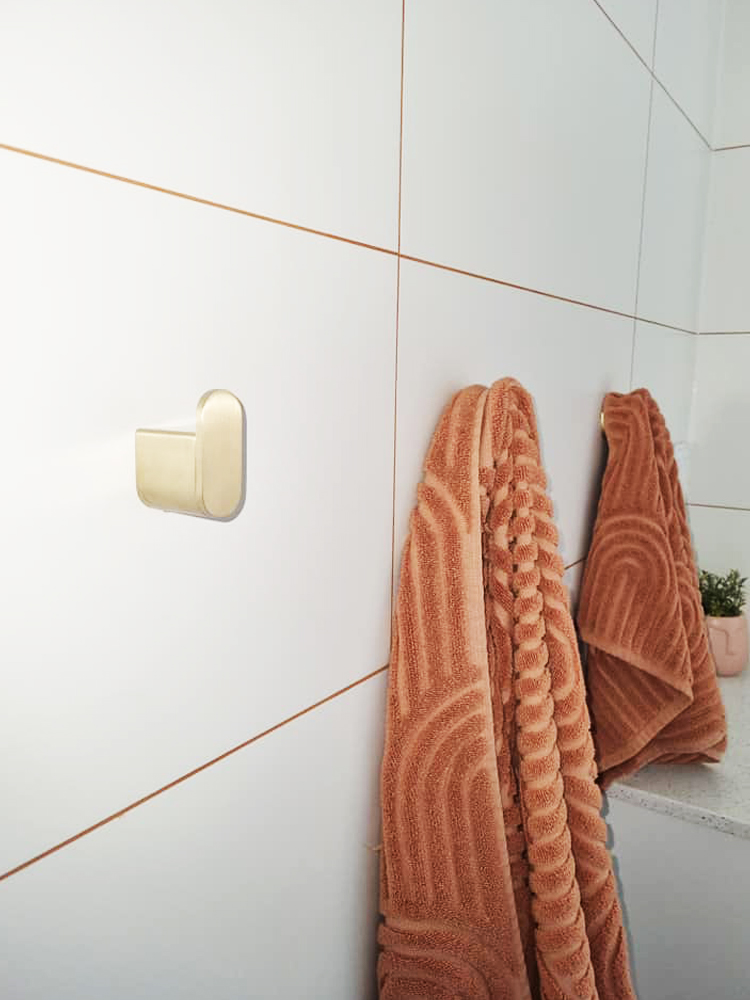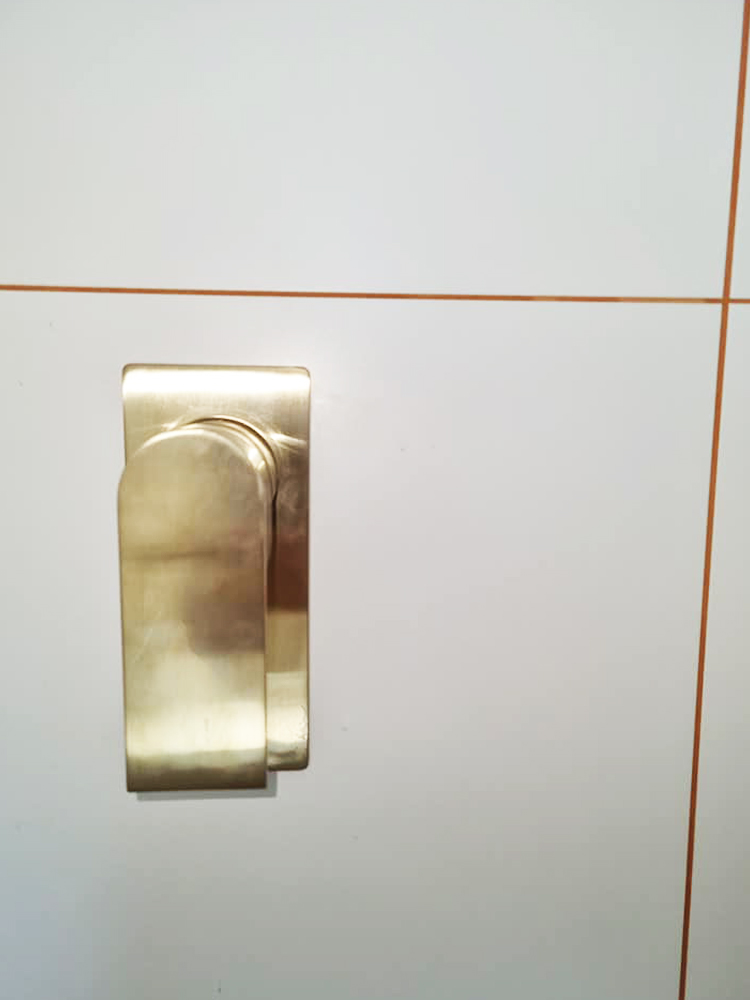 Modern Bath
Simple lines, minimal notes, serene composition – in this image you can see the virtue of the design. Brushed brass tapware engage with the modern bath for a design equally suitable for a family home or a lavish Gold Coast penthouse. Versatile Armrock beauty.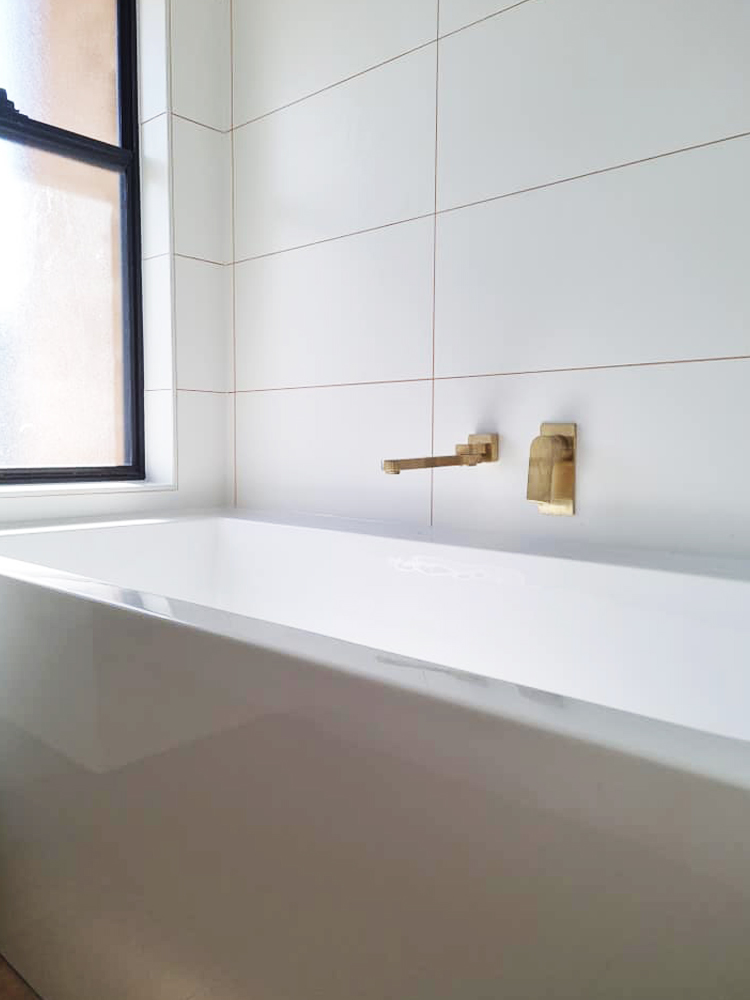 Contact Our Team
Armrock Constructions are renovation specialists in the Gold Coast. We exclusively work on bathrooms, and provide a complete team to undertake all aspects of your project. If you're interested in a bathroom renovation, contact us – we provide a free measure and quote.