This Gold Coast bathroom renovation project by Armrock Constructions produced a fantastic result. With warm tones, modern accessories and a unified theme, it's a bathroom that is easy to enjoy and use. Read on to learn about this project, or contact our team for a free consultation for your bathroom:
New Bathroom Layout
This bathroom features a new layout. When we renovate, we often remove walls – but sometimes we add them in. The latter was the case in this project. With a new dividing wall in place, two objectives are achieved – privacy for the shower and a station for the vanity and mirror.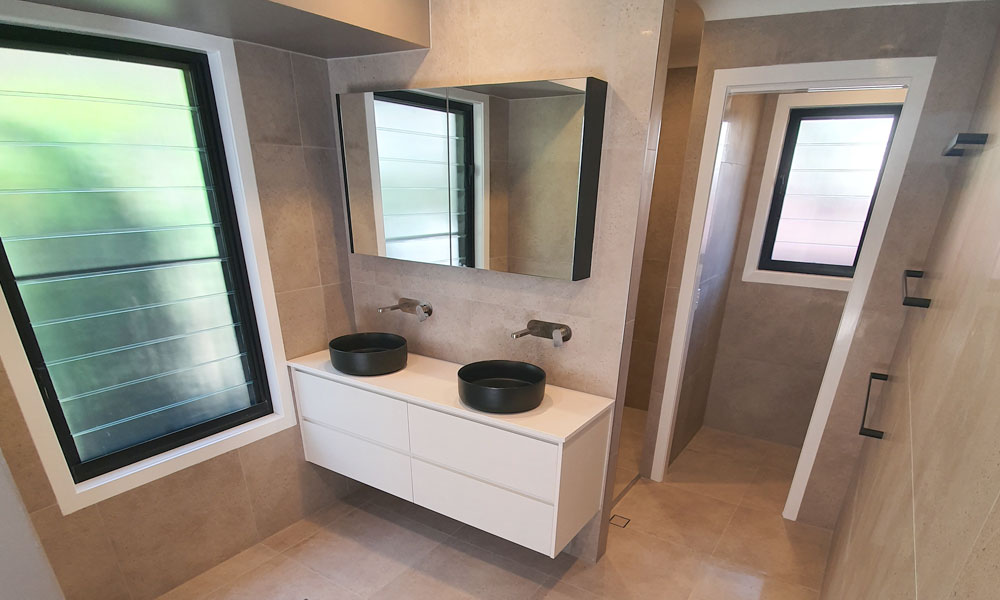 Floor to Wall Tiling
Utilising floor-to-wall tiles creates an impressive result, and also resolves the challenge of balancing colour choices. Interestingly, in interior design, it's often the case that more can be achieved with less. In this case, with less colours in play, a strong result is achieved. Learn more about tiling with Armrock Constructions here.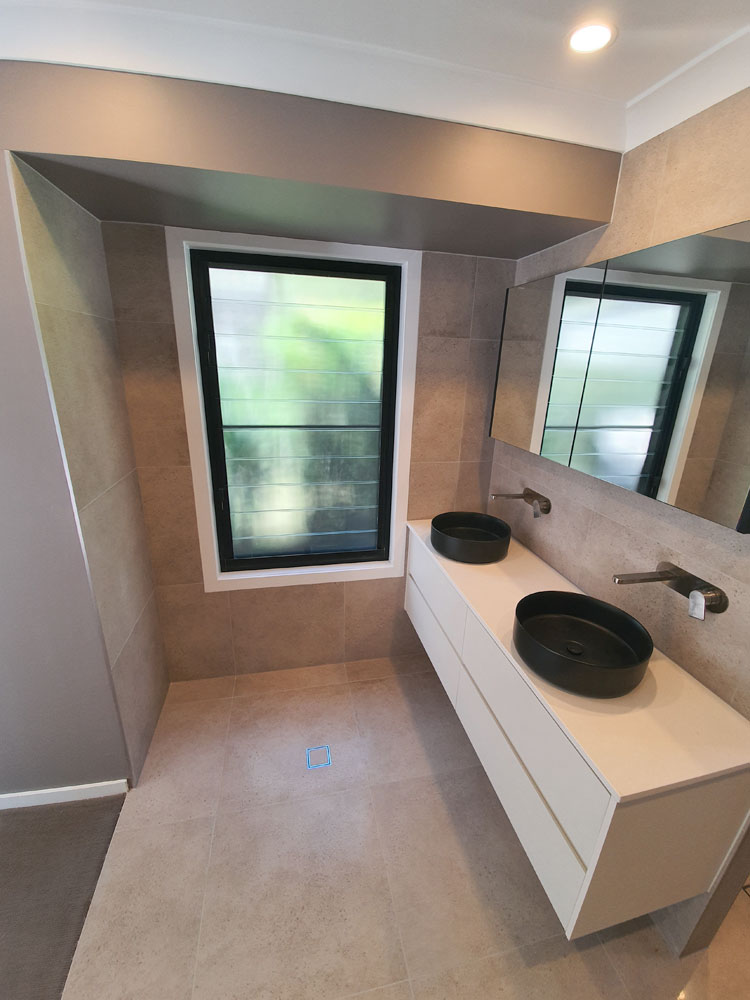 Matching Accessories
By matching accessories, a uniform expression is created. In the example below, the towel rails match the louvre window frames; looking through the other photos this black is extended to other areas as well, such as the basins. Learn more about fixtures and fittings here.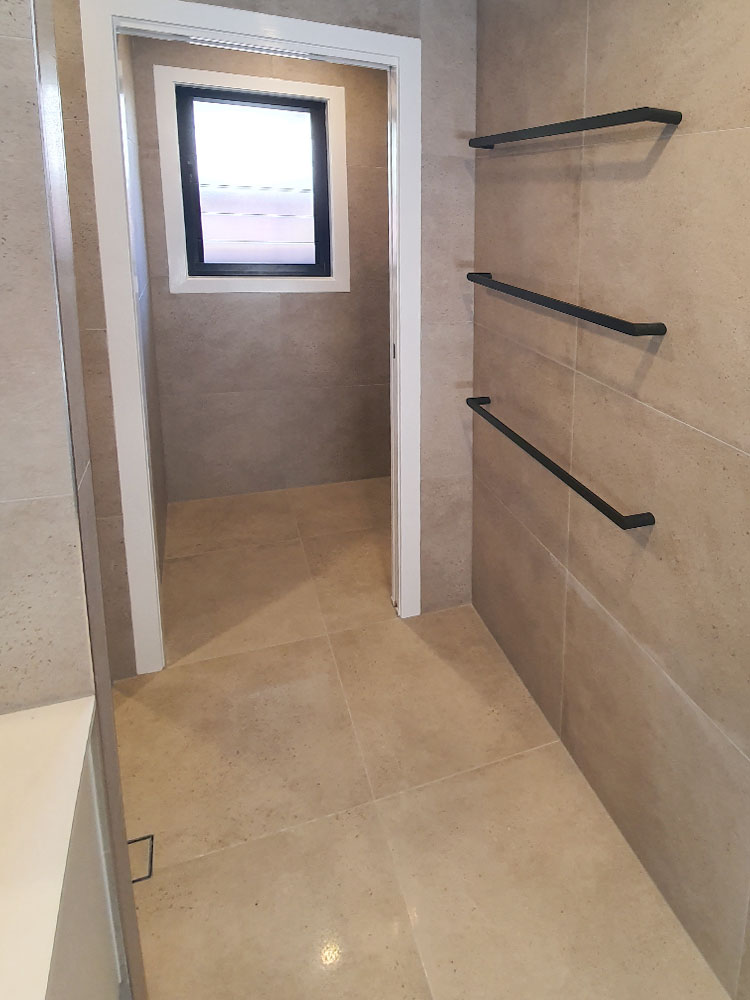 Toilet with Sliding Door
The toilet in this renovation is nicely tucked away behind a sliding door – an optimal way to make the most of space in a renovation. This is one of the real advantages of renovations – the ability to update old ways with new, and improve the usability and presentation of your spaces.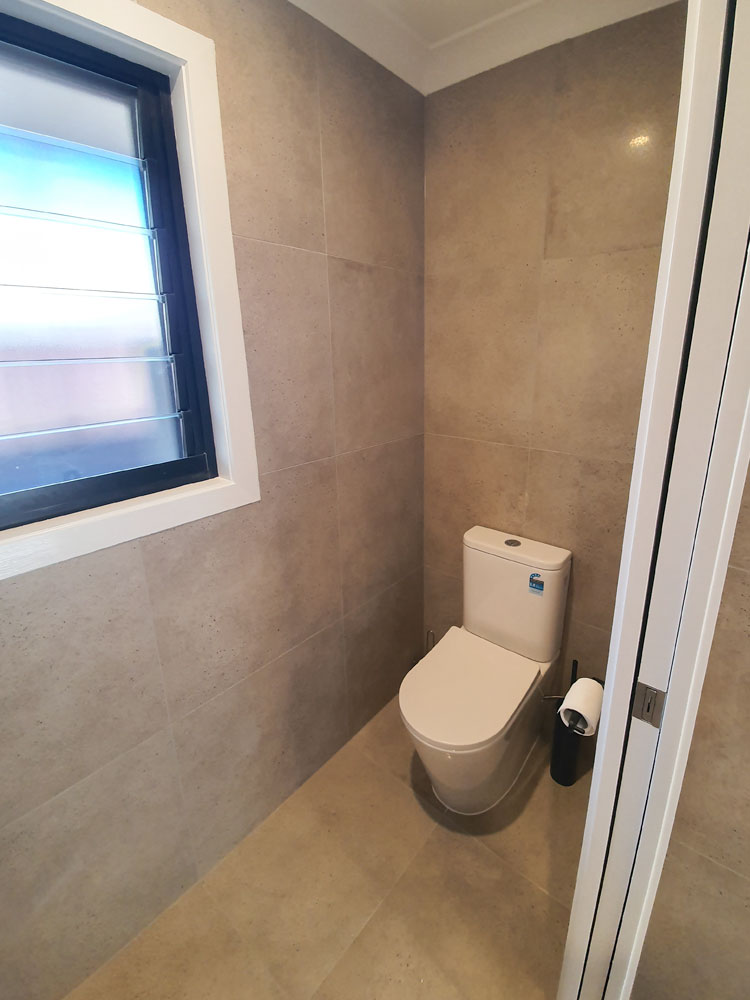 Double Showerhead
Luxury! A double showerhead in a room within the room – this doorless shower is tucked away for privacy, and there's no risk of water running away with our carefully engineered shower floor and long tile insert strip drain. You can learn more about shower installation here, or read about tiling in your renovation project here.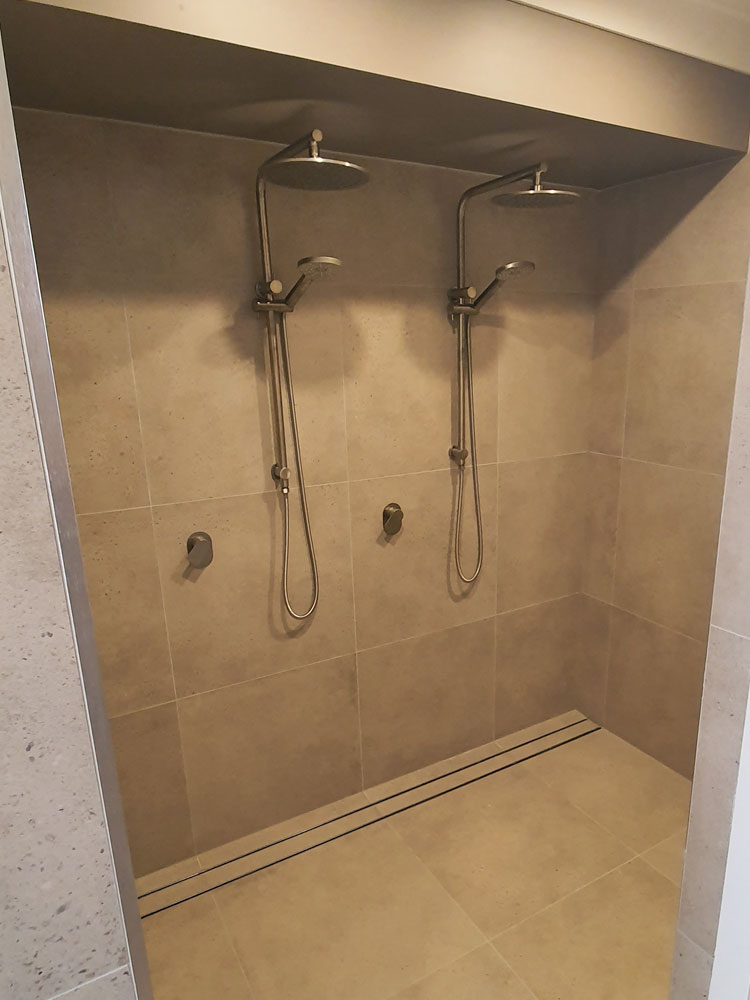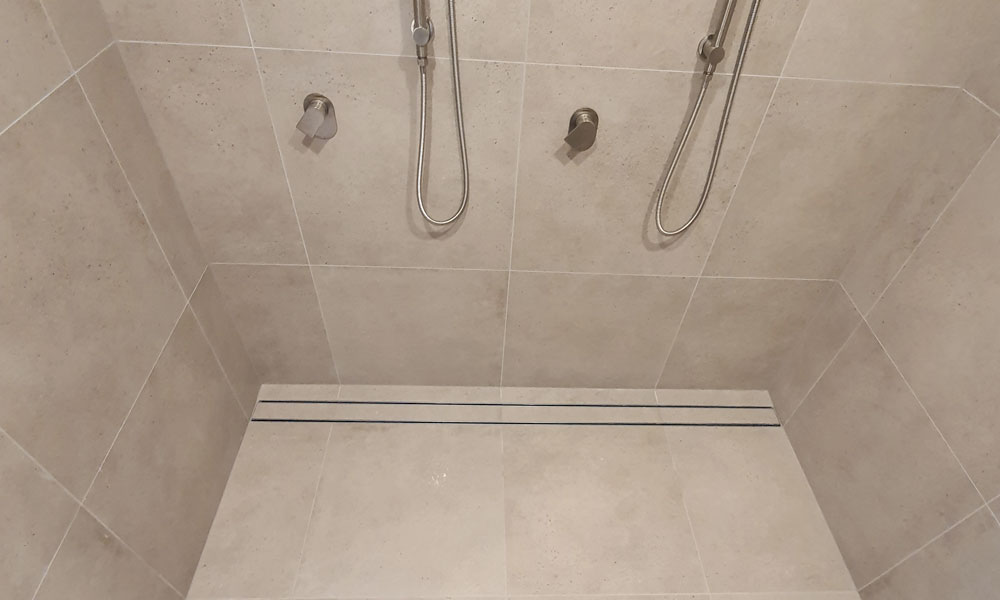 Custom Vanity with Mounted Basins
This vanity is a quiet work of art. Featureless, except for the double-mounted basins, it quietly presides in this bathroom – designed specifically for this space. Although it can't be seen in this image, there is an LED strip light underneath the vanity as well. Installed by Armrock's team, this vanity looks like it was made to be there – and it was. Learn more about custom vanities here.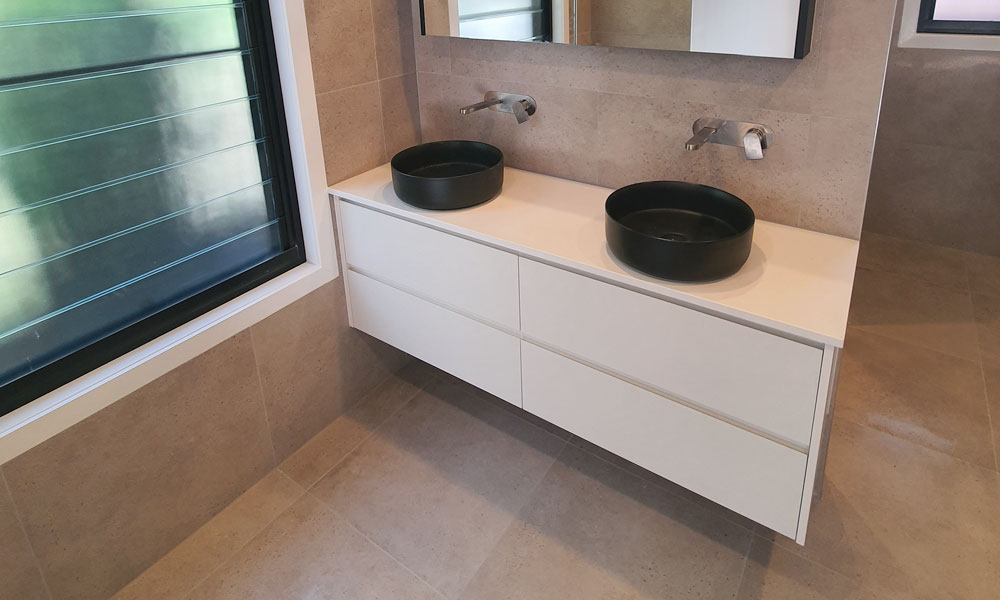 Custom Mirrored Wall Cabinet
Another custom piece in this renovation is the wall cabinet. In the spirit of the style of this bathroom, it's a simple and clean design. It connects to the remainder of the room via its black sides. An advantage of working with Armrock Constructions is that we handle all aspects of the renovation – making it easy for you to achieve the bathroom of your dreams.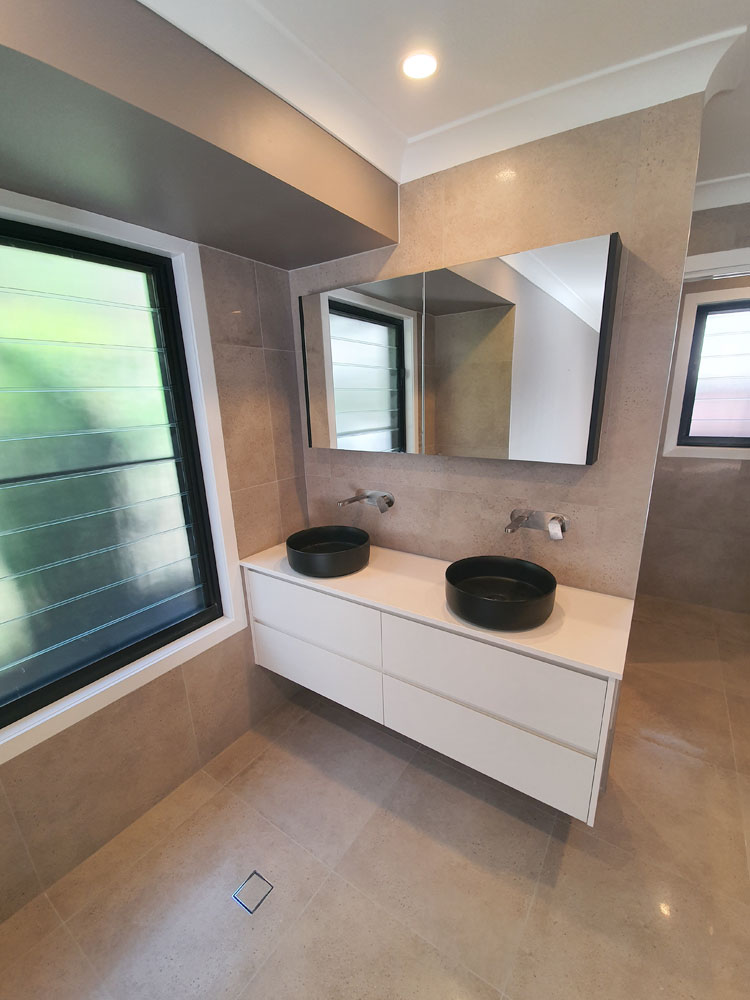 Bathroom Usability
As this picture demonstrates, the new bathroom is highly usable. It combines the washing-station, shower and toilet, but each of them is separated meaning everything can be enjoyed privately and simultaneously.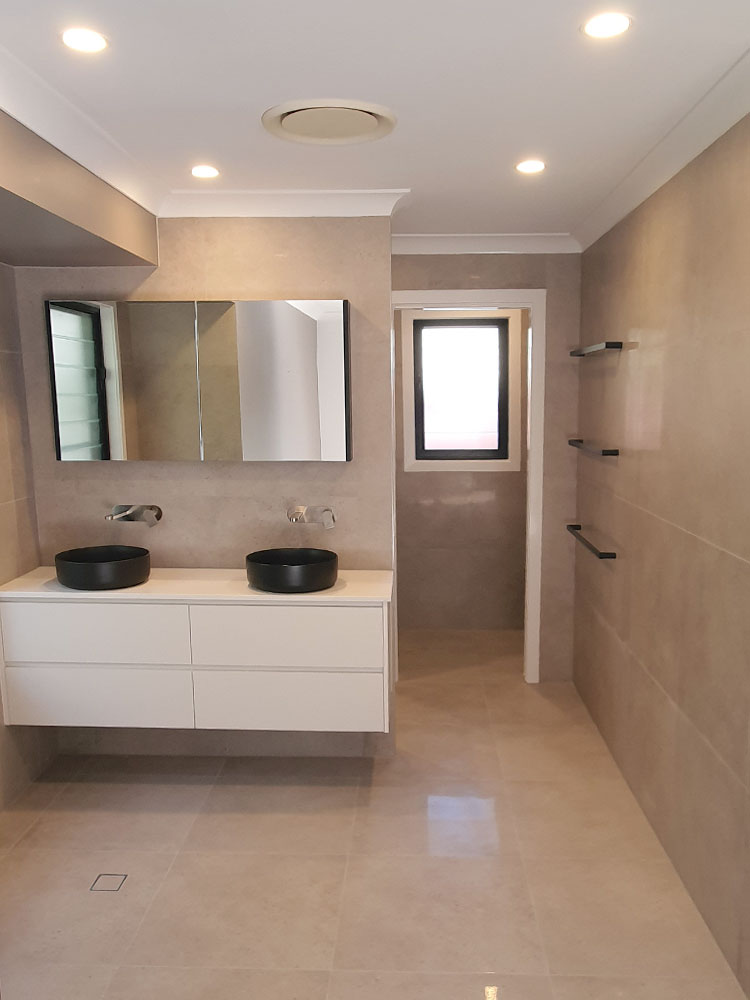 Louvres – a Nice Touch
Finally, a note on the louvres in this project. Updating windows is a great way to get a new fresh look and feel in a renovation, and louvres are a fantastic way to make this happen in a bathroom. Louvres allow light into the room, enhancing the sense of space – but with frosted panes, they maintain privacy as well.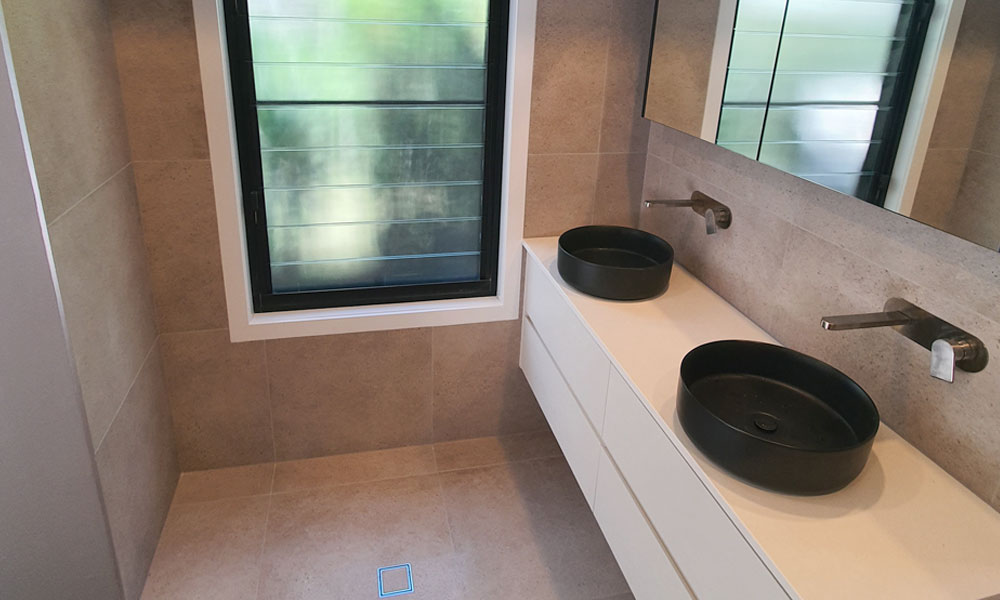 Contact Our Team
Armrock Constructions are renovation specialists in the Gold Coast. We exclusively work on bathrooms, and provide a complete team to undertake all aspects of your project. If you're interested in a bathroom renovation, contact us – we provide a free measure and quote.