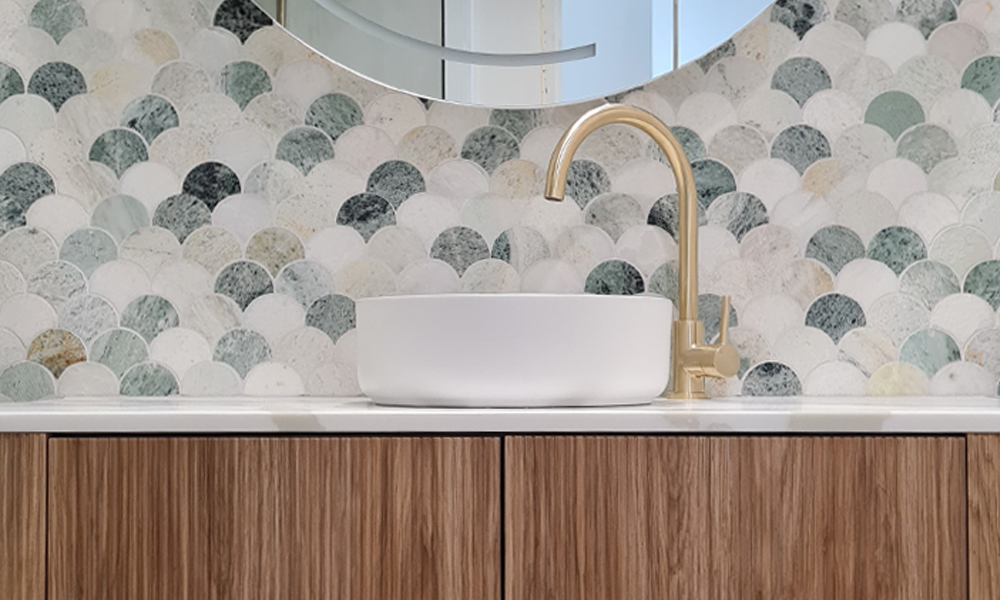 Choosing the colours in a bathroom renovation is one of the most exciting and challenging parts of any bathroom renovation project. Unless you have done 6 years of interior design study at university, you may rapidly learn that there is more involved in colour selection than meets the eye. Making important colour choices can mean the difference between an average and an outstanding bathroom outcome. In this article, we will use examples of our Gold Coast bathroom renovation projects to discuss winning strategies for colour selection in bathroom design, towards the goal of a creating a holistic home.
What is a Holistic Home?
Regardless of the interior style you're into, having the goal of a holistic home is what this is all about. That means the bathroom works together with the rest of the home in a meaningful way – fitting in with the rest of the home. Whether your existing interior style is modern, vintage, relaxed, conservative, bohemian or high-end, it's ideal for your newly renovated bathroom to fit in with the overall theme.
Holistic Definition: Dealing with or treating the whole of something or someone and not just a part [SRC: Cambridge Dictionary]
The Relationship Between The Bathroom and the Home
To create a holistic bathroom design, a great starting point is to remember to evaluate the rest of your home when you're designing your bathroom. If you design your bathroom in isolation, it doesn't stand much chance of successfully integrating because in a holistic home, relationships are everything! Some helpful things to look at are:
List the colours used in the home.
How colourful is the home?
Is the home light or dark?
Take a look at the colour and style of existing fittings such as handles & doorknobs.
Describe the general theme in the home; e.g. modern, relaxed, minimal, natural
Pay particular attention to the kitchen, laundry & toilets
These types of observations don't need to explicitly guide our choices. But they do create awareness. We need to be aware that when we design the bathroom, the colours that we choose will have relationships with the existing style of the home, and these relationships can be optimised for a more holistic result.
Styling Beyond The Bones
A handy piece of knowledge that separates professional designers from everyone else is that less is more. All of the colours, shapes, textures and styles available in a bathroom renovation come in a bewildering array of options. An over-zealous approach can create a design that will tire very quickly.
A simpler and more conservative approach might sound boring, but bathrooms, like any other room in the home, can be styled beyond their bones. Accessories like pot plants, towels, artwork, and other items can also help your bathroom to integrate into the wider home, without compromising the bathroom with an over-zealous design approach. Read about What Colour Blinds go with White Walls for more styling ideas.
Approaching Your Bathroom Design
The safest approach to your bathroom design is to extend the home into the bathroom by utilising existing colour choices and styles to make the bathroom 'more of the same'. It's safe in the sense that, assuming you like the rest of the interior design, you will like the new bathroom, and it will fit in with the rest of the home.
However, being holistic doesn't just mean being the same. It means that there is a relationship. The parts (rooms) of the home can be best understood as a whole (the whole home). While sameness is safe, most of the time, we want more from the opportunity of a bathroom renovation.
Bathroom renovations are a great chance to inject some of our own personality and stylistic intention into the home – to make it our own.
By keeping the rest of the home in mind when designing the bathroom, it's possible to create a 'safely creative' design space, where design choices can be made that will help produce a holistic home: a home that is balanced between what the home is, and what you'd like it to be.
---
Winning Approaches to Bathroom Style
The following examples from our recent Gold Coast bathroom renovations demonstrate some winning approaches that can be adapted to suit a wide variety of bathrooms:
Complementary Colour Bathroom Style
Using two complementary colours in your bathroom creates a winning outcome that can be adapted to suit a wide range of bathrooms and homes. Here's an example from a recent Gold Coast bathroom renovation, where we have used turquoise tiles and blonde timber-look laminate to create a punchy, energetic bathroom using natural tones.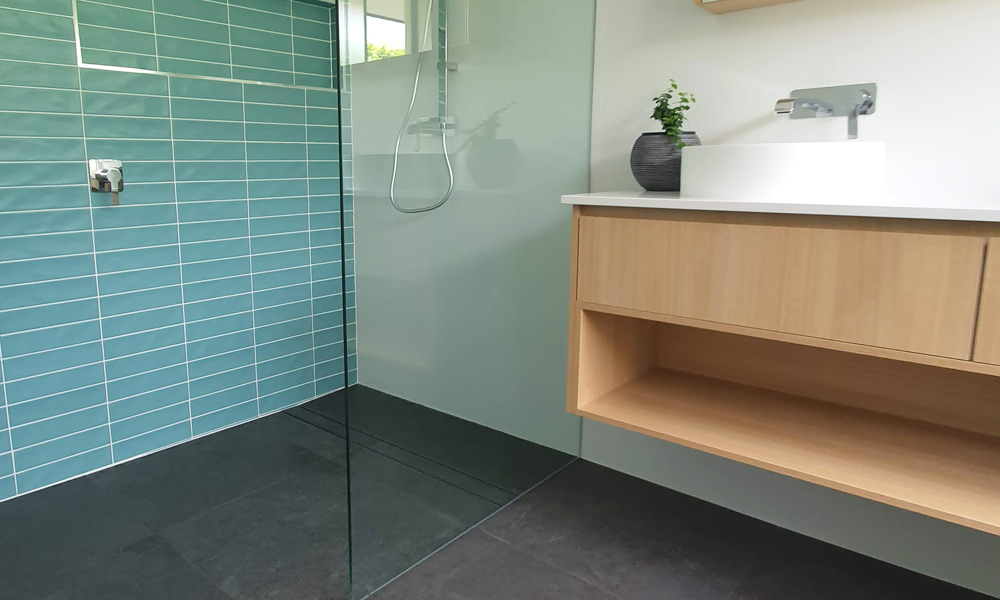 The rest of the design falls into the safe zone with greys and whites, allowing the bathroom colours to effortless sit amongst the mid-tones for a light, fresh feeling.
Black & White: Low Contrast
Black and white are popular bathroom colours. This classical colour combination endures over time, and won't tire as quickly as a brighter design may. In this black and white example, there is very little contrast (the bathroom is mainly white), with subtle black touches in the tapware, handles, grout-lines and tile-inset drains.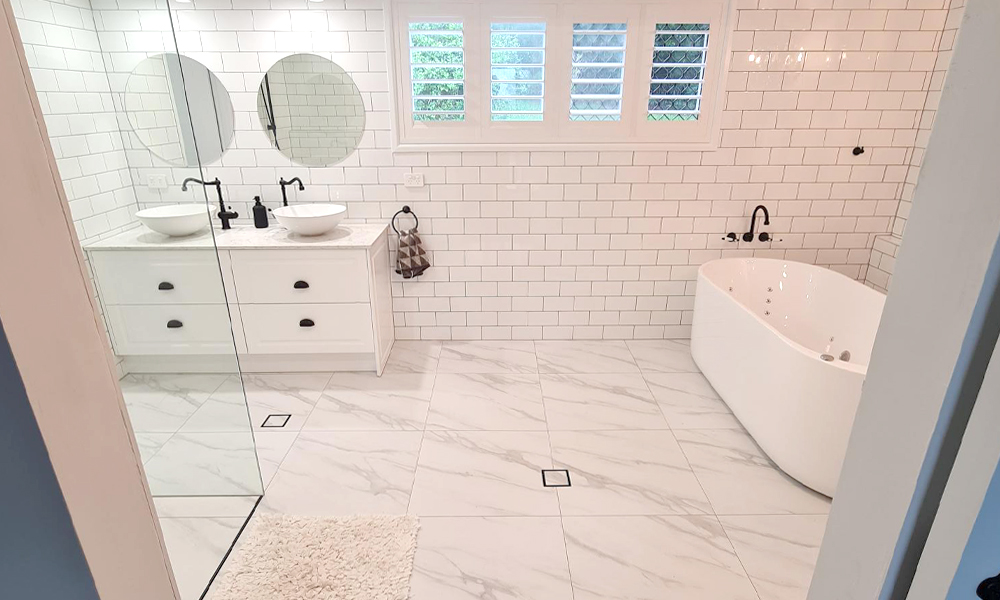 Black & White: High Contrast
This Gold Coast high-rise bathroom is another example of a black and white bathroom design, with a higher degree of contrast being realised by the black laminate bench-top. Immediately stronger in visual presence, this creates a sophisticated and high-end bathroom. Perfect for a penthouse!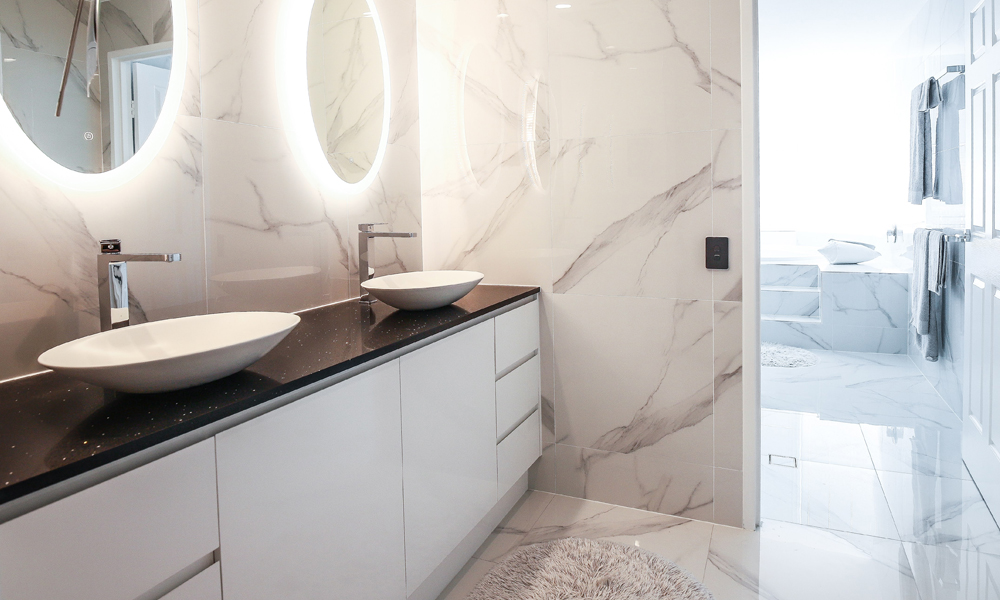 Juxtaposed Organic
This is a cool bathroom style. There's more happening here than just the colours – shape and texture has a big role to play. In terms of colours though, the timber tones, brushed-brass tapware and mosaic tile splashback (and in fact, wall tiling) combine for a stylish meeting between organic and industrial ideas.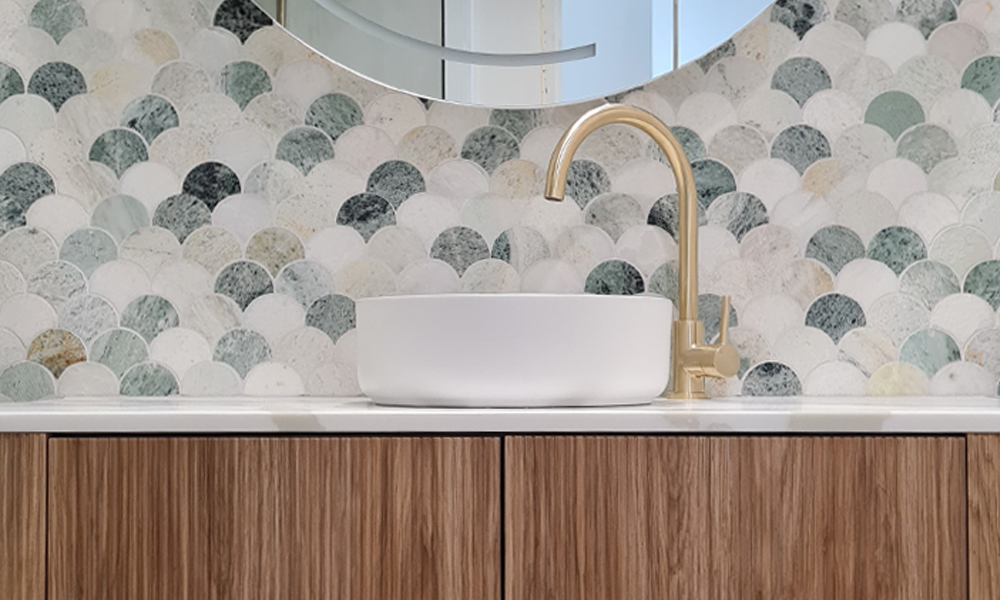 White with Timber
Timber has such a great outcome in bathrooms. Paired with the simplicity of white walls, a timber vanity engages an organic vibe which is simultaneously modern and versatile. We use timber-look laminates to create great outcomes for our custom vanities, and sometimes a successful bathroom renovation doesn't need anything more than this.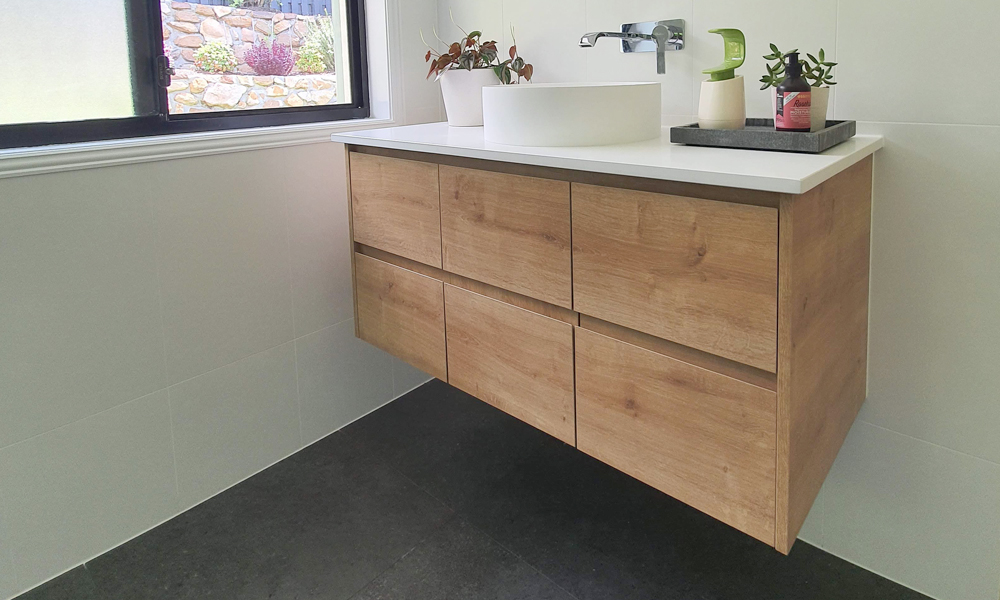 Feature Wall Splash of Colour
This bathroom renovation carries on from our white/timber concept to the inclusion of a baby-blue tiled feature wall. Note how the grout-lines are sympathetic to the timber / brushed-brass tones in the bench top, tapware and fittings. This concept creates a sophisticated and whimsical result. Again, it is ultimately a simple recipe: white, timber, and a feature-colour in tiles of your choice.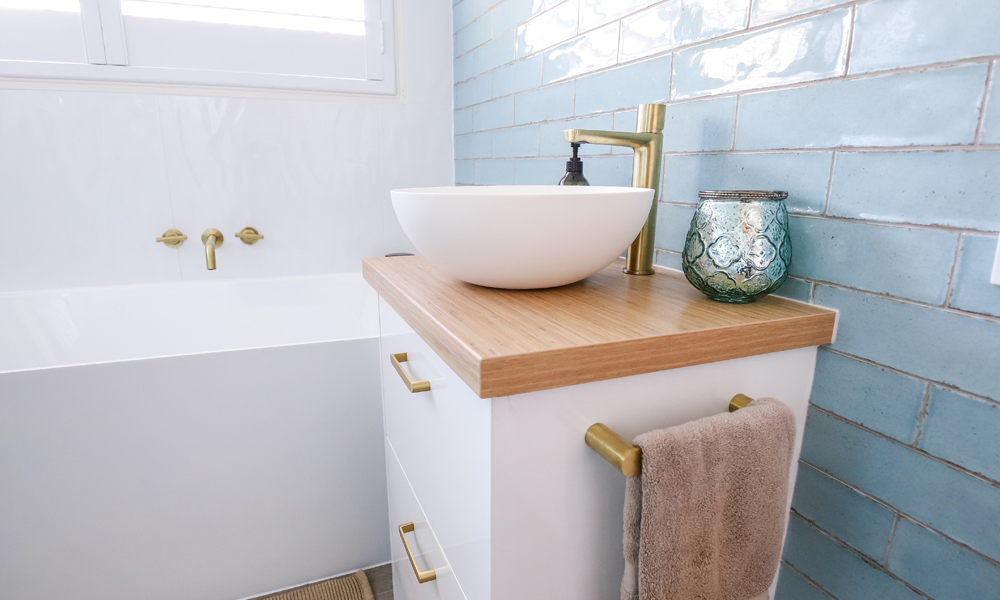 Extravagant Splashes of Metallic Colour
Typical bathroom metal colours are silver, black, and brushed brass. Surprising and interesting effects can be introduced by unexpected metallic inclusions. In this bathroom / laundry, an otherwise low-key approach (white tiles, timber-look laminate benchtop) gets a *surprise* addition of a brushed-brass tap and sink. It's colourful, energetic, and adds some interest and excitement to the design, without overwhelming the room.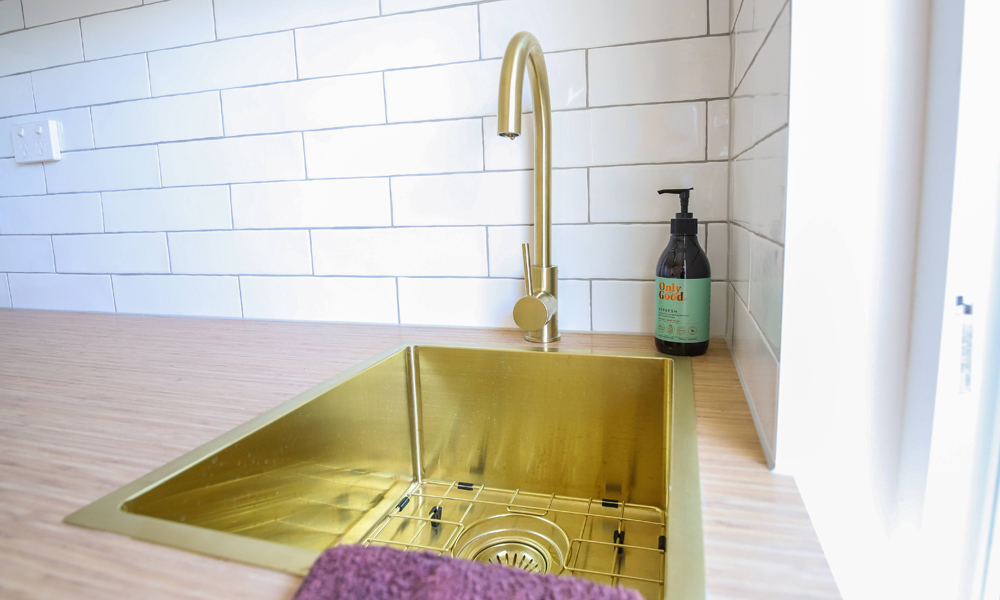 LED Lighting Excitement
Adding some LED lighting to your bathroom can be transformative. This simple black and white design gets a powerful punch when the purple LEDs are activated. What's really cool is the versatility that this offers. You may not need it everyday, but when it's party time, guest will be washing their hands in purple LED style!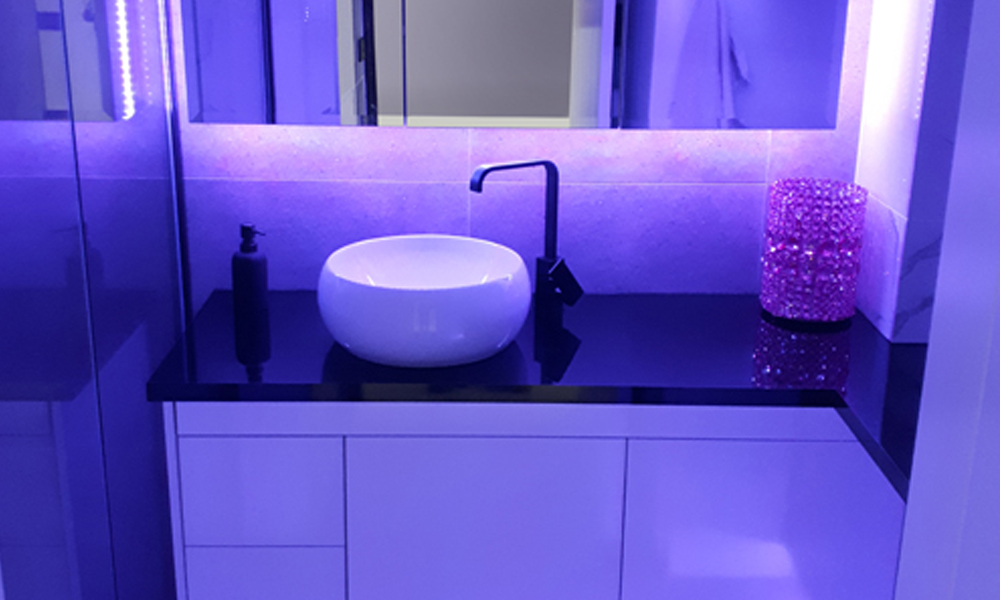 Organise a Free Quote for Your Bathroom Renovation: