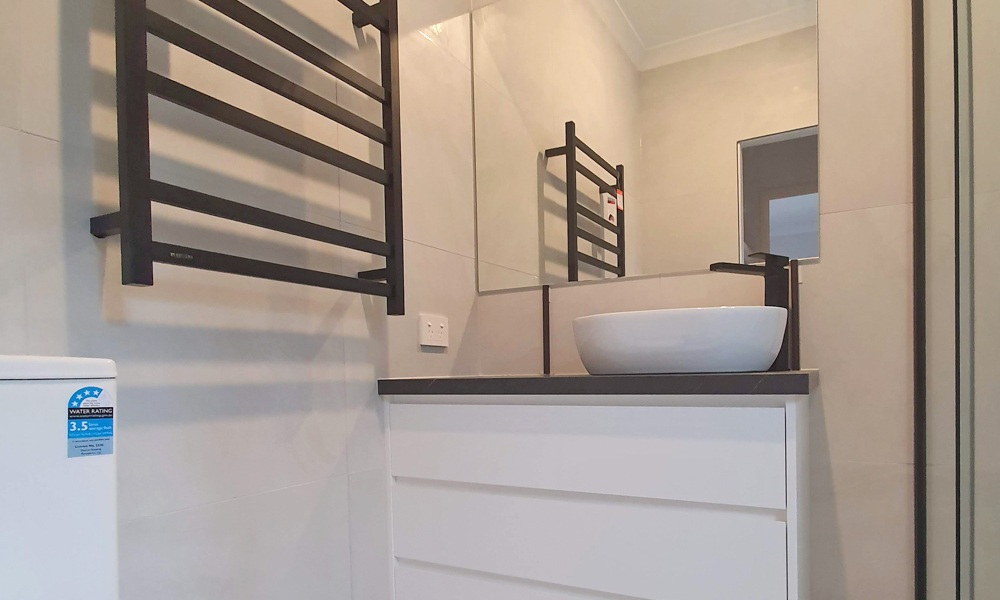 Using a simple contrasted approach to your bathroom design is a popular approach that can be utilised successfully in bathrooms of all shapes and sizes and across the full spectrum of renovation possibilities. In this Gold Coast bathroom, the evidence is plain to see. Join us for a quick tour of this project. To learn more about bathroom renovations, please contact our team. Every project includes a free consultation & quote.
Small & Functional
This is a small bathroom, but we've made the most of the space. Our team are experienced in optimising bathrooms and their inclusions – We make sure the fundamentals are covered, such as the way doors open and taps operate. In this room, everything you need is easily accessible. It's a concise bathroom, and this fact is well-communicated by the sharp, contrasted colour scheme.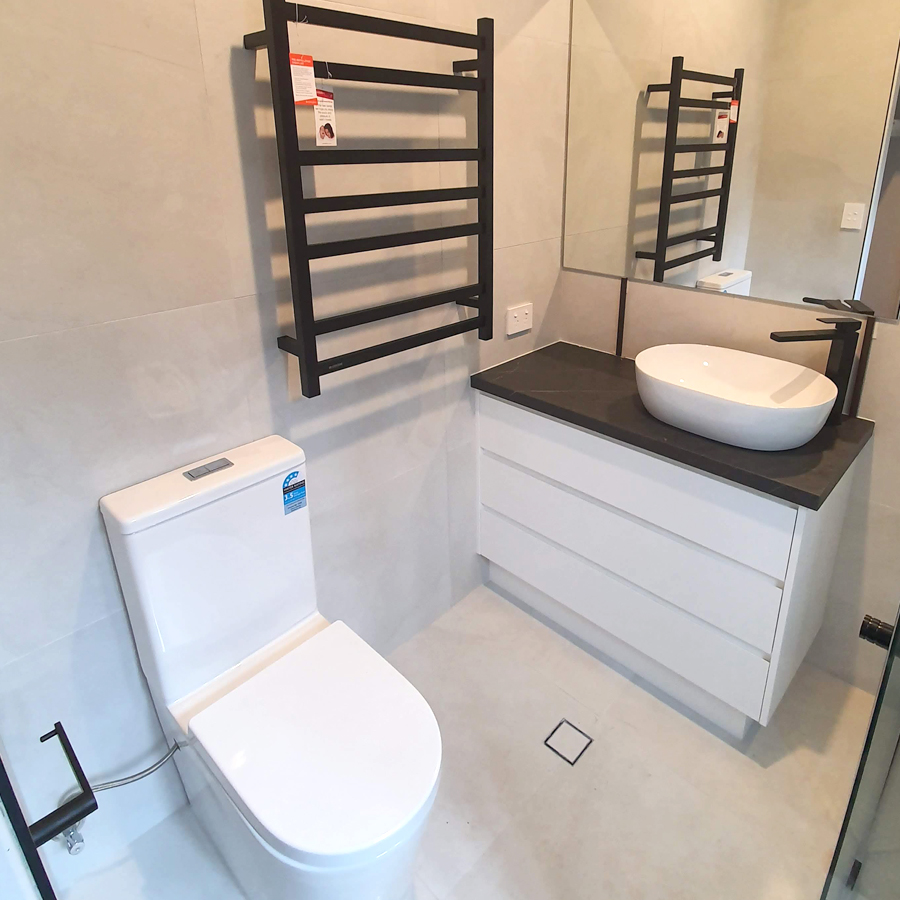 Simplicity – A Design Principle
In any type of design, elements are combined together to make a result. There is an optimal amount of variation for any design.. too many variations (colours, shapes, sizes) and the design will lose its edge. Designers know that removing elements is just as important as adding them in. To get the best result, a balance needs to be found between what can be added in and what should be left out. The principle of simplicity clarifies this and is best understood by the popular adage, "Less is More".
When designing your bathroom, it's great to consider all of thing things you could have, and then reduce these back to all of the things you should have. This bathroom is a great example. With a minimal approach, it's guaranteed that important boxes are ticked – that relationships are created between elements and that the overall room has an integrated feeling.
Showerhead Detail
Opting for a combo showerhead gives you total control over both how things work and how they look. This showerhead fits perfectly into the bathroom design, with black tones contrasting nicely against the white tiles. We've also included a tiled niche in this bathroom which features a black strip to accentuate its position and create a relationship with other elements. It's a simple, winning style.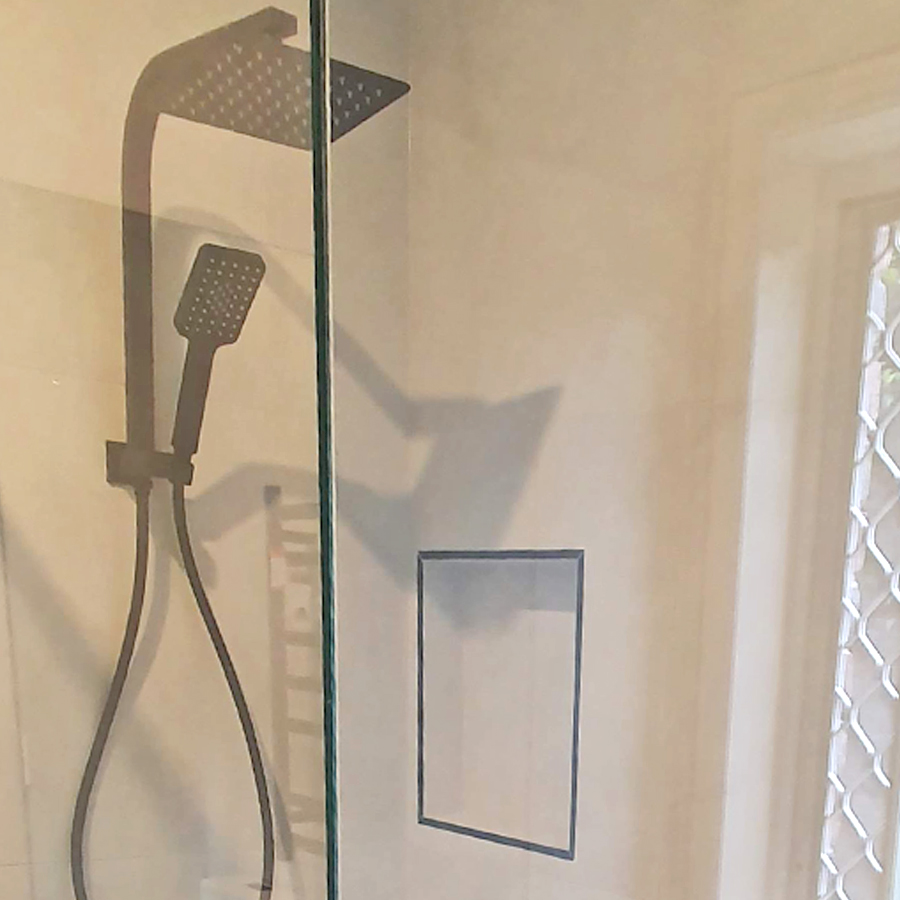 Entering The Bathroom
Entering the bathroom, all features & details are visible including the black & white design, the mounted basin, inset tile drains & niche, and everything you need – toilet, vanity & shower compactly presented and ready to use.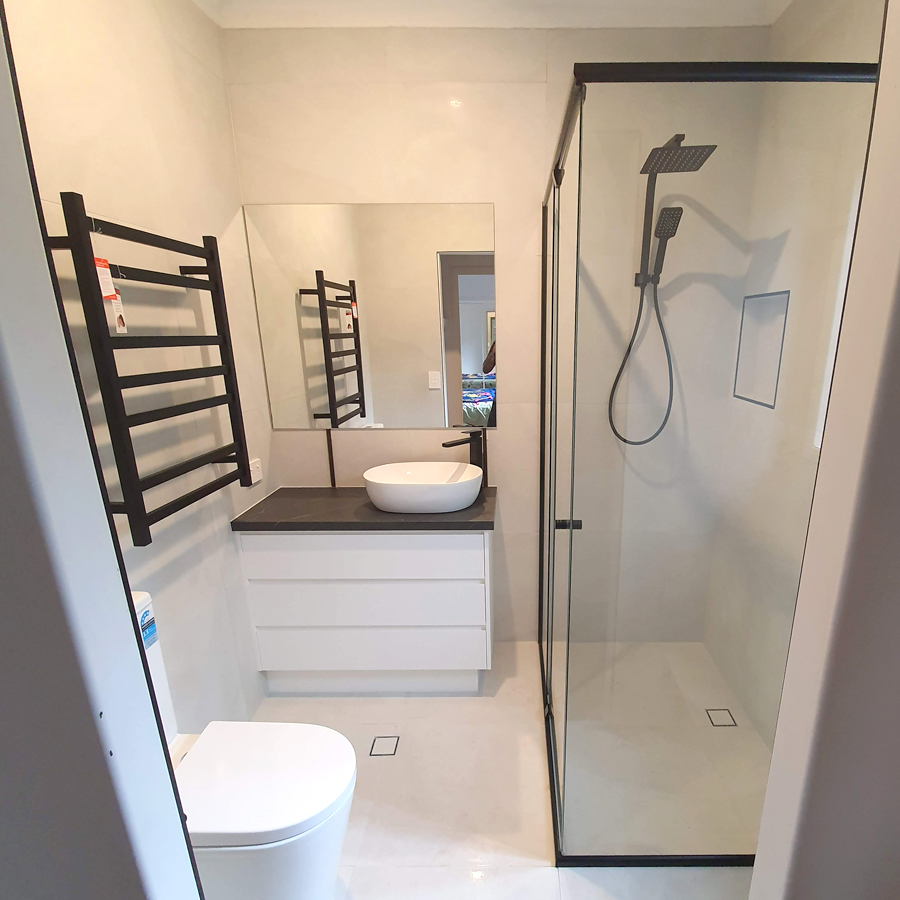 Solving Your Bathroom Design
Armrock Constructions specialises in bathroom renovations on the Gold Coast QLD. We can help you through the entire process and guide you to the right bathroom for your home – taking the time to get the important decisions & details right. Our service is integrated, so you don't need to deal with multiple trades or contractors. Take a look at our services here. We take care of everything!