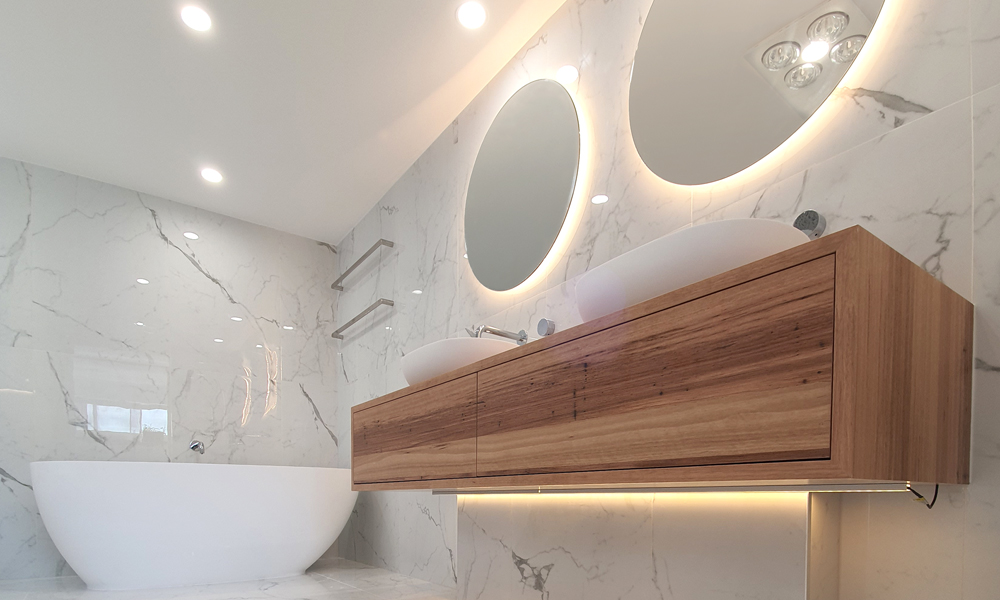 Armrock Constructions specialises in bathroom renovations on the Gold Coast QLD. We service Nerang (4211) with a complete bathroom renovation service and can help with all aspects from the design to installation of your new bathroom. Armrock's service is flexible – let us know what you'd like to achieve and we can tell you how to best accomplish your goals. We also help you connect with functional modern trends like LED lighting, custom vanity units and integrated tiling solutions for beautiful, stylish bathrooms that become the centrepiece of the house.
Nerang Bathroom Renovation FAQ
How much does it cost to renovate a small bathroom?

Every renovation is different – there is not a 'fixed cost' because of the variables such as the demolition, existing structure, fixtures and fitting selection, team required for your renovation, tiles, etc. We provide an obligation-free quote at the beginning which will explain the costs associated with your proposed renovation, and can help you adjust the quote to suit your budget. Our renovations are usually in the range of $7000 – $15,000.
How long does it take to renovate a bathroom?

The duration of your renovation will depend on the extent and inclusions of the project. There is no fixed duration because every project is different. When we provide you with your free appraisal and quote, we will be able to give you an estimation of the duration of your project, after reviewing the structure and coming to terms with you renovation goals.
Should floor tiles be laid vertically or horizontally?

There's more to tiling than meets the eye, and one critical consideration is the direct of tiling. When rectangular tiles are used, they can be laid in different ways for different effects. Generally, tiles are laid horizontally, i.e. with the longest side of the tiles aligned to the longer side of the room. This creates a sympathetic relationship between the tiles and the room, and also creates flow through the room as well. However, because bathrooms come in such a variety of shapes and sizes, tiling should always be done in a way that responds to the doors, style and shape of the room. Learn more about tiling here.