Could the Polished Concrete look be the solution for your Gold Coast bathroom renovation? This style is popular and can bring interest and value to your design in part or whole. In this article we'll explore some practical applications of polished concrete style for bathrooms, with examples from recent Armrock bathroom renovations. Book a free appraisal and quote with our team for your renovation, or read on to learn more about using polished concrete in your project.
What is Polished Concrete Style?
Polished concrete is an industrial style informed by leveraging the aesthetic of concrete for interior design, and is a popular solution in bathroom renovation projects. Originally, polished concrete comes from the method of improving concrete floors through various means to make it a feature, rather than hiding it away in a under carpet or floorboards. This feature adds value to the room, and can be used in bathrooms in the same way.
You can learn more about concrete polishing on Wikipedia.
What's Special About It?
From the design point of view, using industrial styles such as polished concrete in your bathroom gives you access to a specific designed style. Industrial styles are so-called because they showcase structural & functional elements in a new light. You can read more about industrial design on decoist.com. Polished concrete is one such style, and it's special because of it's unique design strength, disposition and texture.
Advantages of Polished Concrete Style
Modern bathroom style is always striving to be fresh and new. By introducing the polished concrete look into your bathroom, you can access a library of visual possibilities that can make your new bathroom an exciting space.
The look can be reproduced either by working with actual concrete or through the application of materials in the same style, such as polished concrete tiles or laminates. We've recently been using polished concrete tiles to great effect in many of our Gold Coast bathroom renovation projects. 
Advantages of this style include:
Can be implemented in part or whole
Combines well with other common bathroom elements
Can be warm or cool (colour temperature)
Easy to keep clean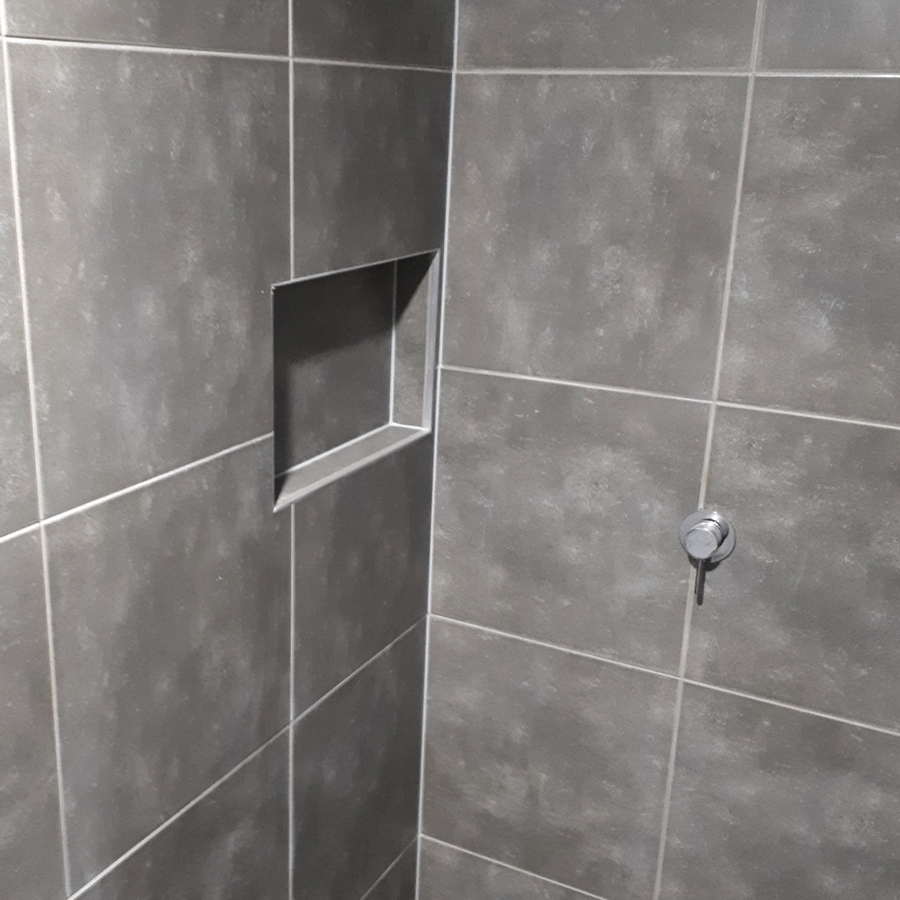 Polished Concrete Tiles
Polished concrete tiles are tiles that accurately replicate the polished concrete style. They're a great way to access this style for floors or walls and are ready to go. Although they're available in a variety of sizes, larger tile sizes are popular at the moment for polished concrete – perhaps because of their more expansive look. Either way they come in a variety of styles. Grey tones are common as they echo the greys ordinarily found in concrete, but there are many subtle variations to choose from. 
Polished Concrete Bathrooms
A successful polished concrete bathroom includes a juxtaposition of styles. Used exclusively polished concrete can be overbearing, but when combined judiciously with timbers, glosses, metallics such as silver, and plants or natural accessories, a rich experience is revealed.
This comes from polished concretes ability to mix well with other common bathroom inclusions. We're getting great results combining polished concrete with timber-look laminates for a style that is immediately textural, inviting and also utilitarian and practical.
Polished Concrete Shower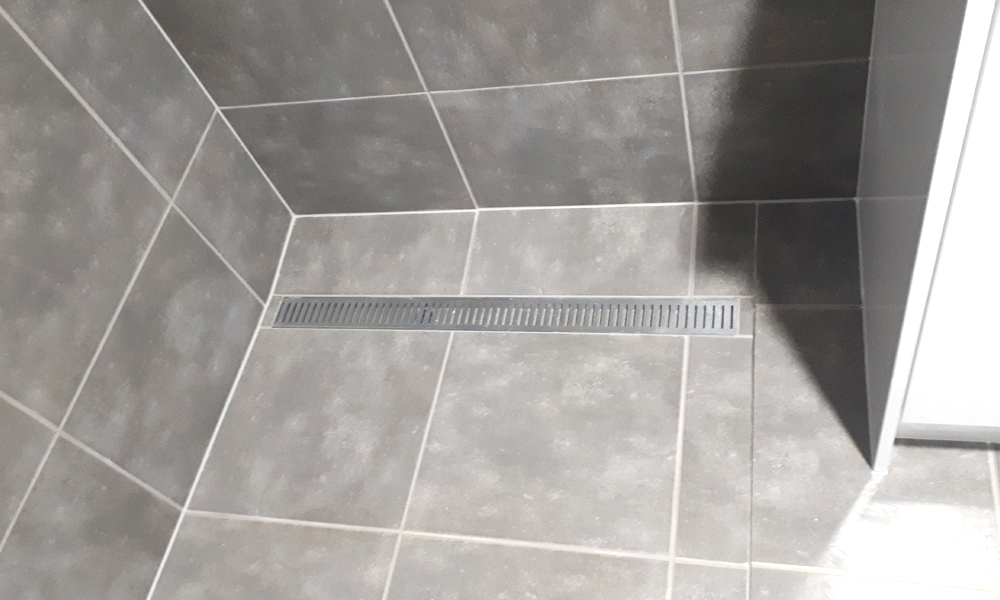 Stainless Steel Shower Drain
Polished concrete and silver go together – it's part of the industrial theme (think factory + machinery). Running a full-length drain communicates this idea whilst further expanding the visual impression created by the large 600x600mm tiles.
Stainless Steel Shower Head
Again, polished concrete tiles work with the silver of this showerhead for a compelling style. To make it work best, consider how it will be balanced in your bathroom. The more polished concrete you use, the more likely it will require an offset of some kind by a natural material or texture.