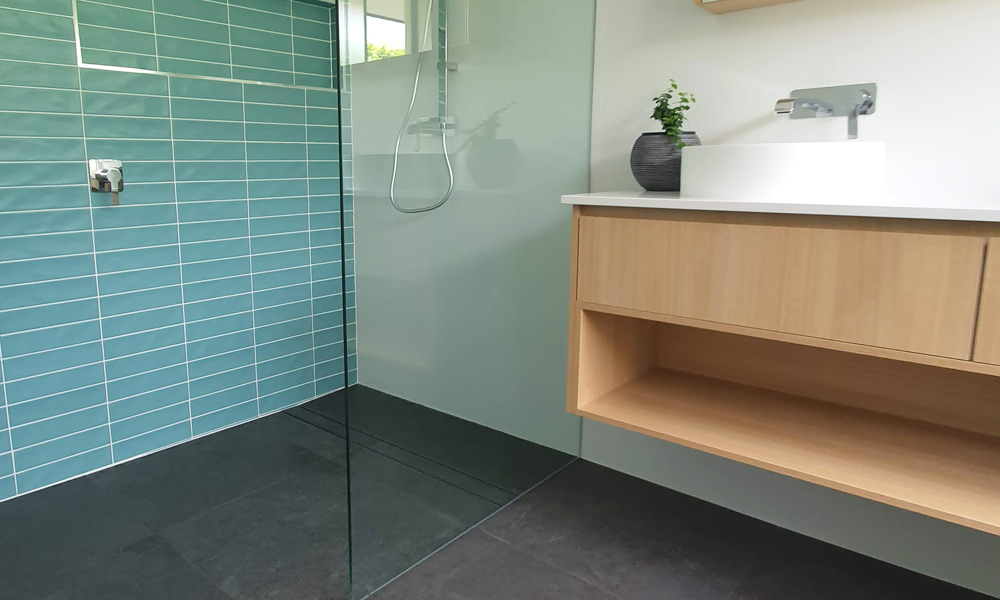 Timber-look laminates are a popular option for modern bathroom bench tops. In this article with the Gold Coast's Armrock Constructions, we review timber-look laminates – what they are, how we use them, and how they compare to alternative solutions. If you're looking for a bathroom renovation on the Gold Coast, please don't hesitate to contact our team for a free consultation & quote.
What is Timber-Look Laminate?
Lamination is the process of manufacturing materials in layers. By creating a composite material in this way, laminates can create a similar look and feel to raw materials. Timber-look laminates are laminates that resemble timber. They are available in a wide variety of different timber styles, enabling renovations to be easily adapted to suit any design requirements.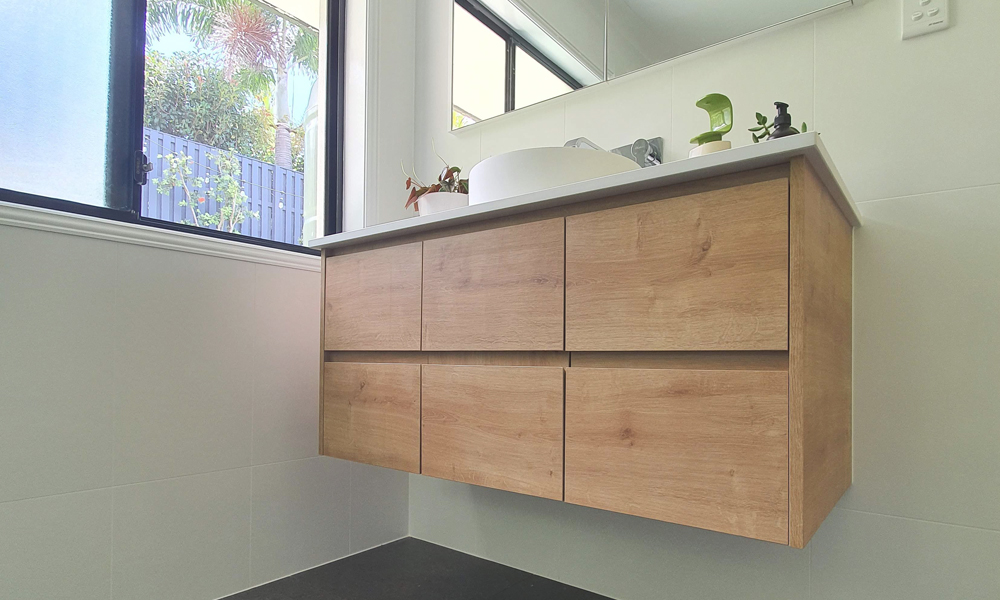 Popular Applications
We frequently use timber-look laminates in our renovation projects for bench tops, splashbacks, and custom vanities.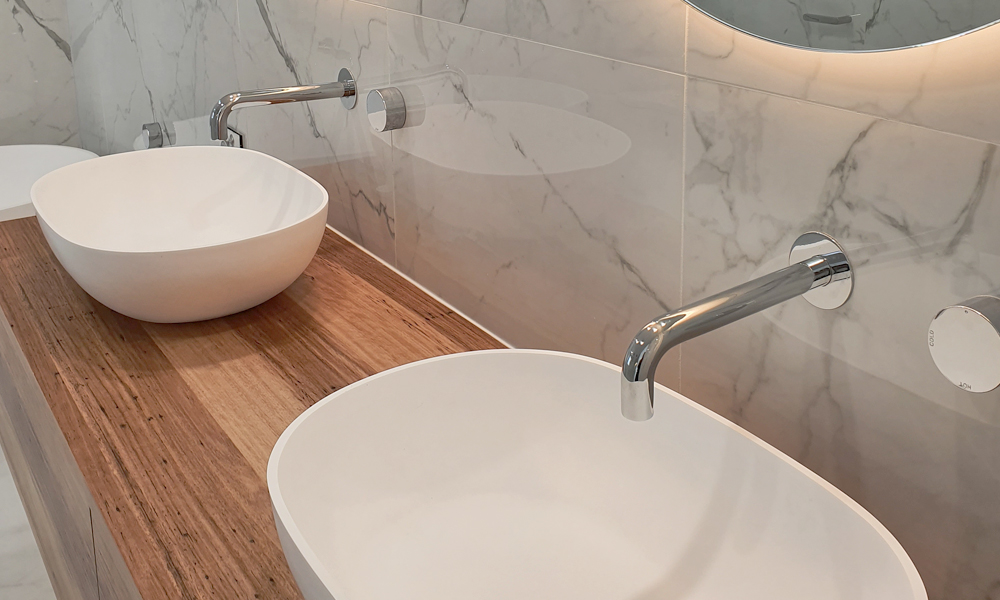 What are the Alternatives to Timber-Look Laminates?
In bathroom renovations, we use timber-look laminates for bench tops, splashbacks and custom vanities. While there are a variety of other materials that can be utilised for the same purpose (stone, plastic, resin, glass, porcelain and acrylic, etc) to achieve a timber look, actual timber is the primary option.
Advantages of Timber-Look Laminates?
There are four major advantages of timber-look laminates which make them increasingly popular for bathroom renovations: cost, accessibility, ease of use, and evolutionary.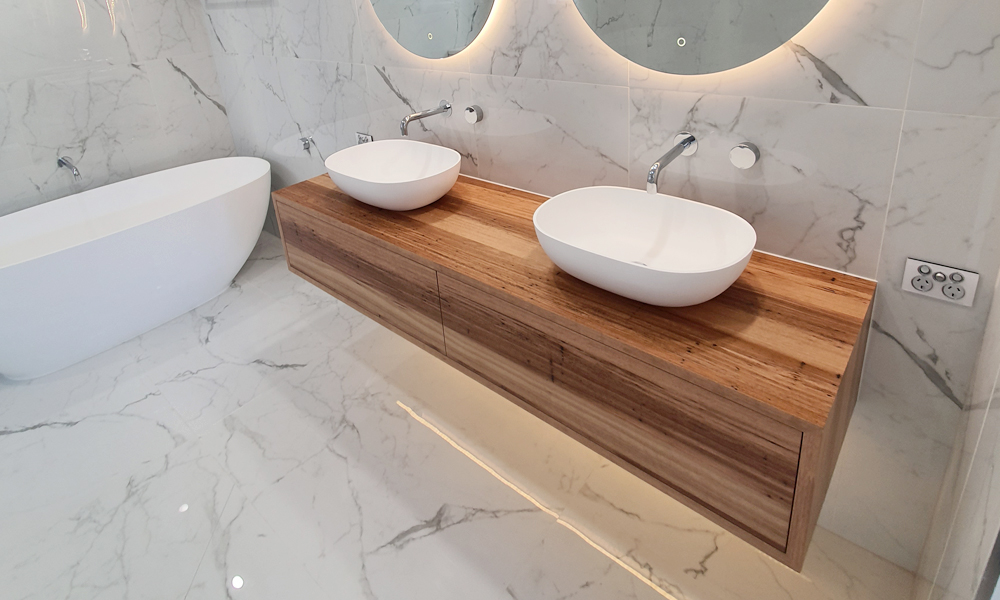 Cost
Timber-look laminates are less expensive than raw materials. Bathroom renovations can be expensive, so ensuring the budget is on track means assessing options on a quality / cost basis suitable for your project. Because timber-look laminates look just like the real thing, they are always worth considering for bathroom applications.
Accessibility
The origin of bathroom design trends are international, but achieving a look consistent with materials from another country is challenging and expensive. Timber-look laminates help by giving you access to a library of timber styles so you can easily align your renovation with exactly the right type of timber to suit your design.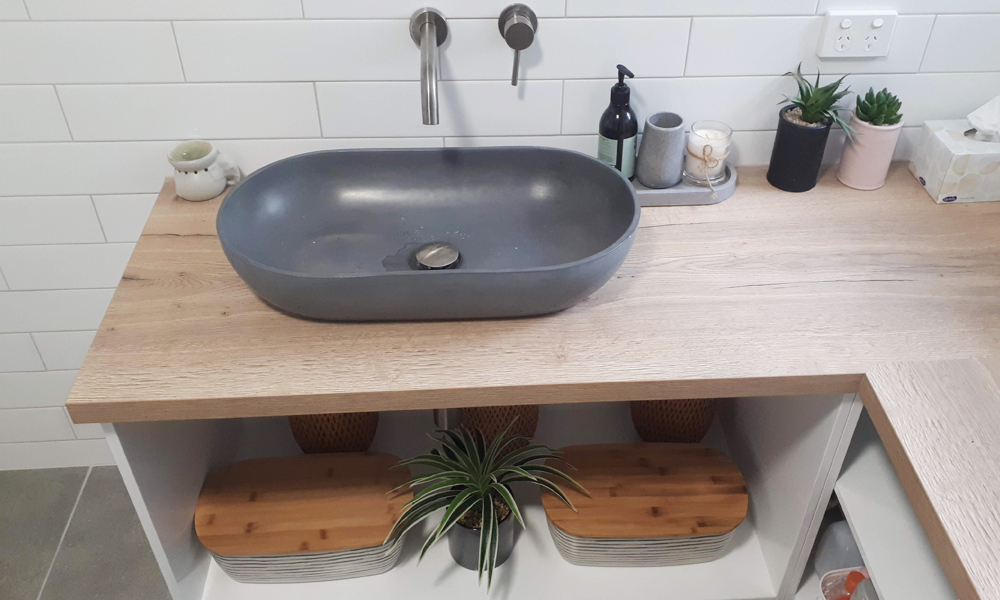 Ease of Use
From the renovation process standpoint, working with laminates is highly efficient, which makes them more cost-effective for you. Laminates can easily be made into different shapes and sizes, making them perfect for customisations such as vanity units and bench tops.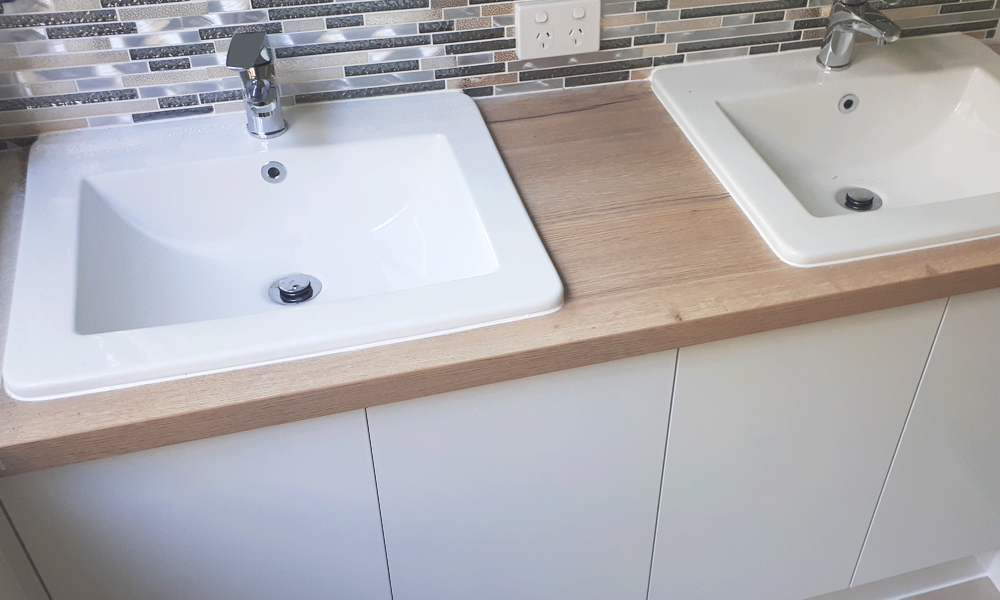 Evolutionary
The best thing about laminates is the way they have evolved. Laminates have been around for a long time, and they have come a long way. The important parameters they need to meet, including form and functional aspects, have been incorporated into their design making them robust, stylish and suitable for any bathroom application. Whether your bathroom is budget or high-end, laminates are an option to consider.
Laminate Products We Use
We have been achieving great results with Nikpol's EGGER range on our recent bathroom renovation projects. Learn more about these options on their website. For timber-look laminates, this range even includes timber grain textures, making for a complete timber experience and creating a natural, calming aesthetic for your bathroom renovation.
Important Material Requirements
Working in bathrooms, materials need to be durable (long-lasting) and sustainable in a wet environment. They also need to look great. Our laminate solutions meet all of these requirements.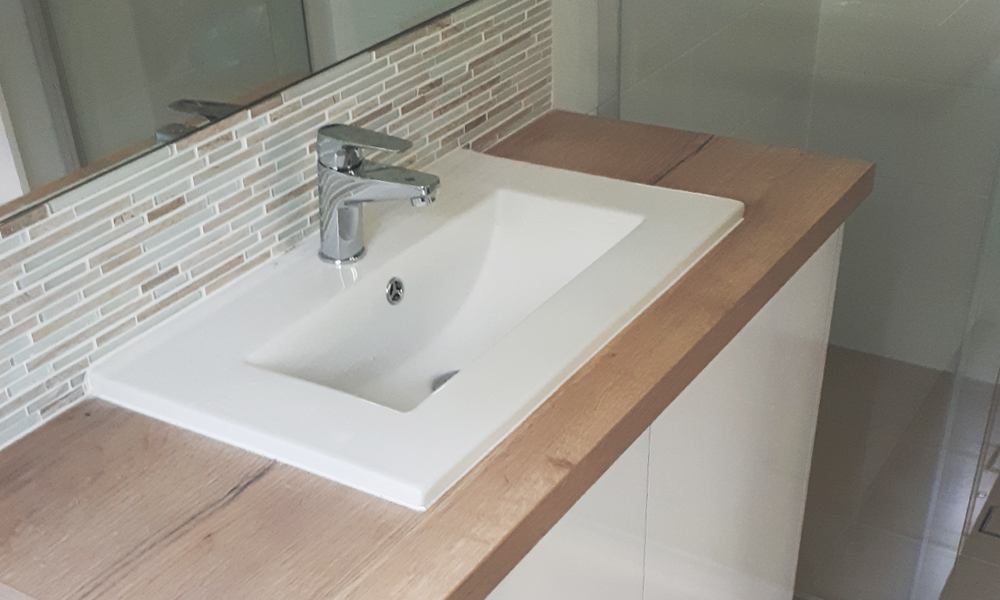 Timber Laminates and Custom Vanities
Many of our Gold Coast bathroom renovation projects feature custom vanities. A custom vanity unit gives you total control over the appearance of your vanity, and also enhances your ability to optimise the way the vanity works within the bathroom.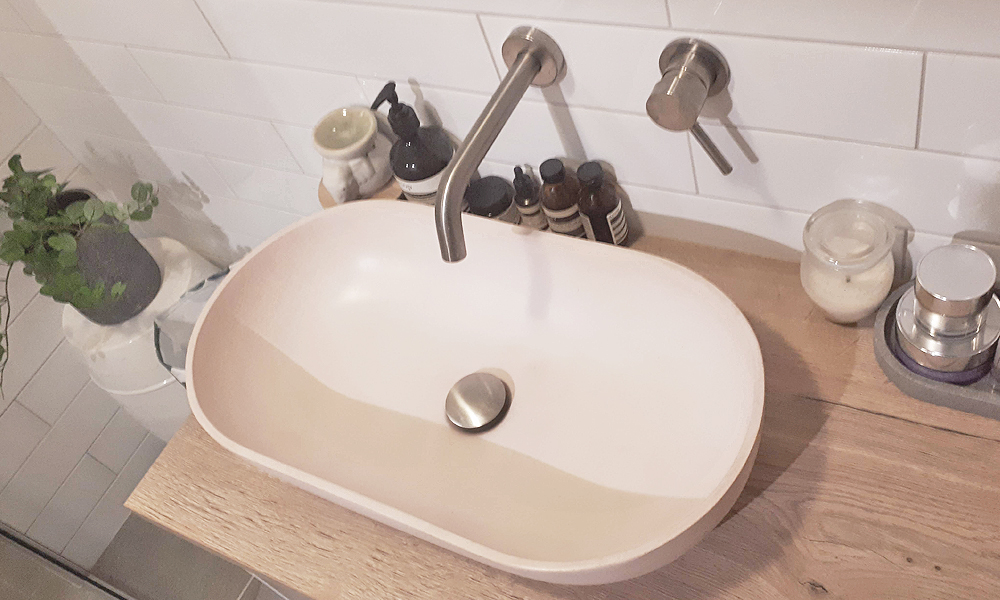 Our team designs and compiles custom vanities working with your design goals, and we get great results – learn more about our custom vanities here. You can opt for a timber-look laminate benchtop or go for an entire timber-look vanity. Either way, our team will get a fantastic result for you.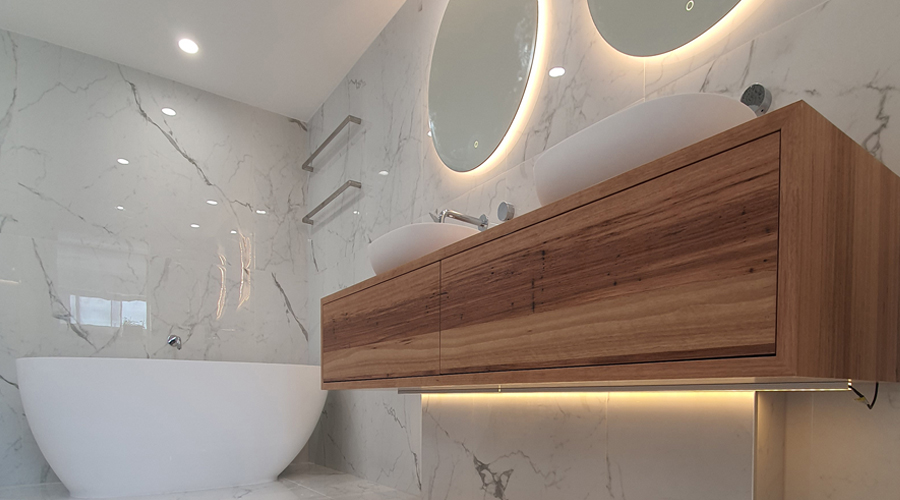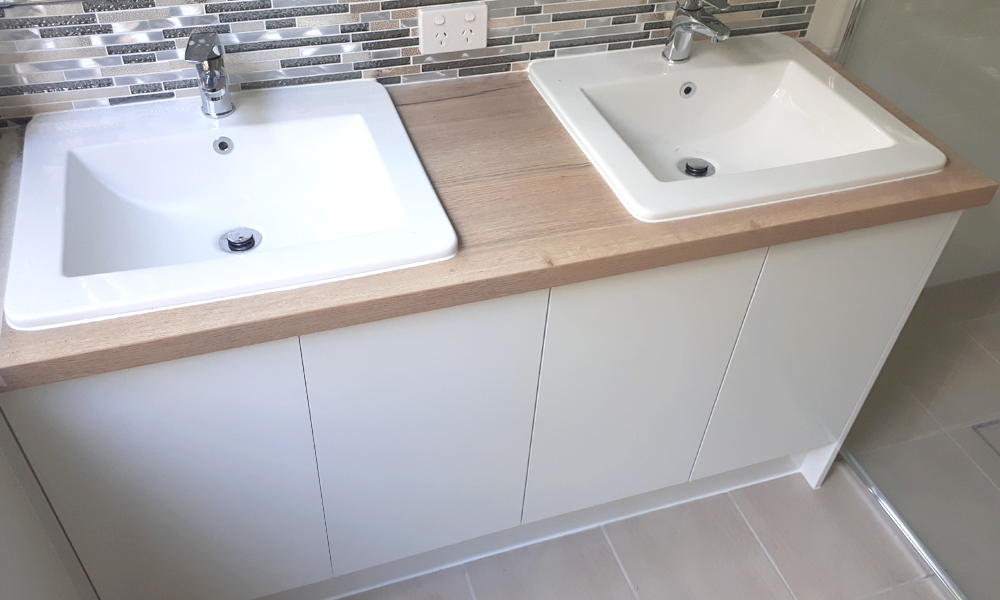 Successful Gold Coast Bathroom Renovations
Bathroom renovations can be complex – numerous careful decisions and actions are required, in the right order, to build a bridge between your vision, your structure, your budget and your new bathroom. We're here to help you make it a success. Get your bathroom renovation started today with the team from Armrock Constructions and make yours a success too.