There is a lot to love about this beautiful bathroom renovation by Armrock Constructions on the Gold Coast QLD. Take a tour through a bathroom that is built to be enjoyed, and please contact our team to discuss your renovation. Every project begins with a free appraisal and quote.
Floor / Wall Marble Tiling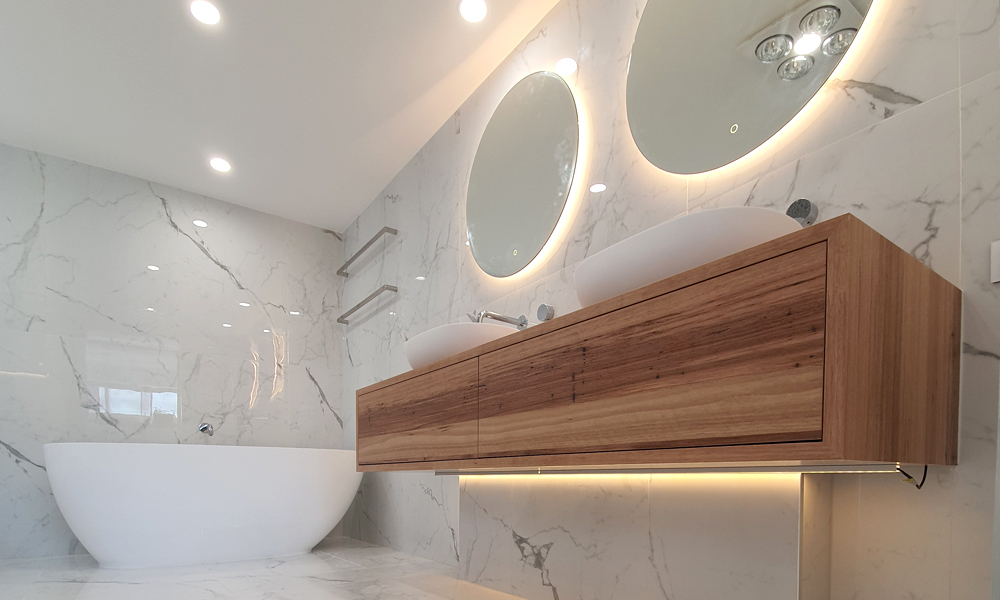 This project utilises complete floor and wall marble tiling for a stunning effect – walking into this bathroom is like walking into a 5-Star Resort! This transformative result demonstrates the power of a bathroom to create a special space within a home, and to elevate the value of the home and the lifestyle of inhabitants! Luxurious marble style is just one of many great tiling solutions available with Armrock. Learn more about our tiling options here.
Round Mirrors
Round mirrors are a popular renovation trend. The advantage of them in this case is the relationship that they create with the mounted basins, and the individualised sense they bring to the bathroom. Two people can use this space at the same time, individually. The circular aspect resonates with other bathroom curves, and without hard lines allows a sense of elevation to be established as if the mirrors were rising up like twin suns or moons. Learn more about fixtures and fittings for bathrooms here, or learn about our top ten renovation trends for the Gold Coast here.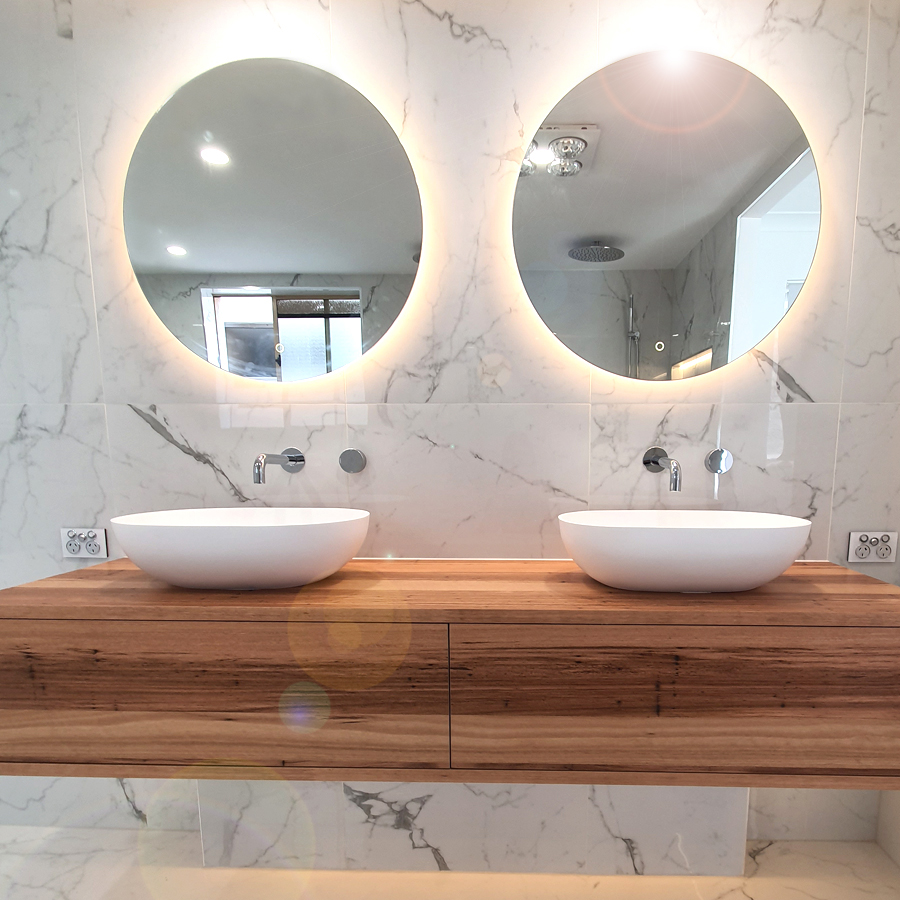 Bench Mount Basins with In-Wall Mixer & Spout
Mounted basins are a popular style and it's easy to see why. This is a deliberately designed effect referencing old-world style when washing was done with a portable basin. Old-world style in modern bathrooms creates a delightful juxtaposition. The appearance of mounted basins in the context of this customised vanity unity is a compelling result, with the gloss white and timber a happy marriage between elements designed to be together. Learn more about working with gloss white in your renovation project here.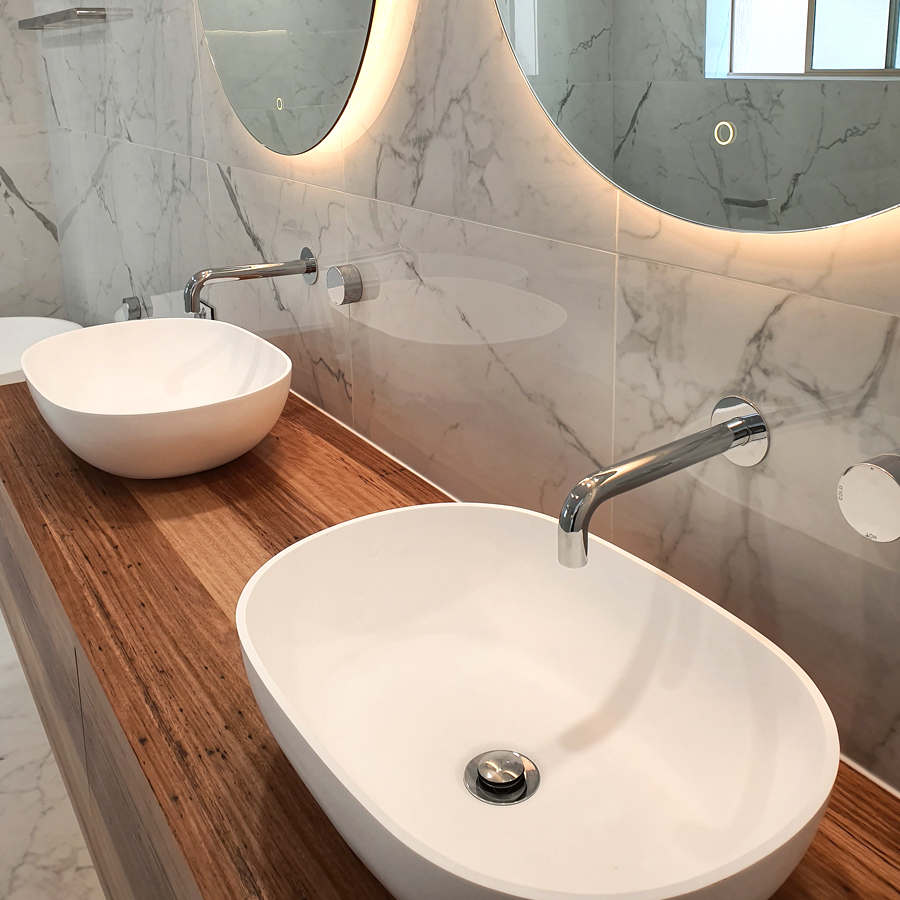 Spacious Bathroom Flow
When designing your dream bathroom, a primary consideration is the flow of the room. How do the different elements connect with each other for a harmonious presentation? Often with bathrooms this is particularly challenging since many of the fixtures and fittings are of different shapes, sizes and dispositions. In the case of this project, the flow of the room is created by combination of relationships and guidelines. The free-standing bath is anchored by the double towel-rails, ensuring its position is locked in the room. The gridlines created by the tiles help to hold the entire design together, with the strong horizontal lines of the vanity unit and towel rails working in partnership with the curved edges of the mirrors and bathtub to create a spacious flow that's easy to use and understand.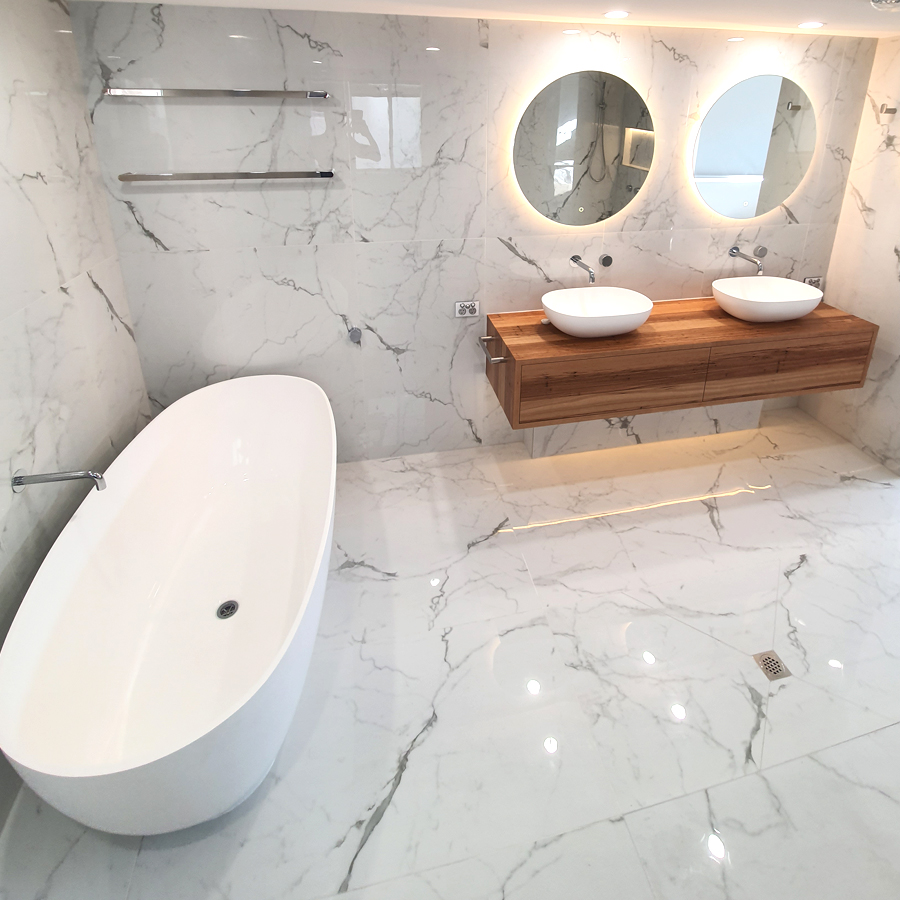 Ceiling-Mounted Rain Shower
These ceiling-mounted rain shower heads do away with a whole lot of visible plumbing, a general norm for most bathrooms. This discrete solution does nothing to take away from the pleasure of a shower in this space, with room for two and modular control under the illuminated tile niche. Armrock renovations are builder-led, so we can discuss all of the options in your project and help you determine the best one for your renovation, and then deploy the trade team to make it happen. Interested in showers? There's more information about them here.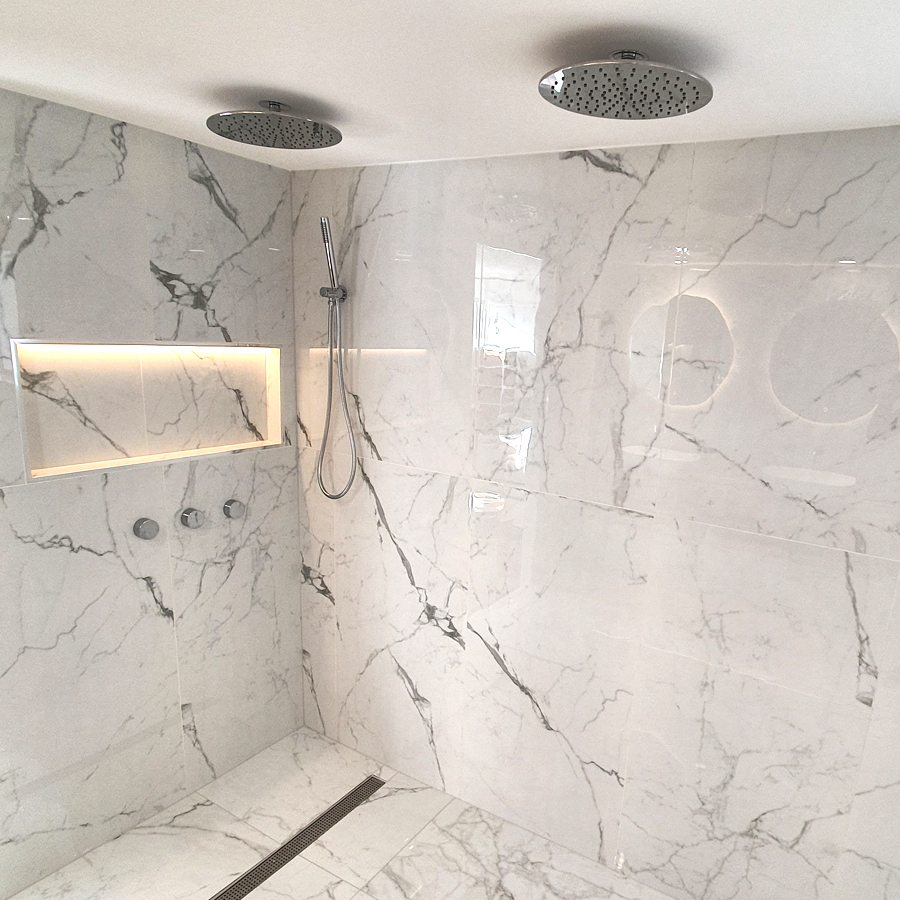 LED Illuminated Tiled Niche
Tiled bathroom niches are hot property and with Armrock tilers on the job, you can expect a fantastic result. This niche features a stainless-steel trim and LED illumination – it's a great way to add detail to your bathroom, especially within the shower area, working within the established aesthetics of your project. Learn more about tiled bathroom niches here.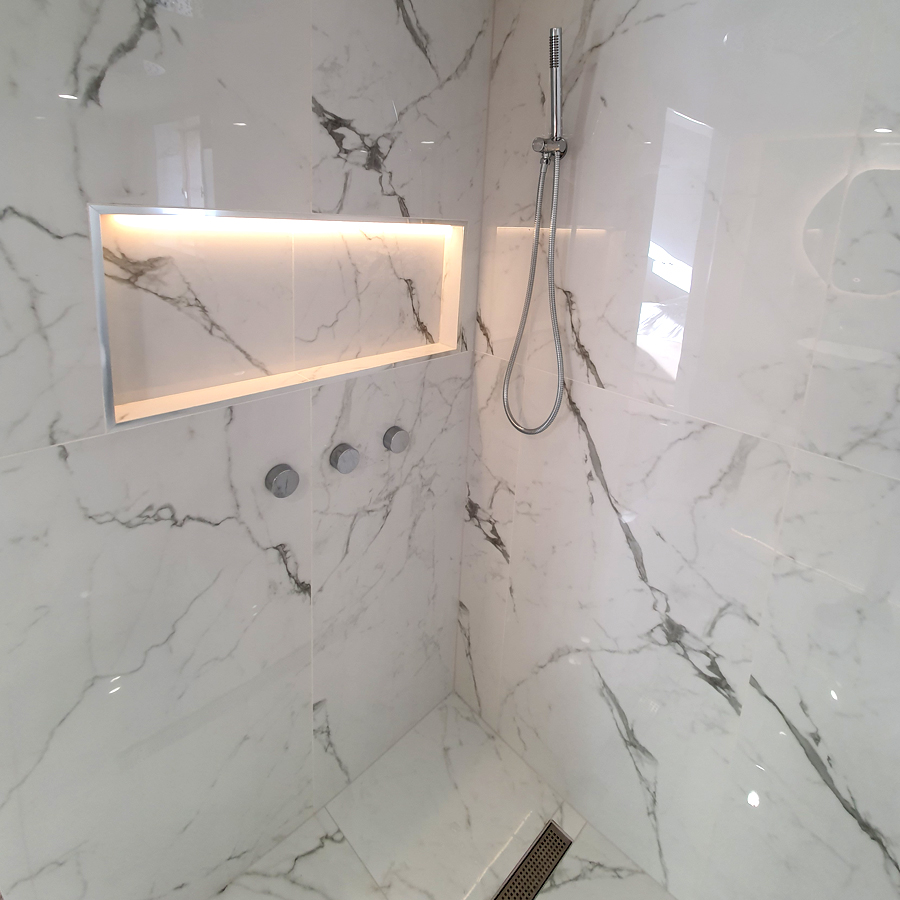 Toilet, Bathtub and Vanity
How do you relate three objects of different sizes, colours and dispositions? Armrock's renovation team is highly skilled at getting a great result on our bathroom renovation projects. In the case of this reno, relationships between the fixtures are created by colour (gloss-white), proximity (how they are spaced relative to each other, and relative to the room) line (shared horizontal lines connect the fixtures) and shape (curved edges between the cistern, bathtub and vanity basins). Talk to Armrock Constructions for a solution for your dream Gold Coast bathroom today!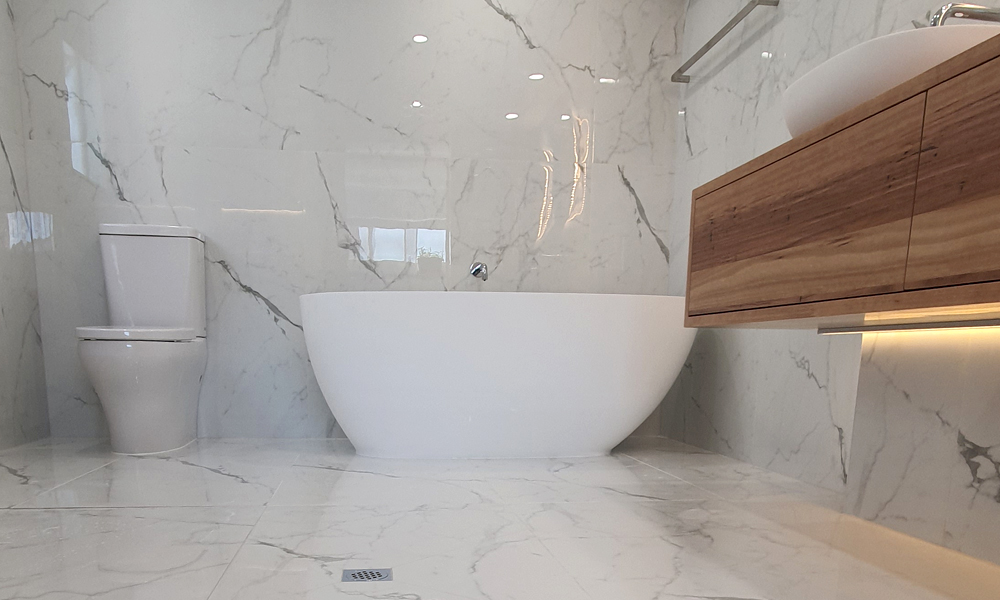 Bathroom Details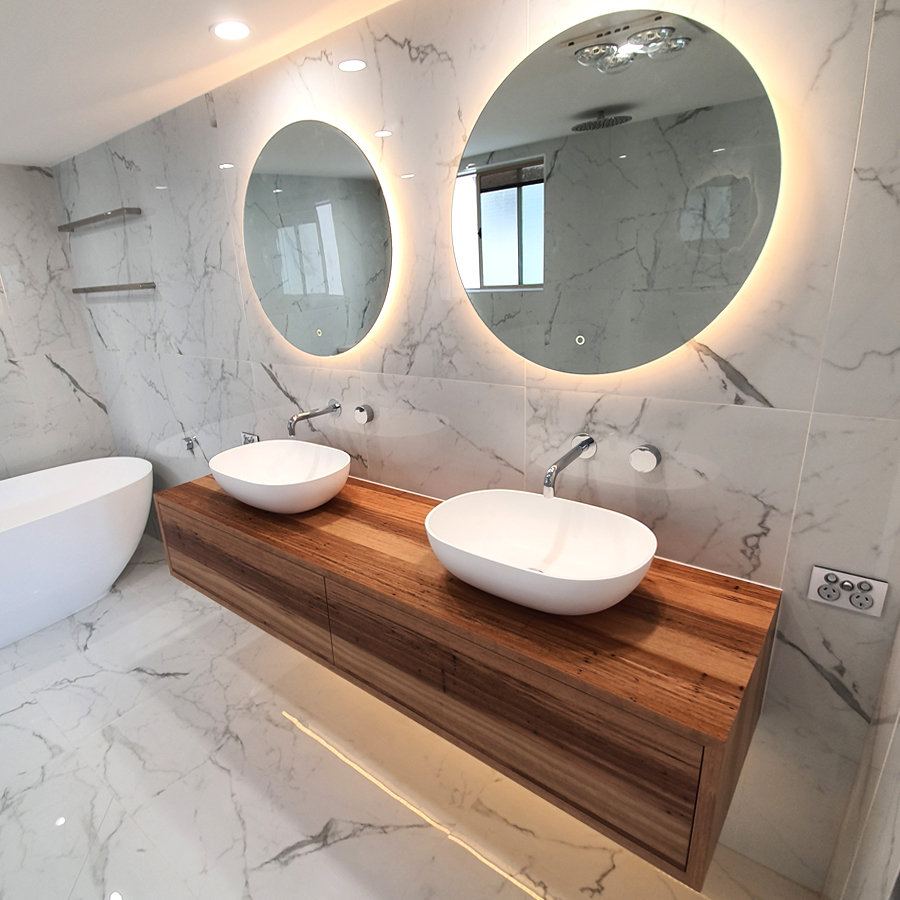 On a final note, what makes this bathroom a real winner is the combination of large-scale and small-scale detail. Whether appraised from up-close or afar, this bathroom is a standout success; the sum of the parts is as compelling as any individual parts themselves. If you're interested in a beautiful bathroom on the Gold Coast QLD, please talk to our team today. Our renovations begin with a free consultation and quote.