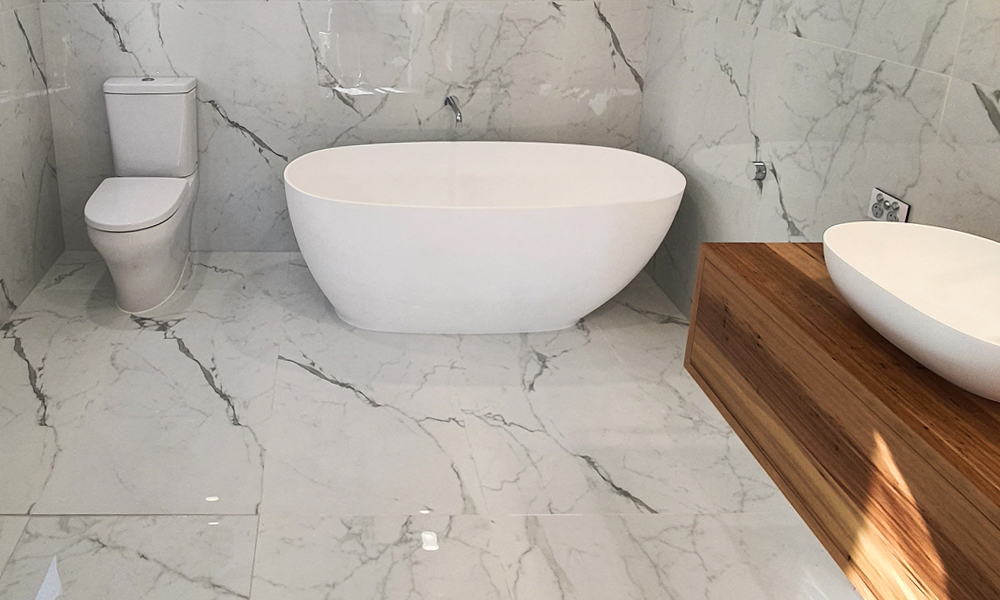 When making decisions about your Gold Coast bathroom renovation, the realm of colour selection is an important one where it's easy to lose your way. When you're putting together a prospective colour palette for your bathroom, don't forget about a common colour that is almost certain to be there already – and how working with this colour can help you to build your bathroom design. The colour: gloss white.
On this page we're going to delve a bit deeper into the discussion on bathroom colour to take a look at using gloss white to create contrast. Read on to learn more about using gloss white in your bathroom renovation, or contact us to arrange a free measure and quote for your renovation today:
Gloss White Prevalence
Gloss white is likely to already have a presence in your bathroom due to the fact that so many common fixtures and fittings for bathrooms come in this colour as a default. A glossy white finish is practically a standard for many basins, bathtubs, tiles and toilets. The popularity of this solution is practically a bathroom cliche, although there are exceptions to this rule.
Why is Everything Gloss White?
In bathrooms, as in hospitals, it's not easy to see how clean a surface is unless the surface is white. From the point of view of hygiene, white is the ultimate backdrop to ensure everything is clean. Other reasons include appearance, affordability, compatibility.
Because gloss-white fixtures and fittings are usually present in any bathroom already, its presence becomes a default stylistic bathroom norm. In other words, it would be unusual for a bathroom not to have any gloss white features. Again, there are exceptions to this rule, but generally speaking, where there are bathrooms – there will be gloss white.
The Compatibility Benefit
Gloss white bathroom fixtures and fittings have a harmonious, 'bathroomy' feeling due their shared gloss white colour and the contrasted relationship this colour has with the remainder of the room. Due to their irregular shapes and sizes, sometimes the family-feel of shared gloss white is all that holds a bathroom together.
The relationship between existing white bathroom elements and the design that you create can build from this established relationship to create interior designs with integrity. That's the topic of this article!
Extending Gloss White in Bathroom Design
The following information explores different, winning types of contrast you can create when working with gloss white in your bathroom renovation. Building from the established bathroom library of gloss-white inclusions, these methods are tried and tested ways of linking and building your Gold Coast bathroom design.
Low-Contrast with Matt White
A pleasing, minimal contrast can be achieved by contrasting gloss-white with matt white. This approach is advantageous because the look has integrity and doesn't rely on too much colour-usage. Colour is wonderful, but should always be used with discretion. An example is using gloss white for window frames or skirting boards.
Low-Contrast with Marble Whites
In the same way that gloss whites work with matt whites, when they're used with a white-marbled tile solution, as in this example, a lovely relationship is created that doesn't rely too heavily on colour – rather, the visual texture of the marble swirls.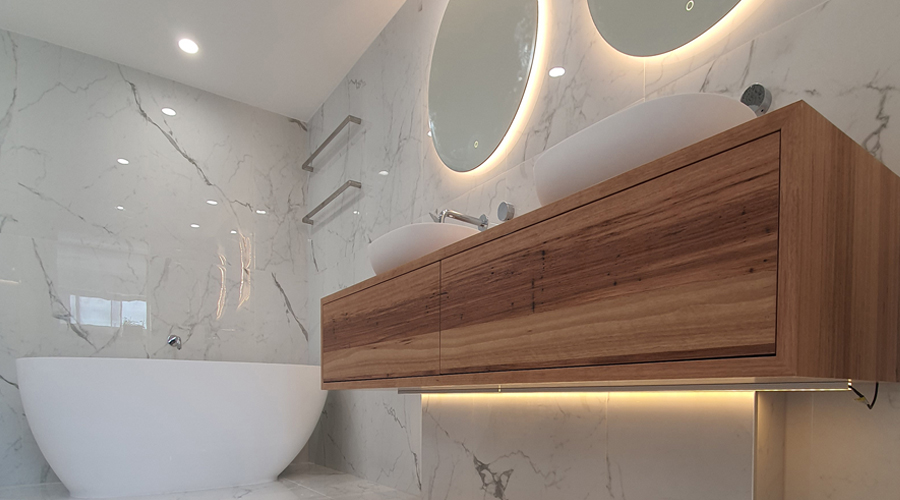 High Contrast
On the other end of the spectrum, an extreme contrast can be created between gloss-white and black (or any dark colour). This is a much stronger, more striking effect.
In this custom-made bathroom vanity, our team has created a minimal gloss-white front, laminated gloss black benchtop and incorporated a raised basin (gloss white) with a shiny black tap to top things off.
Gloss White and Timber
Gloss white also works well with natural materials (or in this case, a laminated benchtop resembling a natural material – find out more here: Timber look laminates. Here, gloss white accentuates the beauty of the timber-style laminate and also book-ends the custom vanity as well.
Gloss White and Silver
Gloss white is commonly found with silver – taps, plugs, drains, handles, and lights and silver is a common combination for kitchens and bathrooms. In this example the gloss white laminated benchtop and tiles create a fresh, modern look for this bench-mounted bin.