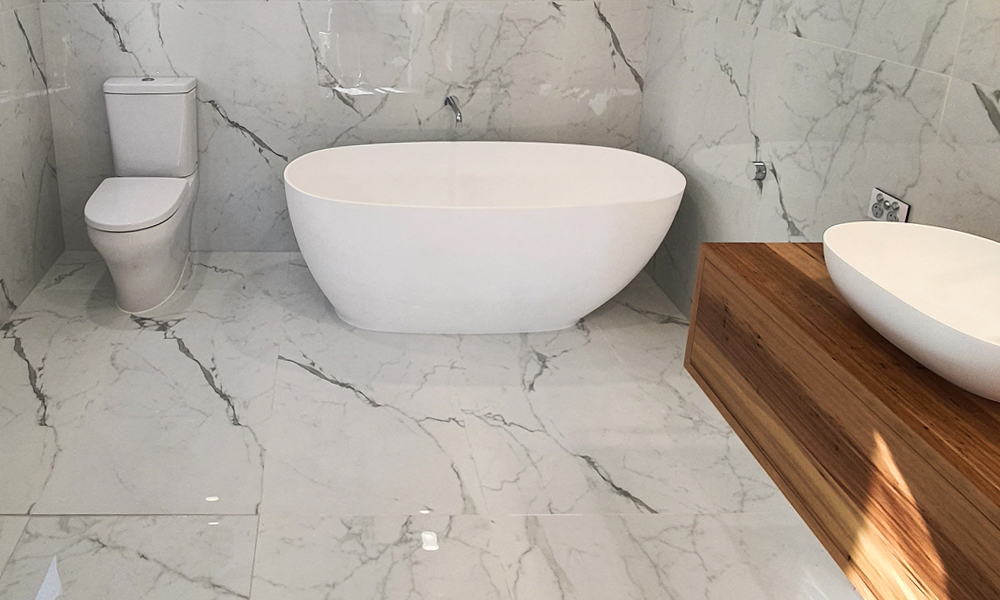 When making decisions about renovation, colour selection can make all the difference, and can enhance the outcome of even a minor project. When you're putting together a prospective colour palette for your bathroom, don't forget about a colour so common it's nearly not worthy of consideration.. the all-important bathroom colour gloss white.
On this page we're going to delve a bit deeper into bathroom colour strategy to take a look at how using gloss white can create purposeful contrast. Read on to learn more, or contact us to arrange a free measure and quote for your renovation today:
What is Gloss White?
The colour white comes in a massive range of variants. On simplicable.com, they list 52 different types of white – that is a lot! Gloss white is a pure bright white, combined with a glossy finish. It has a shiny, reflective effect.
Gloss White Awareness
Why be concerned with Gloss white? Well, gloss white is likely to have a presence in your bathroom due to the fact that so many common fixtures for bathrooms come in this colour as a default. A glossy white finish is practically a standard for basins, bathtubs, tiles and toilets – it's an extremely popular finish for bathroom assets.
Why are Bathroom Fixtures Often Gloss White?
In bathrooms, as in hospitals, it's a great idea to maintain a level of hygiene with shared surfaces and equipment so that everyone stays nice and healthy. Some colours make it easier to show how clean something is, and white is the queen of them all. This hygienic requirement is what makes gloss white the ultimate backdrop to ensure everything is clean.
Utilising Gloss White in Your Bathroom
Gloss white is the lightest, brightest, shiniest colour that you can have in your bathroom, so wherever you use it, it's going to be noticed. Whether you use a little gloss white or a lot, there are some different strategies to keep in mind regarding contrast which can help take your bathroom to the next level. Following are some examples, illustrated by recent Armrock bathroom renovations.
Low Contrast with Colour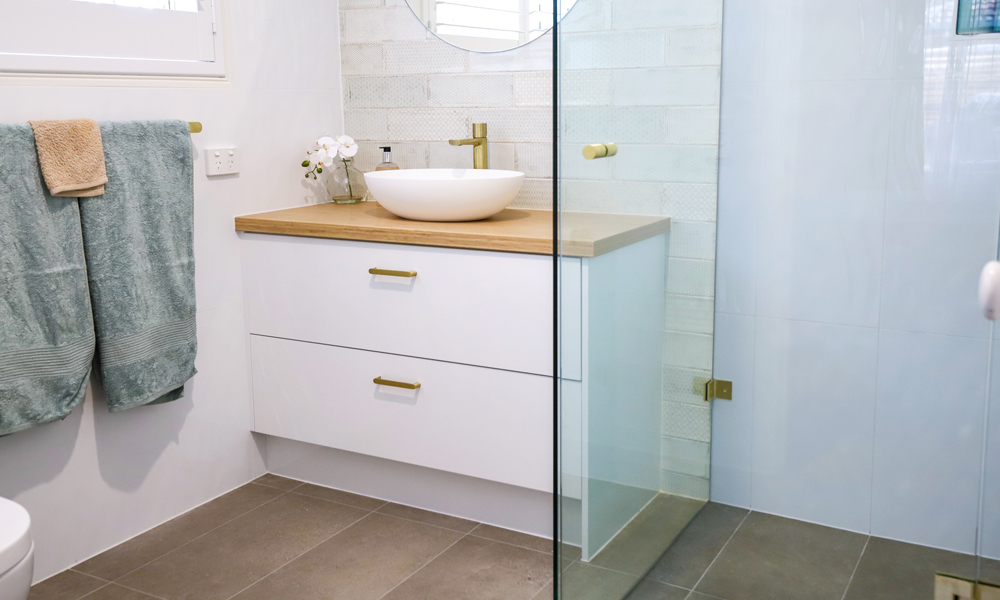 In this Gold Coast bathroom renovation, we designed, built and installed a custom vanity unit which features a mounted basin. Both are in gloss white, but what's really interesting is they way they are anchored into the room. The slate-grey tiles form a solid visual base from which the vanity emerges, with its tiled feature-wall serving to consolidate its location in the room. Meanwhile, the laminated timber-style bench top helps to lock everything in position.
This is a lovely, nuanced result where the inclusion of gloss-white has enhanced the bathroom, as a result of its contrast with surrounding colours. It has a pleasing, minimal contrast, and is an advantageous approach because the look has integrity and doesn't rely on too much colour usage. Colour is wonderful, but should always be used with discretion.
High Contrast with Colour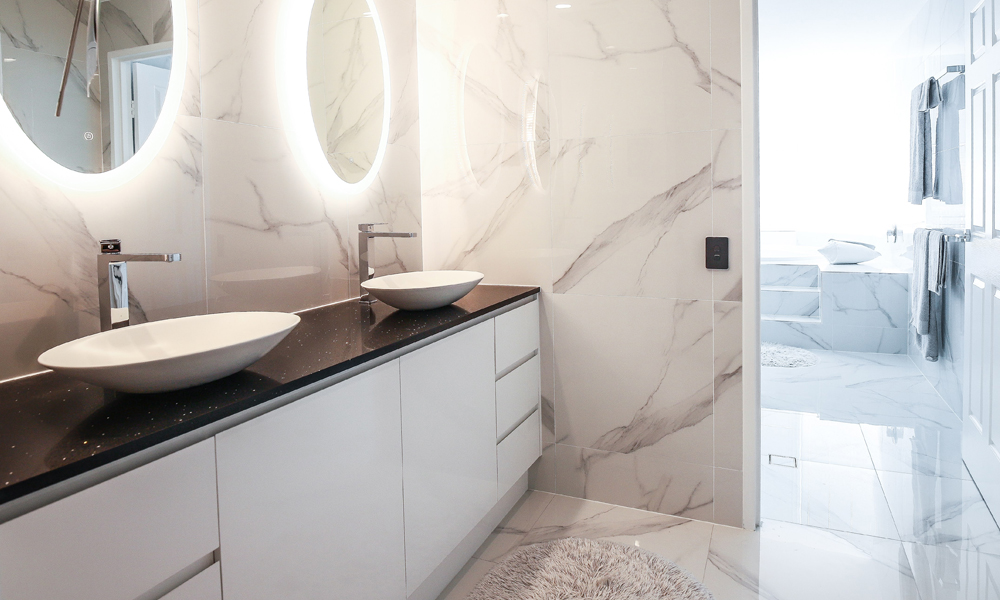 Using a black benchtop as in this example creates a high-contrast solution. Using oppositional colours like black and white creates a striking result, which is perfect for a more sophisticated bathroom, such as this Gold Coast penthouse bathroom.
Contrasting with Texture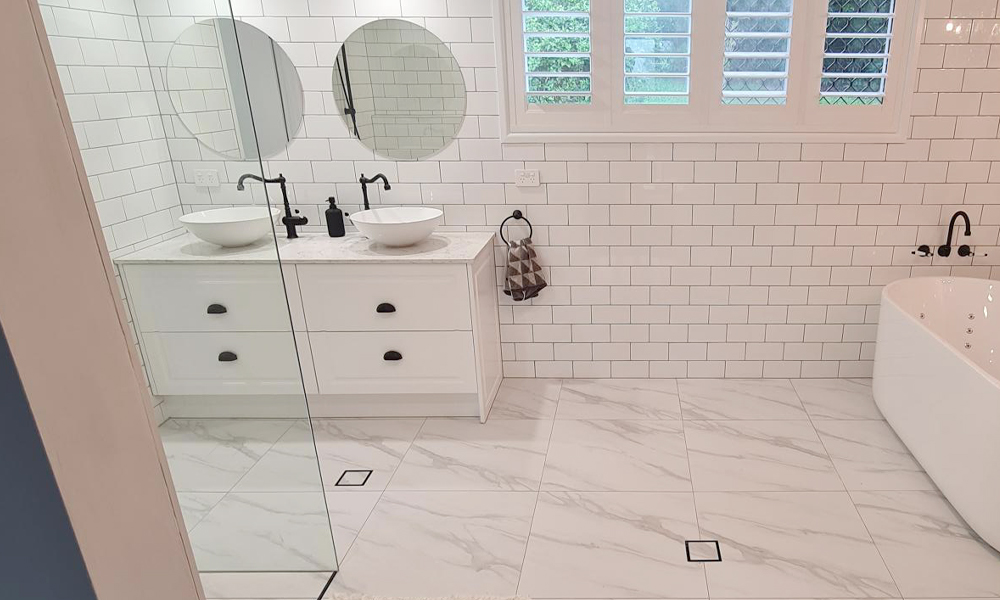 While contrasting with colour is an effective way to make a statement, textural contrasts are also a wonderful way to enhance your bathroom style. In this colonial bathroom renovation, the bathroom is all-white; the wall tiling is also in a gloss white and the marble-style floor tiles have a similar aesthetic too. This bathroom relies on the contrast in textures, both made up of the materials themselves and the patterns in the tiling, to create contrast with the relatively flat expanses of the gloss-white vanity and bathtub.
Rolling Highlight Contrast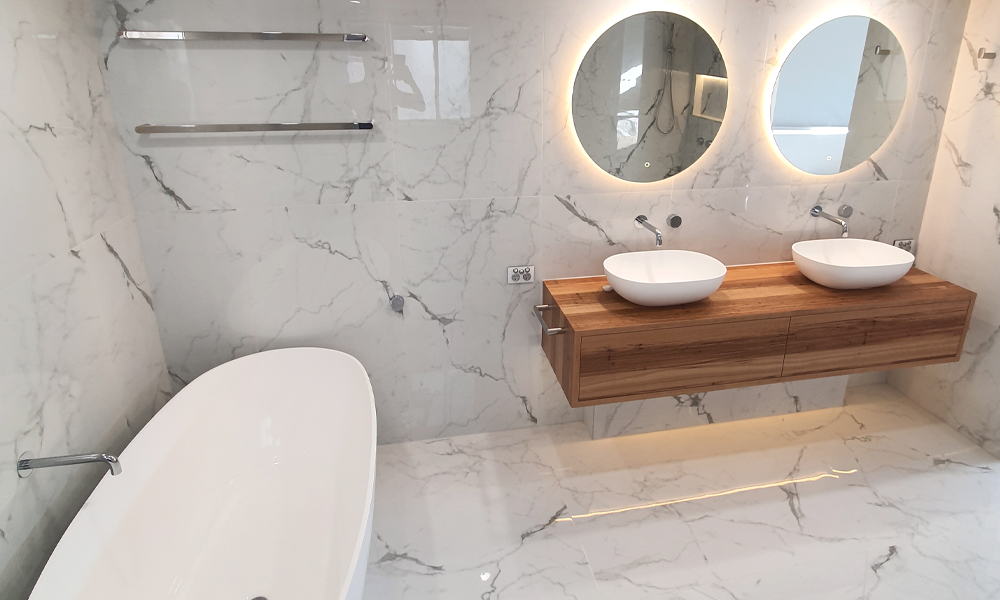 In the previous two examples, the gloss white elements have produced a fairly low amount of contrast – they don't stand out too much against other bathroom elements. In this example, which is a more classical approach, the gloss white elements (bathtub, basins) have a high degree of contrast against the muted white tiles and especially the timber-style vanity. The great thing about gloss white in a bathroom situation is that whether it is is low or high contrast, the outcome is always great – gloss white is a highly versatile colour.
Some Good Questions to Ask:
Do I want my bathroom to be striking, or low key? A high-contrast result is more striking, and if you're using gloss-white fixtures, this will mean pairing them with high-contrast fixtures.
Do I want my bathroom to have subtle nuances? Investigate using textures that subtly contrast with your gloss white elements.
How can I bring it all together? Think about how your bathroom elements are anchored in the room. Use colours and textures to position them so that they look as if they belong.