Gold Coast bathroom renovations don't come much better than this beautiful bathroom. This project utilises a textural mosaic tile, timber-look floor tiles and brushed brass tapware for a holistic result. Read on to learn more:
Backlit LED Mirror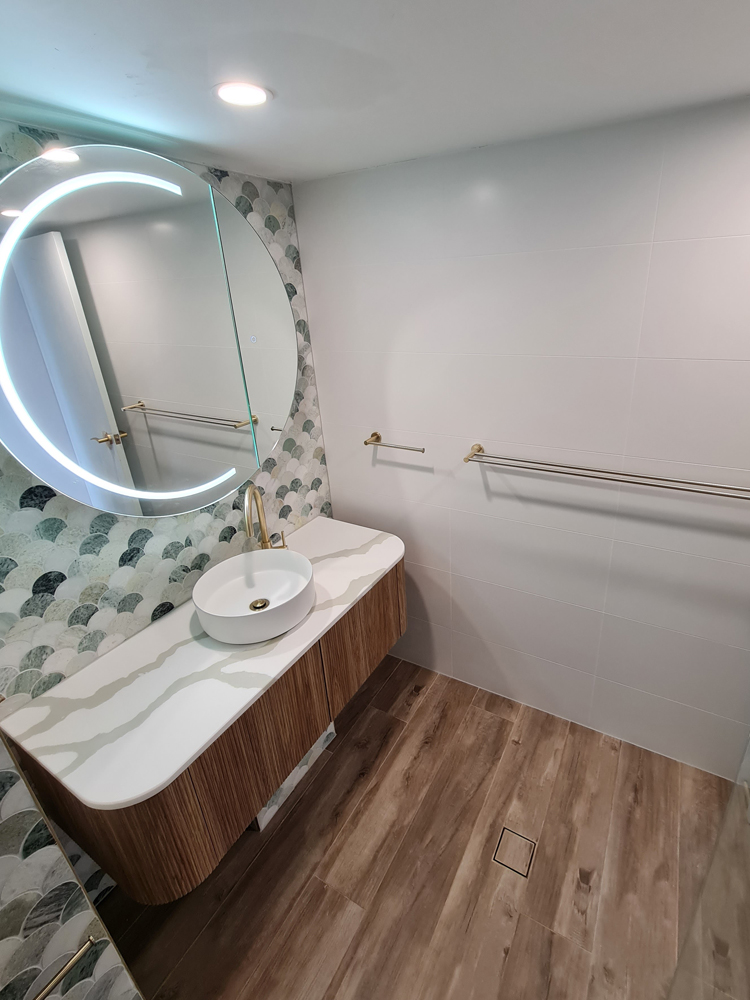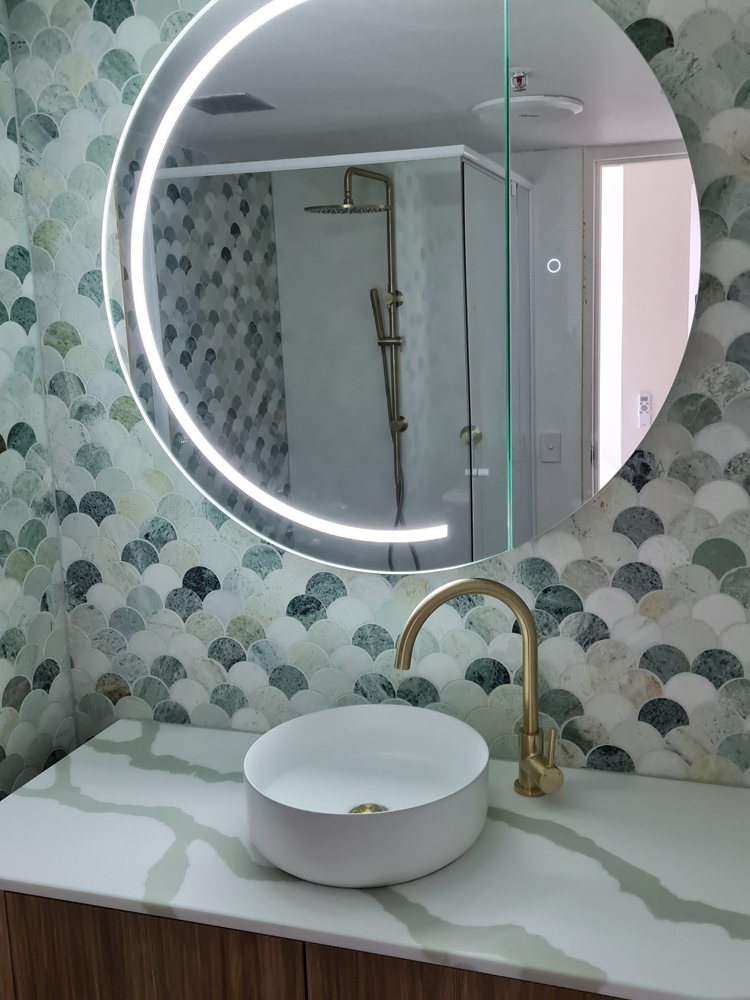 Round mirrors are big in Gold Coast bathroom design. They add effortless flow and shape to the room, softening and creating space, style and chicness! A backlit LED mirror is just another touch of sophistication that can be added, perfect for realising the ideal combination of vanity and mirror that Armrock's renovations are known for.
Mosaic Tiles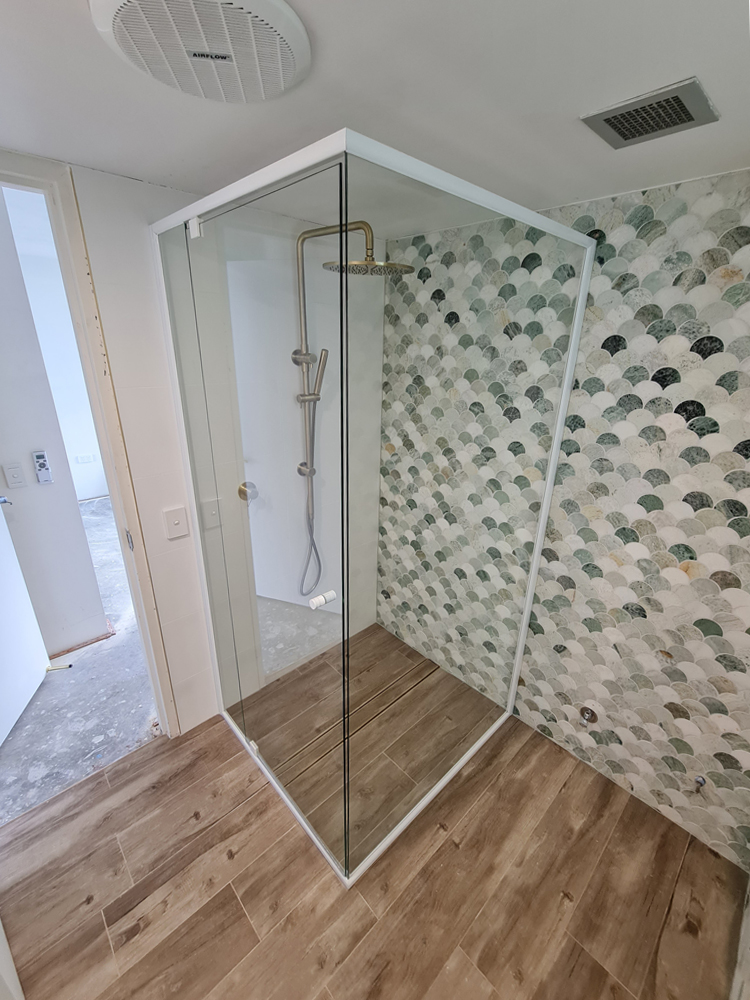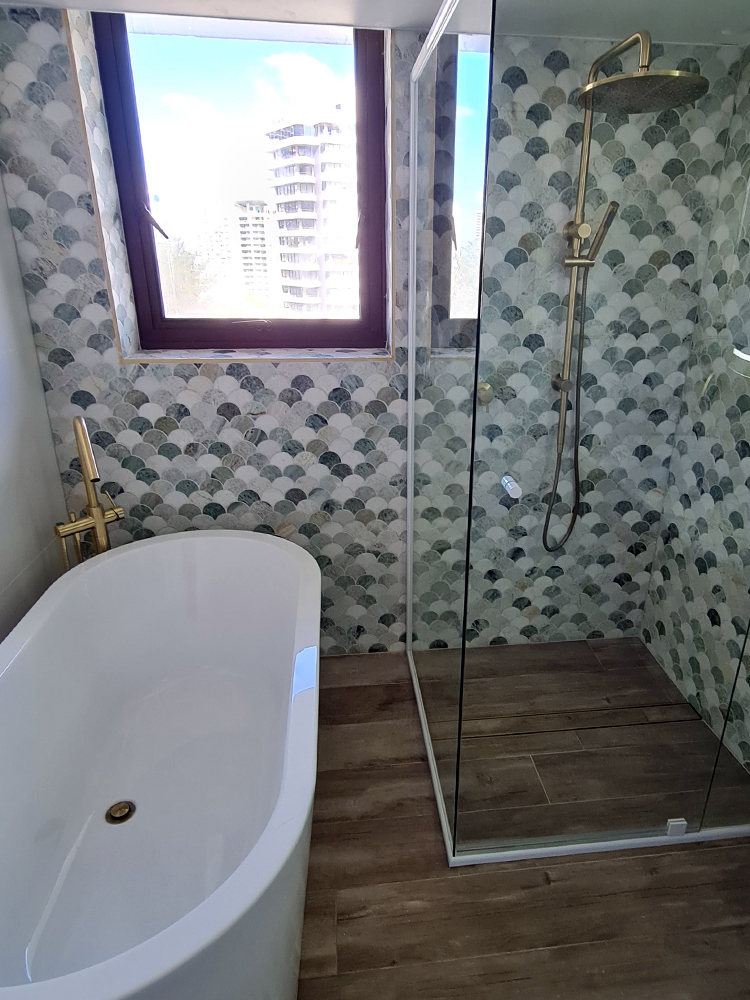 Tiling is a critical part of any Gold Coast bathroom reno. Decisions about the type of tiles, extent of tiling, and integration of tiling into bathroom design are some of the most important decisions to make. In this renovation, we've used wraparound mosaic tiling to provide this bathroom with a textural backdrop. In conjunction with the timber-look floor tiles, the effect is quite organic – it's like stepping into another world. Learn more about tiling in your renovation project here.
Curved Custom Vanity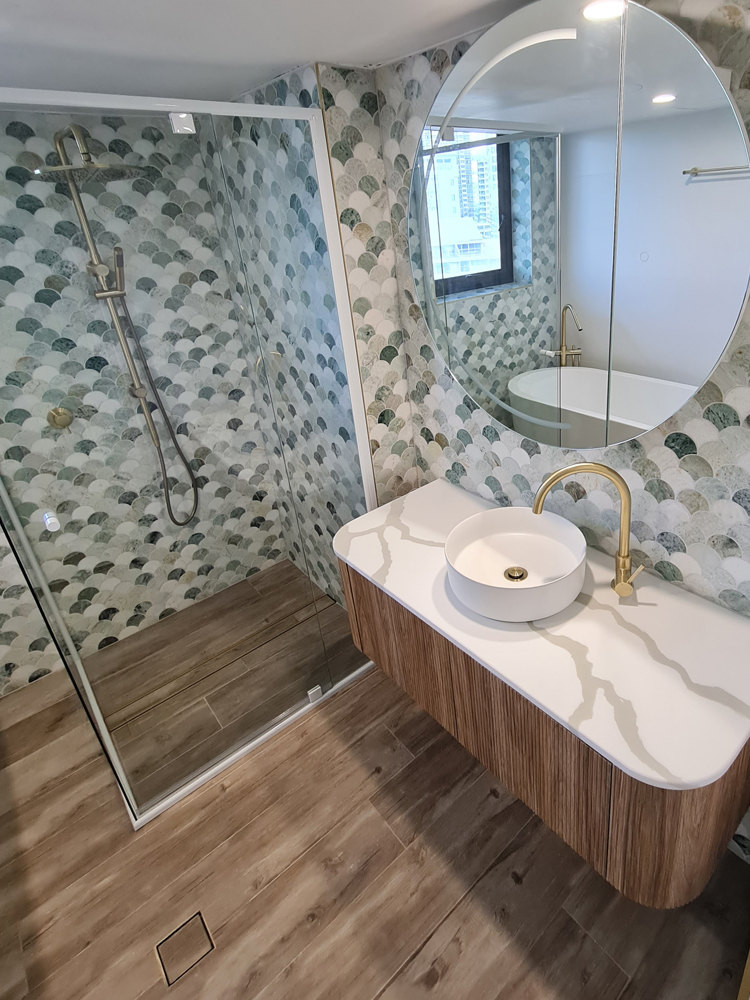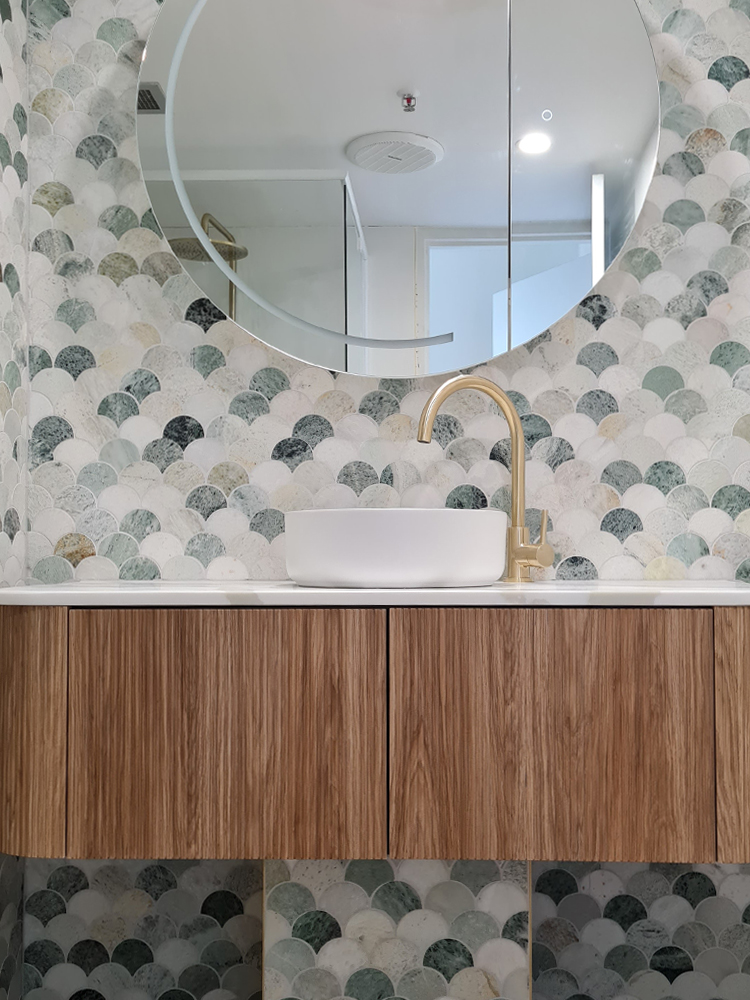 This custom vanity has a discrete collection of features which make it stand proud in this bathroom renovation. With its table-mounted basin, marble bench top, brushed-brass tapware, curved timber-look laminate lines and extruding mount, this is a great example of the result that can be accomplished with a custom-made vanity unit.
Brushed Brass Tapware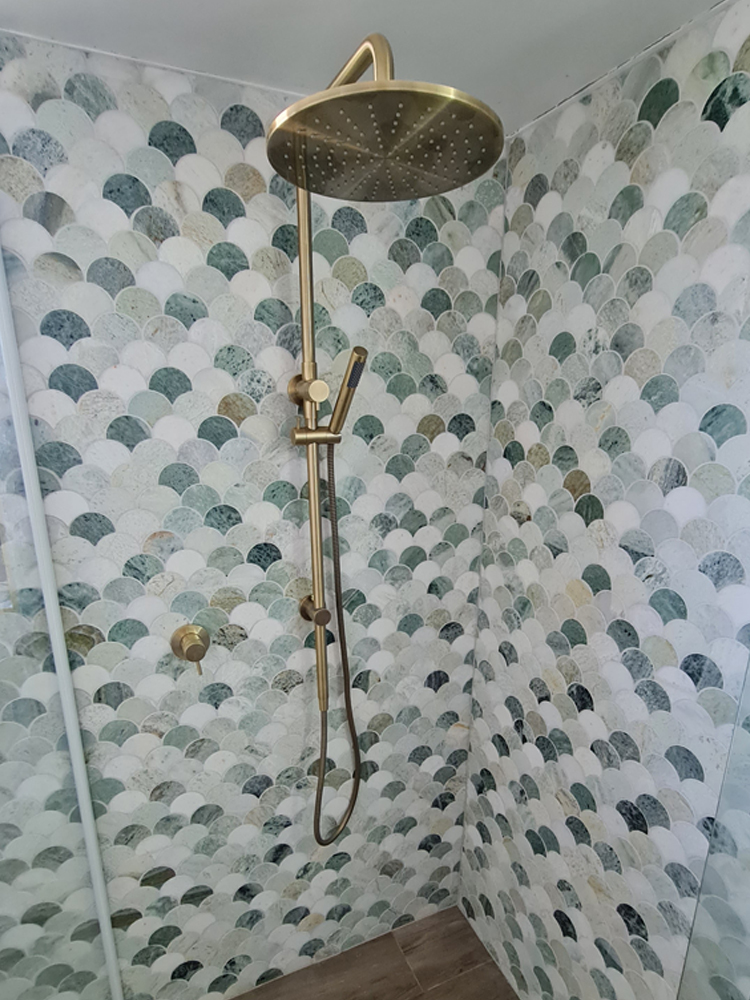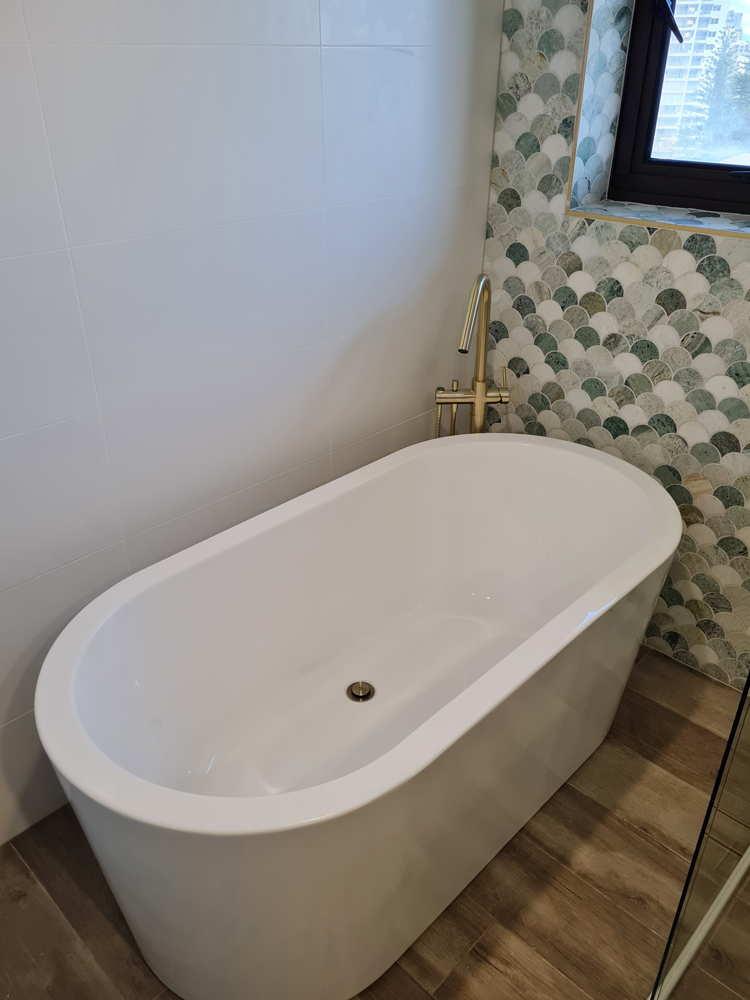 Brushed-brass tapware can be used for a variety of effects. In this bathroom, the tapware creates a fairly discrete highlight, specifically by way of it's lower contrast against the tiling, which presents a quiet confidence and coherent agenda in the room. In conjunction with the organic effect designed by the timber-look floor tiles and mosaic wall-tiles, the evidence is in the outcome.
Organise a Free Quote for Your Bathroom Renovation: