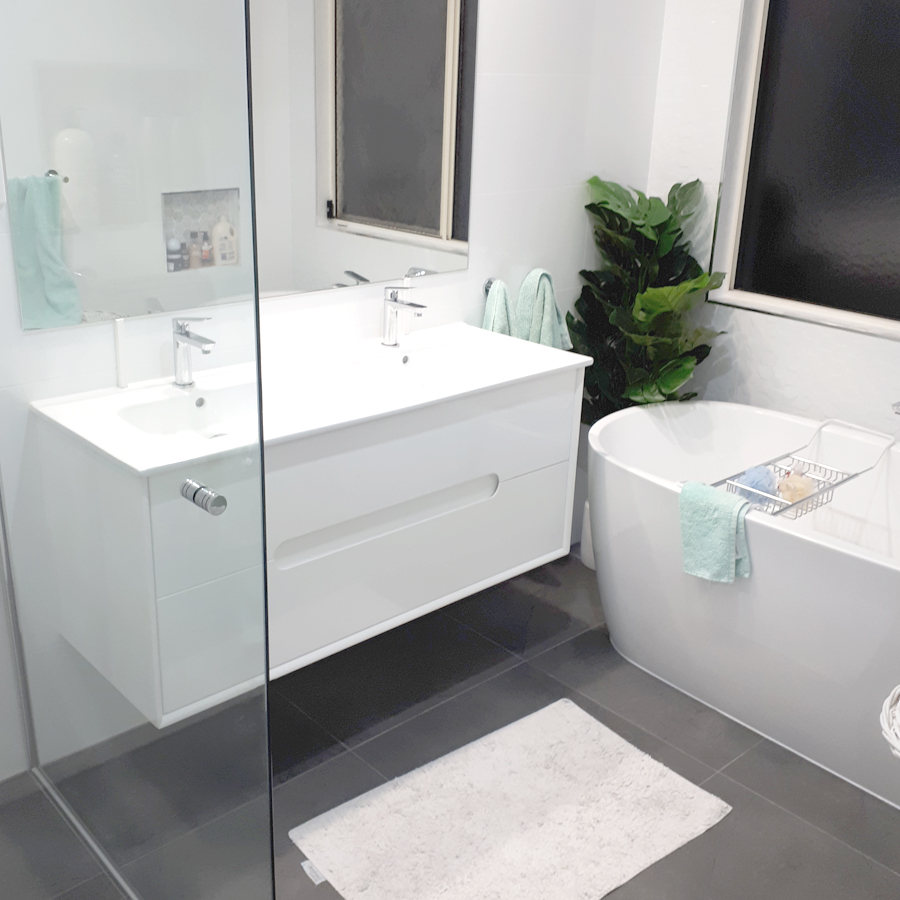 In this Gold Coast bathroom renovation, Armrock Constructions worked with our clients to achieve a fresh look for the revamped room. Features of this renovation include:
Hexagonal-Tiled Niche
Hexagonal-Tiled Feature wall
Simple, classy colour scheme
Free-standing bathtub
Tile Insert Strip Drain
Single to double vanity plumbing enhancement
Tiled Bathroom Niches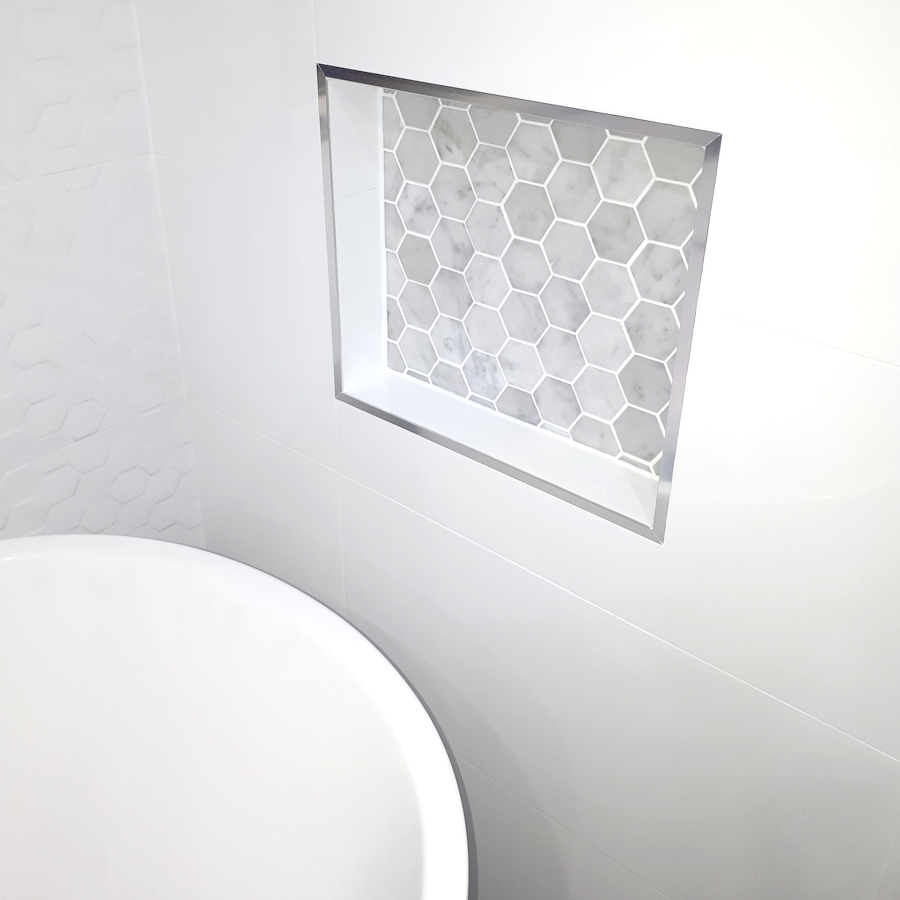 Tiled bathroom niches are an increasingly popular solution storage solution for common bathing items adjacent to showers and bathtubs. Our Gold Coast projects frequently feature the addition of a niche (or two) because they work well and look fantastic too. If you're interested in tiled niches, please visit our page on tiled bathroom niches to see some of the different solutions we're putting in place.
Hexagonal Tiled Features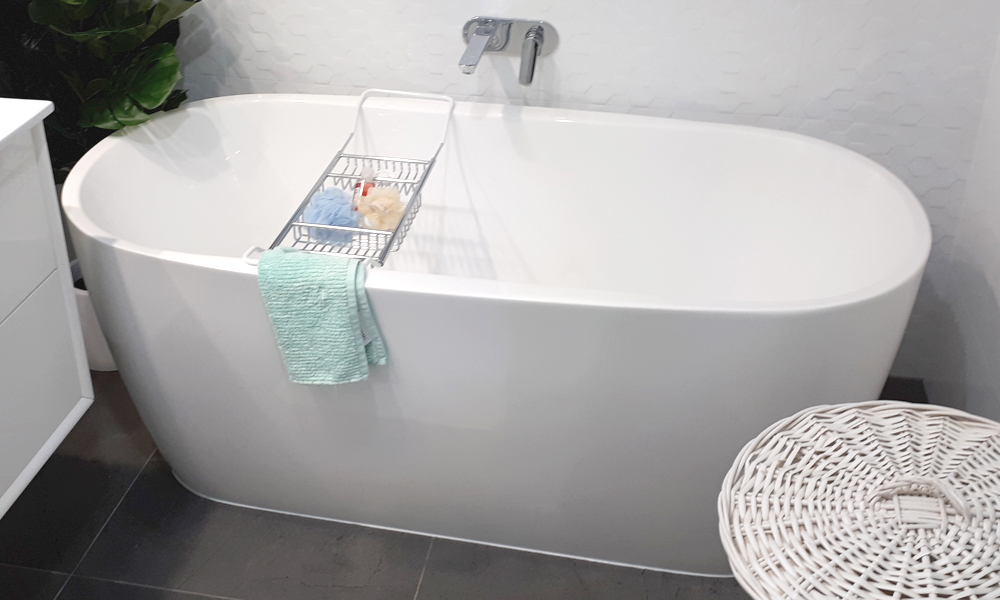 What makes this bathroom a standout is the discrete application of some tiled variations to create visual depth, interest, and integration in the room. The walls are predominantly a gloss-white rectangular tile (300x600mm) which is enhanced by a feature-wall of gloss-white tiles with a hexagonal impression. It's a subtle distinction, but its enhanced by the addition of two tiled niches with stainless-steel framing and marbled hexagonal tiles with high-contrast grout-lines for a couple of complimentary features.
Here's how it was achieved:
Design Principal: Repetition
Repetition – it's all about repeating elements through your design to create relationships. Every time you think about incorporating a new element (fixture, fitting, etc) pause and consider how it relates to other elements. Repetition can be used to different extents to guide the visual flow of the room.
Simple, Classy Colour Scheme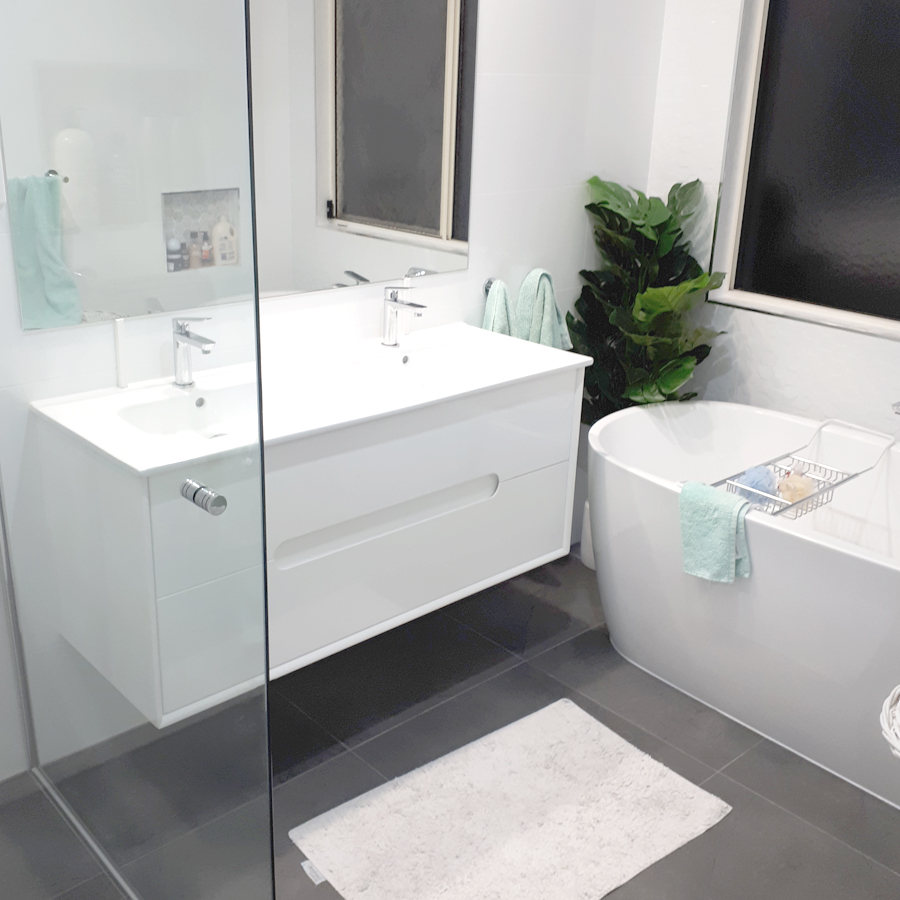 This bathroom utilises a winning colour scheme in grey and white tones. This combination is suitable for any modern bathroom, and it's popular in many of our Gold Coast projects. By using this simple colour scheme, you can accessories with towels, plants, and lighting to create a variety of colourful and interesting effects, if you wish.
Free Standing Bathtub Option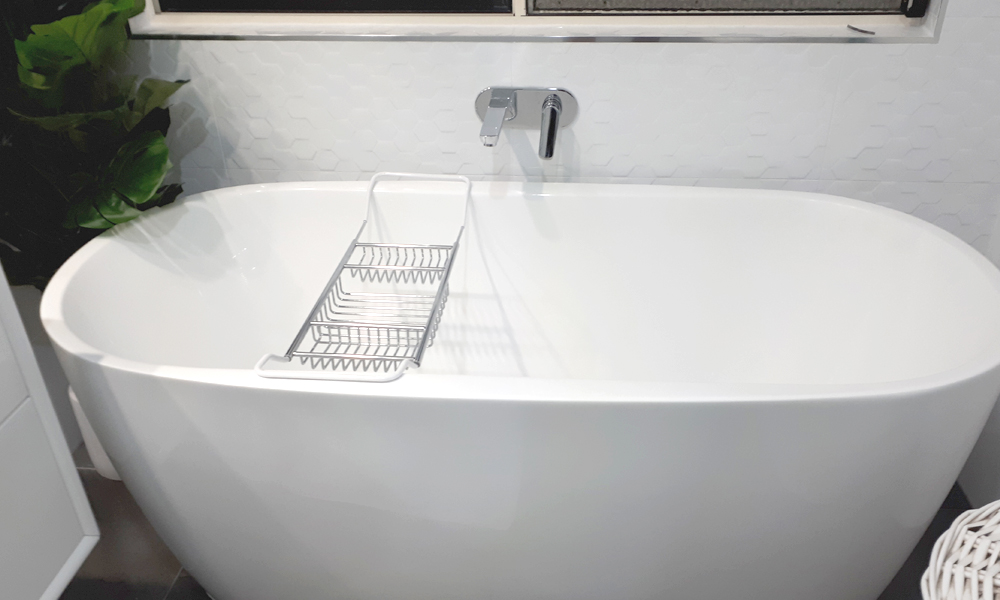 A real feature of this bathroom is the effect of the free-standing bathtub. Although this bathroom is not especially large, this free-standing tub solution creates the impression of visual space. It's a functional addition that's easy on the eyes.
Tile Insert Strip Drain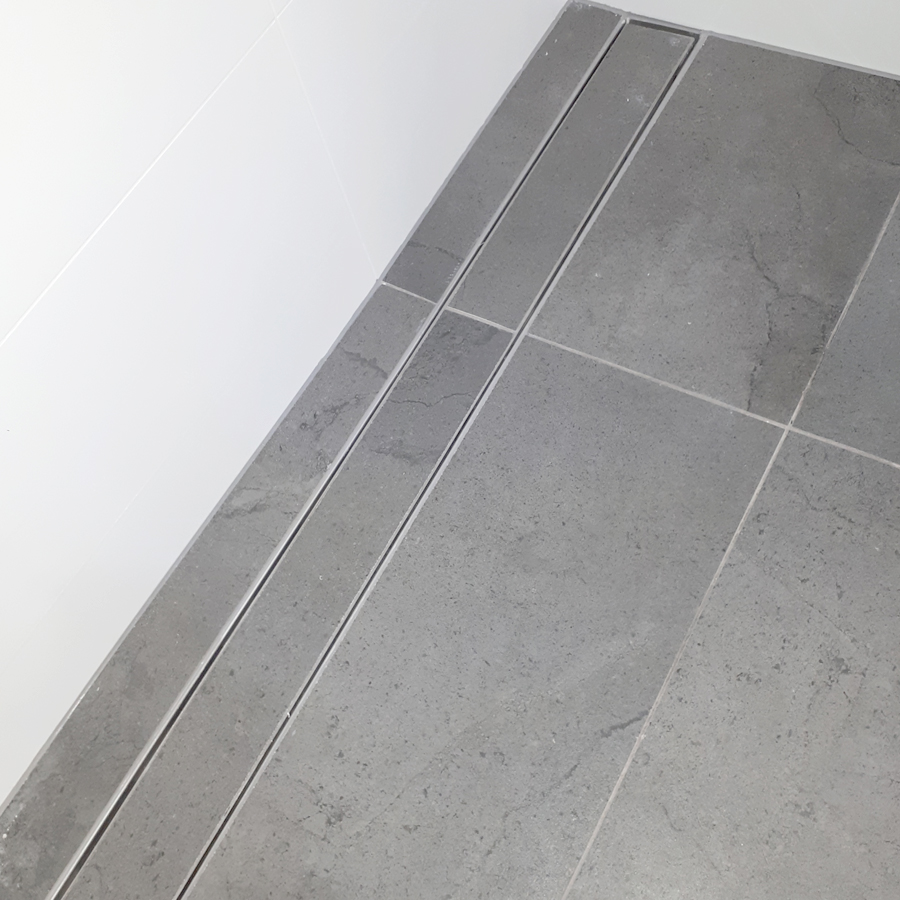 These are popular with our clients and there's a good reason why. In a tiled floor there's no reason to make a feature out of the waste. In this beautiful bathroom renovation, we used a rectangular tile inset strip waste for the shower and a similar square effect for the main bathroom waste. Seamless style means you can focus on the parts of the bathroom you really want to.
Double Vanity and Plumbing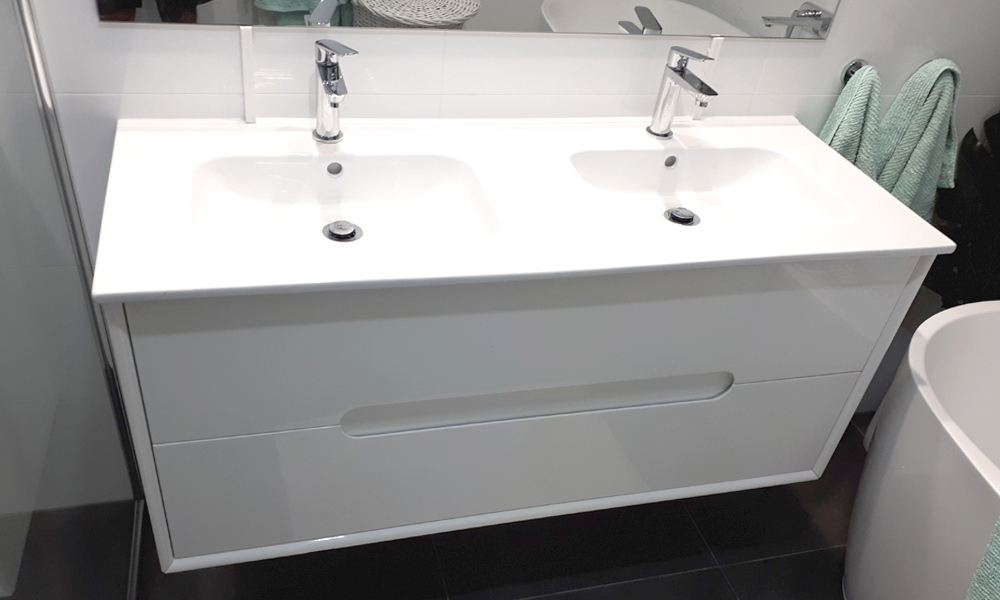 In this renovation, our clients opted for a pre-fabricated double-basin vanity. Because the previous plumbing structure was built to serve a single basin, this renovation included advancement of the plumbing water & waste for the double option to work. The plumbing is neatly tucked away inside the vanity.
Toilet Renovation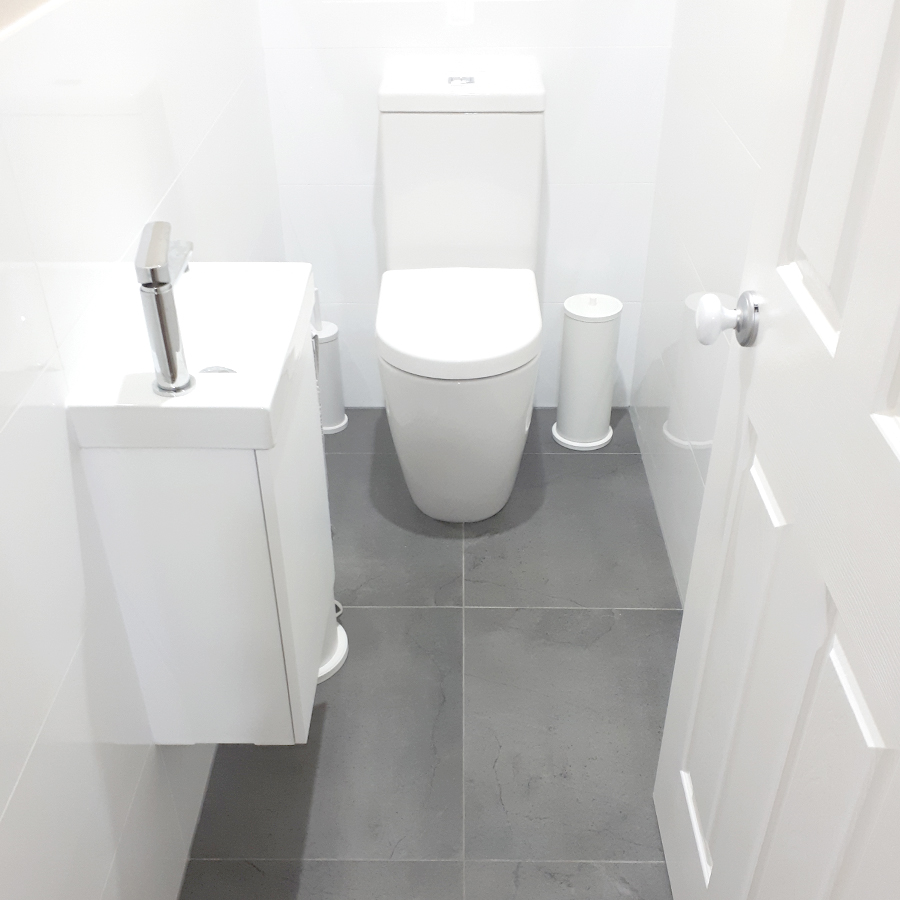 Renovating this toilet we have kept the same theme going with 300 x 600 tiling on the floors and walls. The wall-mounted vanity is a great way to create some extra space in this small room. To make this happen we needed to move some plumbing, but the functional result is an independently operable toilet. Topped off by some gloss-white venetian blinds, who wouldn't want to spend some time in this room?
Bathroom Shower Solution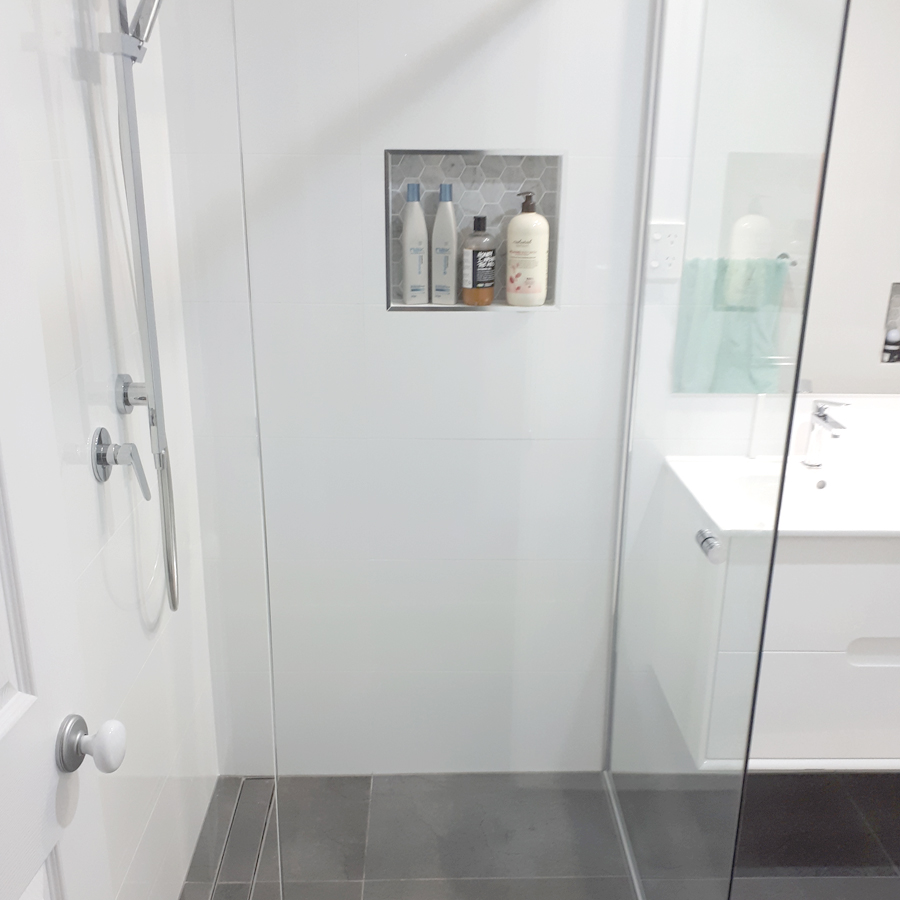 Completed Renovation