Could concrete-look tiles be the solution for your Gold Coast bathroom renovation? This is a popular style and can bring interest and value to your design in part or whole. In this article we'll explore some practical applications of concrete-look tile style for bathrooms, with examples from recent Armrock bathroom renovations. Book a free appraisal and quote with our team for your renovation, or read on to learn more about using concrete-look tiles in your renovation.
What are Concrete-Look Tiles?
Tiles come in a wide variety of shapes, sizes, colours and designs. Since tiling is included in practically all bathroom renovation projects, the style of the tiles you select can make a big difference to the finished result. Concrete-look tiles are tiles that simulate the look of concrete. In combination with the discrete selection of other bathroom elements, concrete-look tiles can help create a range of different looks.
What's Special About Concrete-Look Tiles?
From the design point of view, concrete-look tiles add texture and tone that, generally speaking, creates a more interesting variety of contrasts and aesthetics than plain surfaces. Using concrete-look in design is an industrial style, so-called because they showcase structural & functional elements that were previously hidden out of sight. You can read more about industrial design on decoist.com. Using concrete elements in your design is one way to access this style, and it's special because of it's unique design strength, disposition and texture.
Advantages of Concrete-Look Tiles
There are quite a few advantages when you consider working with concrete-look tiles. Here is a summary of the ones we think are most helpful:
Can be implemented in part or whole
Like any tiling work in a bathroom renovation, concrete-look tiles can be added in part or whole – meaning you can make them a feature or use them to define the bathroom on a broader scale.
Combine well with other bathroom elements
Successful bathrooms are achieved by the combination of elements that work together, and that relate to each other in the right way. A sincere advantage of working with the concrete aesthetic comes from its natural grey tones – grey is a fantastic bridging colour between other common bathroom colours such as gloss-white and silver, and thus easily fits into any bathroom renovation situation.
Versatile Colour Temperature
Concrete come in a wide range of finishes, and the same is true of concrete-look tiles. With the ability to adapt the colour temperature of your tiles to suit your needs, the presence and sense of warmth, or cool in your bathroom can be affected by the tiles you choose.
Easy to Keep Clean
Maybe most importantly – unlike white, concrete greys are easy to keep clean and disguise dirt and grime. Naturally, this wouldn't be a feature of much interest to the average Australian homeowner – after all, who doesn't love cleaning the bathroom!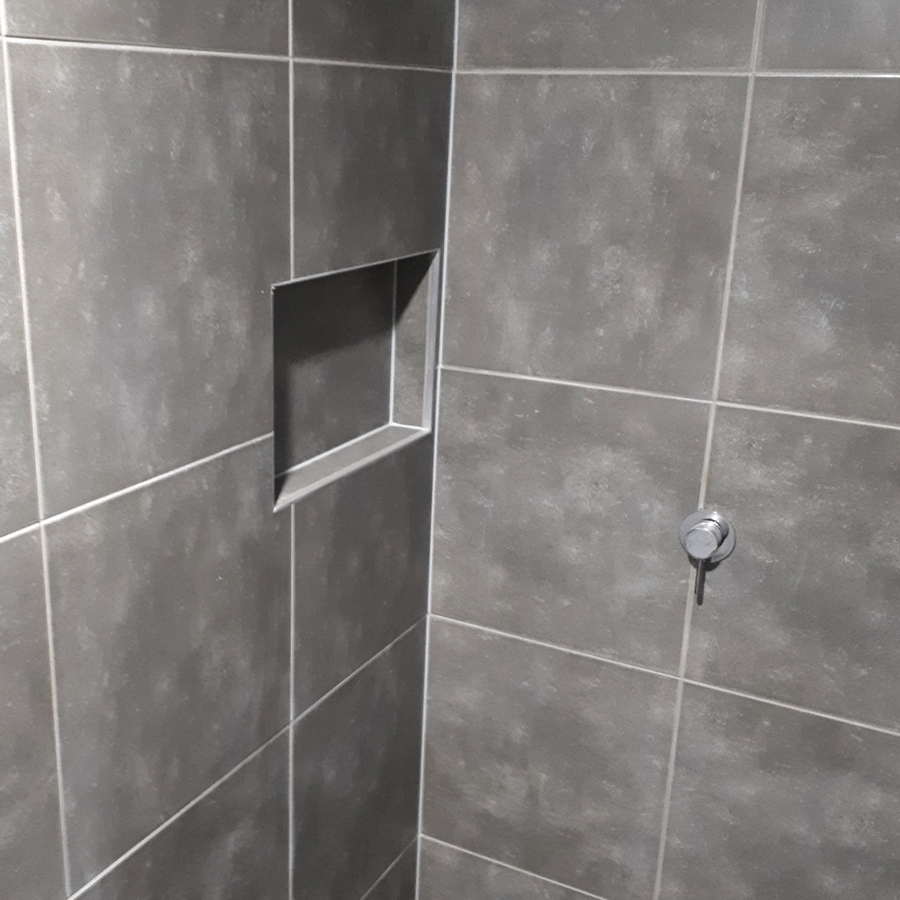 Concrete-Look Bathrooms
A successful concrete-look bathroom includes a juxtaposition of styles. Used exclusively, the concrete look can be overbearing, but when combined judiciously with timbers, glosses, metallics such as silver, and plants or natural accessories, a rich experience is revealed.
Concrete-Look For You?
If you're considering the concrete look, and you're based on the Gold Coast QLD, talk to our team. We provide a free measure and quote, and our team are experts at solving the design challenges of bathroom renovations and achieving outstanding results.