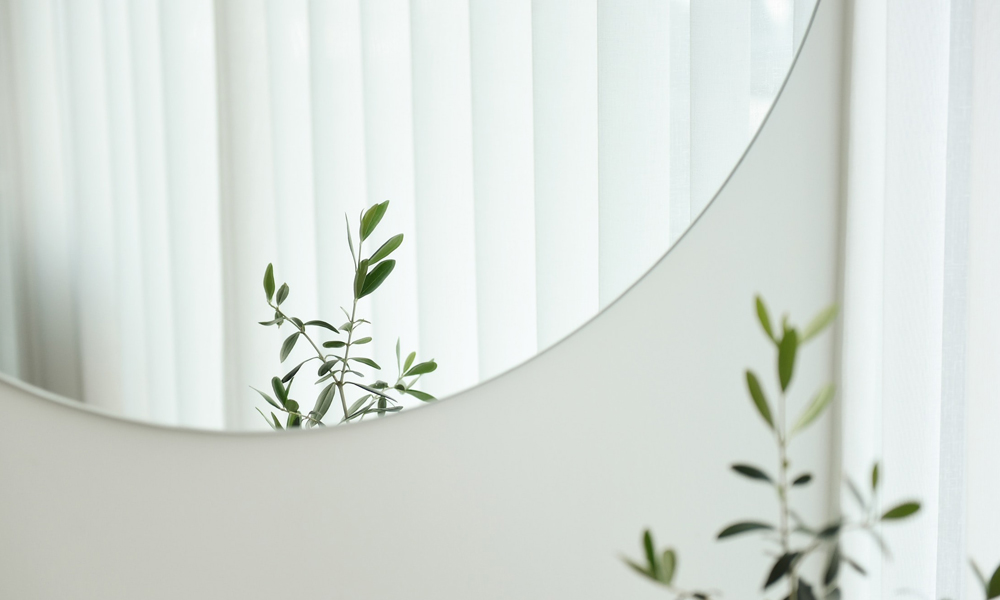 What colour blinds go with white walls? When you're choosing blinds for a room with white walls, does everything work equally well? They're important questions and well worth asking, especially when you consider that the walls of most homes and businesses are white or a similar tone, and this is especially true for bathrooms, where white and light tones are always a favourite.
Get some insight into selecting the best blinds for your white walls with some help from the design team at Armrock Constructions, on the Gold Coast QLD. Enjoy!
What Colour Blinds Go With White Walls – The Easy Answer
The easy and short answer to this question is "all colours". Why? White is a neutral colour, so when you partner it up with any other colour, they just go along together nicely. It doesn't matter what the colour is, or whether it's light, dark, strong, vibrant, or has a pattern. They will work! Whatever you put with white will just go well. Whew!
What matters though, is that different effects can be created by partnering your white walls with different types of blinds.
Because our goal is to find the best blinds for your white-walled rooms, in this article we will explore the way these effects can be created, hopefully giving you some tools to make better decisions when evaluating window-dressings for your home or business.
Why Are Walls White?
Well, have you ever wondered why? Walls could be any colour, so why are they (nearly-always) white? Sometimes it seems that white is almost a default colour for walls. Why is this the case?
Every approach to interior design has advantages and disadvantages. And interpretations are very subjective. It's not that white walls are always the best option – but they are probably the easiest, for these significant reasons:
White walls don't date. Unlike stronger colours or heavy patterns and textures, white walls don't go out of date.
White walls are versatile. The room can easily be updated by rearranging fixtures and fittings like towels, pot-plants, and interior blinds.
White creates space. And a light background creates an open, airy sensation which is not achievable when darker colours are used.
White enables the usage of a wider range of colours. Darker colours limit the options that can be used alongside them.
With white walls, interiors are ready for a variety of design options with less limitations than other more advanced design solutions.
Overcoming the Challenge with White Backgrounds
If everything goes well with white walls, then what's the problem when you're picking blinds or other accessories for the room? The problem is there are too many options! When you're starting off with white walls, there are so many possible combinations it's easy to be overwhelmed. Unlike other colours, there's no immediate colour foothold or guide (for example, a complementary colour) to get started from. So we find ourselves asking, "What's right with white?" and not easily finding an answer, despite there being so many possible solutions.
White is a neutral colour so whether your blinds are lighter, darker, the same, or patterned, they will just 'work' against a white background.
Having too many choices can create issues, especially when we don't have a clear vision of what we want to achieve. A good starting point is to create an impression of the room we're creating as a whole, and to allow the selection of the blinds to contribute to that impression.
The Whole Impression
To get started, it's useful to create an impression of the room as a whole. The way to approach this will depend on where you're at with your renovation. If everything is going to change, then everything needs to be mapped out before any changes are made, to create a holistic design. However, if some things are already established and in place, then these 'known' features will affect the choices you subsequently make. Things to look at:
What type of white are the walls? Are you whites warm, cool, or neutral? Are they matt or gloss? Do they have any texture?
Do the walls have any texture?
What are the other colours in the room?
What is the theme of the bathroom?
It's also important to extend beyond the bathroom to consider the relationship between the bathroom and the rest of the house. You can read more about this in Using Colour to Create a Holistic Bathroom.
Handy Links (External)
Natural Light & Privacy Considerations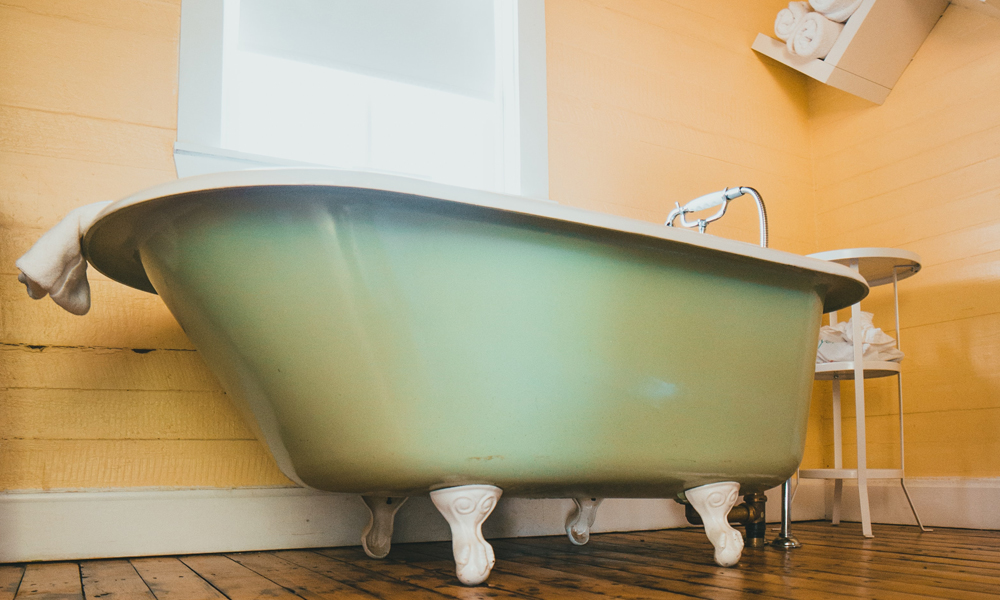 While evaluating the whole impression of the room, don't forget to take into account natural light (through the day) and privacy considerations. After all, these are two of the main functional reasons for getting blinds in the first place. Natural light should always be used to your advantage when possible – what's better than a bathroom flooded with beautiful sunlight? Depending on the aspects of your windows, privacy considerations are always important, especially with bedrooms, bathrooms, and toilets.
The Fad Hazard – a Design Tip
Exciting, dynamic colours that you love today may not be as favourable in 6 weeks – or even 6 days. Things that look really cool because they're different can quickly become tired. The cool thing about blinds is that you can get creative without getting structural – but your decisions should still be somewhat future-proof. You don't want to be rolling back down to your blind-shop in 6 weeks for another round of rollers!
Types of Blinds for Your Bathroom
After coming to terms with the whole impression of the room, including the natural light and privacy considerations, it's time to make sure you're up to speed with the main options in interior blinds. There are fabric-based blinds (such as roller blinds, vertical blinds, panel glides and Verishades) and shutters, which are a solid mechanism for blocking out light and vision. All of these have different purposes, and all come in a wide variety of natural and artificial colours and styles. Key information:
Fabric blinds come in different types of fabric, which determine how much light and vision comes through the blinds. Depending on the aspect of your bathroom windows in relation to your neighbours, you can find a compromise between blinds that allow natural light into the room, and blinds that ensure you have adequate privacy.
The three main fabric types you need to be aware of are blockout (or blackout), light-filtering, and screen fabrics. These all transmit light in different ways. Blockout blinds block out all the light and vision, making them a useful choice when you're dealing with direct light or privacy considerations. Light-filtering fabrics block out nearly-all light and vision, but they do permit some light to filter through. Screen blinds permit both light and vision through the blinds.
With fabric blinds, you will choose a fabrics and a colour / style. Different combinations have different outcomes for the appearance and functionality of the blinds.
Different types of blinds and shutters come in at different price points.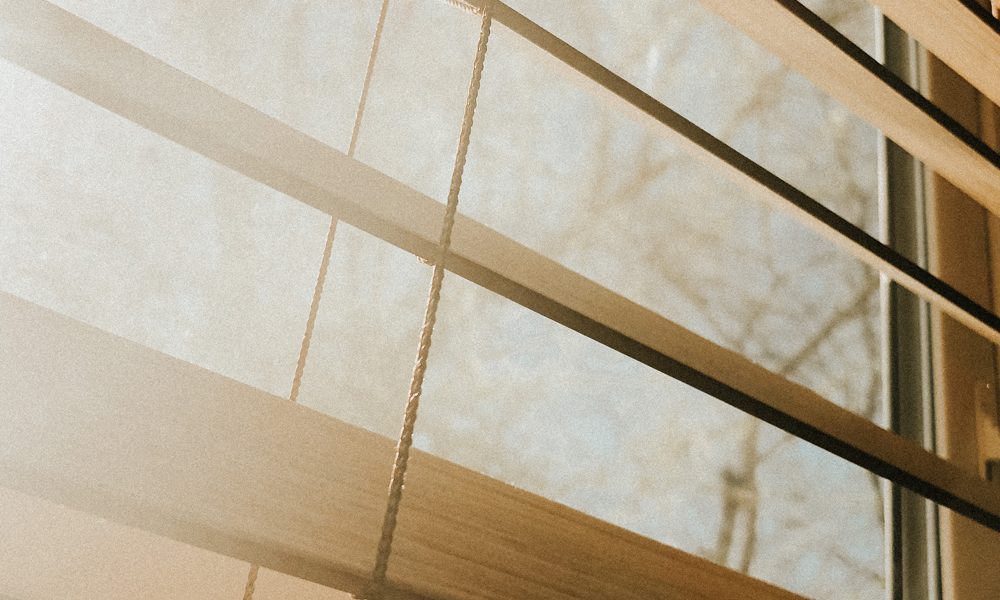 ---
The Importance of Contrast
When it's time to choose the best blinds for your white walls, contrast is an essential aspect to understand and utilise for making decisions. Contrast is how different two things are, and can be low, medium or high. For example:
High Contrast: White walls with black blinds (very different)
Medium Contrast: White walls with a mid-tone colour blind (somewhat different)
Low Contrast: White walls with a light colour, similar to white (similar)
The more contrast you create, the more visual stronger your solution will be.
Low Contrast Solutions
White on white! Alright! Not since the invention of (white) rice has anything been quite as white as white blinds in a white room. When you go with a low-contrast approach, you're minimising the presence of the blinds, since they will be quite similar to the white walls. With this approach, the blinds don't define the room. This is done by things like towels, pot-plants, and other bathroom features. The blinds are a continuation of the existing tones so they don't have any significant visual impact.
White on white concepts include: sterile; classical; minimal; calm; chic; masculine; feminine; corporate; medical; austere. However, with appropriate styling, white-on-white can be made to suit practically any requirement.
After white-on-white blinds, you can look at combinations whereby the colour of the blinds is offset, but not by much, from the colour and tone of the walls. For example: off-whites, creams, mild-greys, beige colours, gentle pastels. Again, these are low-contrast solutions, where the colours used are similar to the white walls, and again, the blinds aren't taking over. With low-contrast, the role of the blinds is to complement the walls.
The Low-Contrast Secret
The low-contrast secret is something to keep in mind when you're selecting your blind colour. By using less contrast (in other words, a colour that is similar to your white walls) it's much easier to arrive at a solution that has longevity and flexibility. The low-contrast secret is to minimise the impact of your blinds, essentially making them part of the background, like the walls. Sometimes in design, doing less achieves more!
Mid-Contrast Solutions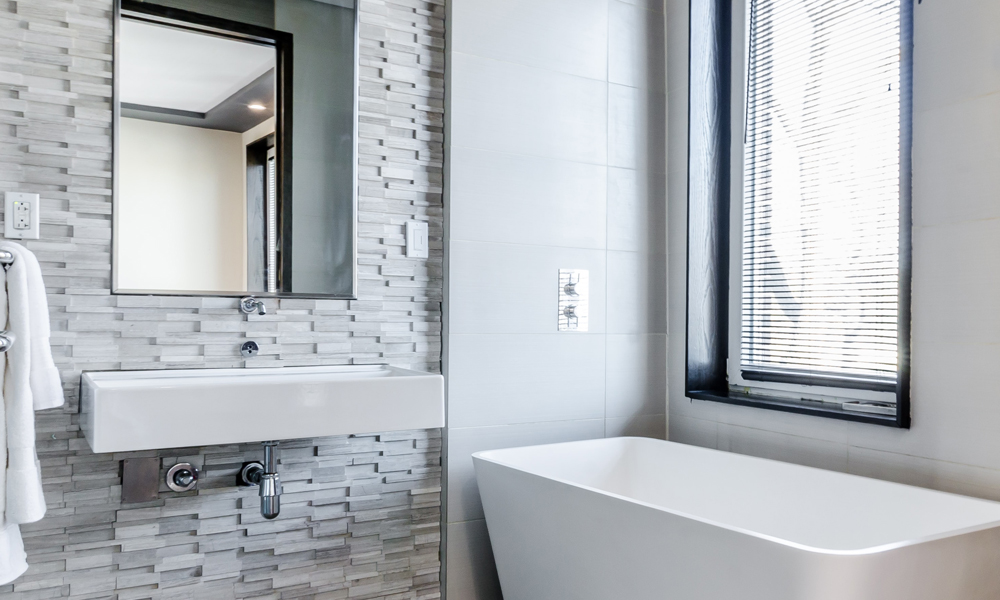 Using stronger colours in your blinds creates more contrast. Mid-tone colours like greens, browns, blues or greys are popular options with white walls – (everything works with white!) but now the impression is stronger and there is a discernible difference between the blinds and the walls. This stronger impression creates advantages as well, such as the anchoring connecting that can be established between blinds and furniture, or the way blinds become mini feature walls in the room. Also, bolder design statements can be made with mid-tones, since the blinds have a greater voice in the room.
High Contrast Solutions
High-contrast interior choices are designed to be noticed, and high-contrast blinds are no exception. The strong impression that is created between high-contrast blinds and white walls will certainly not be for everyone. It leads to be a more sophisticated look, trending towards the expression of individuality more so than the family home or the modern office, because of the strong impression created. High-contrast solutions use colours that are very different to the white walls, so they may be dark, or bright colours, and a variety of effects are possible: classical / elegant (black on white), funky (bright purple!), sophisticated, masculine, feminine, luxurious.
How Much Contrast is Good?
Contrast can be used to create different effects. It all depends on what you're trying to achieve, and how much of your personality you wish to express in your interior design. Lower-contrast is easier to adapt to different styles, whereas higher contrast is more dominant but also more expressive. Contrast is a useful tool to build from for this reason alone. You can ask the question – how much of an impression do I want my blinds to make? Which will guide you into the appropriate realm of contrast to consider.
Handy Links (External)
Texture, Pattern, Fabric & Nuance
Talking about blinds exclusively in terms of colour is a pretty big simplification. Other factors such as texture, pattern and fabric type also have a role to play. They bring depth, interest and functionality to designs with any degree of colour contrast variance. A particular effect to highlight is the fantastic results that can be achieved with screen fabrics, which combine colour and texture towards a uniquely satisfying result, integrating the interior and exterior:
In this way, low-contrast colours can engender a more pronounced, integrated style, than possible if they were a blockout fabric with no transmission of light & vision:
Texture, pattern and fabric can be used to create the effects that really make blinds sing, creating nuanced expressions that don't rock the boat with radical colour contrasts.
---
Achieving Design Goals with Blinds
In the practical sense, interior blinds are a great opportunity to enhance the appearance and functionality of your premises. To help make decisions about the best colour to use with your white walls, and keeping in mind information about contrast, fabric type, texture and pattern, here are some popular interior design goals you can achieve with your interior blinds.
---
Optimising Natural Light
Blinds can be used to stop light altogether, reduce light, or utilise light as part of the interior design. When the latter is achieved well, amazing results are created. This is very much a fabric-choice matter. Privacy is also important and needs to be considered. With double-blind options and multiple different fabric types, there are a wide variety of ways to optimise the way you interiors work with natural light.
Creating Space
When rooms are small, often a design goal is to enlarge the perception of the room but your design choices. Selective use of screen and light filtering fabrics, when appropriate, can help rooms to feel larger because they integrate the interior with the exterior, and utilise natural light. Also, lighter colours are generally more conducive to creating a sense of space than darker ones. by virtue of their connection with the outside and admission of natural light into the room. This isn't always an option, but lighter colours in general are more conducive to a sense of space than darker ones.
Flat Colour with Roller Blinds
A popular & versatile blind, the roller blind is a favourite in Brisbane and often a starting point for people in their quest for the perfect blind. A compelling reason why roller blinds are so popular extends beyond their simple effectiveness – they're also the easiest blind to understand. Flat colour, applied with a roller blind, is a simple recipe with no complications and specific results can easily be achieved. We do great work with roller blinds, but are they always the best solution? It depends on how far you want to take your design.
Create a Mood for a Room
Different rooms have different purposes and different moods. Rooms are used by people, and their purpose can be reflected by interior design choices such as blinds. Colour can make rooms collaborative and cheerful, which may be great for a family kitchen. A bedroom, meanwhile, might be a calmer, restful solution. Blinds don't always have to be the same through the whole home. Sometimes, a variety of different blind colours is the best way to achieve the result you're looking for.
In Conclusion – Measuring the Performance of Your Choice
The right solution depends on who's using it, and how the design affects them. In conclusion, here are some helpful benchmarks by which the success of your colour choice can be measured, which are good to keep in mind when making choices in the first place.
Longevity – How long will your solution remains relevant
Integration – How well does your solution integrate?
Purpose – How does your solution reflect the purpose of the room?
Personality – How much do you need to express yourself in the design?
Free Bathroom Renovation Appraisal
Book your free bathroom renovation appraisal with Armrock Constructions. Work with experienced bathroom renovation specialists & achieve a great outcome for your beautiful new bathroom.