If you're thinking about using tiles in your bathroom or kitchen makeover, you're not alone! There are many reasons why tiles are such an enduring solution for both types of rooms. Used in part or whole, tiles bring a strength of presentation and character to practically all of our Gold Coast bathroom renovations.
In this article, we discuss the reasons why tiles are such a great solution for kitchens and bathrooms.
Brought to you by Armrock Constructions – Gold Coast Kitchen and Bathroom renovation specialists.
What's Involved in a Tile Solution?
Tiles are just one part of a tiled solution. The other components include the bond or adhesive which connects the tiles to the wall or floor, and the grout, which is the material between the tiles. This combination of elements (tiles, bond, grout) are brought together by workmanship to create a tiled solution.
That's important to keep in mind, because from a design point of view, the tiles work together with their grout to create different types of aesthetics.
Protection from Water
A requirement for both bathrooms and kitchens is to contain the use of water. Failure to contain water creates a risk to timber structures which deteriorate over time when they're exposed.
Tiles are a great option from this point of view. The right tiles, professionally installed, create an external layer to control and limit the spread of water – an essential consideration in kitchens and bathrooms.
Predictable Underfoot
Given the nature of bathrooms and kitchens as wet areas, it's important to implement a surface which is predictable underfoot whether it is wet or dry.
The safety of flooring is important and with modern, purpose-designed flooring tiles it is straightforward designing a suitable solution.
Design – Connecting The Room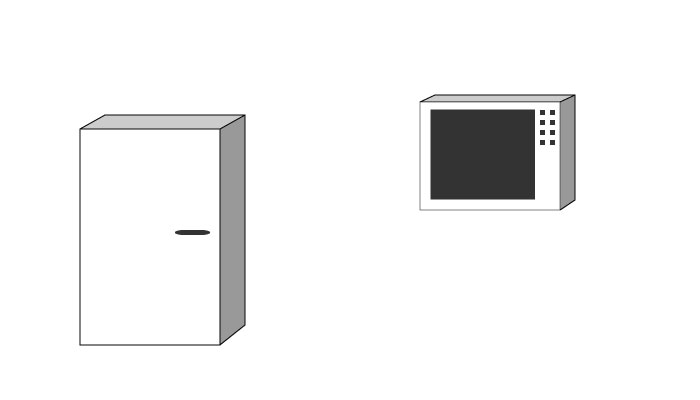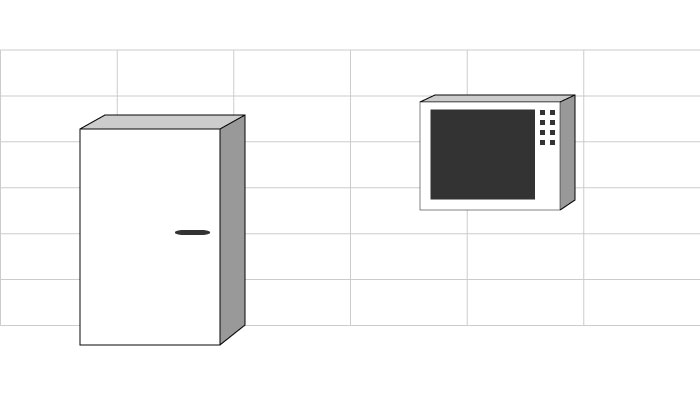 Both kitchens and bathrooms include a variety of elements which may have little in common. Sizes, shapes and sometimes styles in fixtures and fittings will always be acquired for an optimal result, but within a given room they may need to work hard to achieve something in common. Tiles can help.
When tiles are laid they create a grid which can be very strong or barely there – but either way, a grid is created. This grid has an important effect in the room because it creates a subtle framework to connect different items.
This creates a sense of unity in the room which would otherwise be absent. Here is a simple example illustrating this in action:
Irrespective of any functional role, the ability of tiles to connect different items is a helpful attribute in styling kitchens and bathrooms. Tiles bring rooms together!
Design – Aesthetic Depth
Tiles have a wide range of looks and styles. Texture, depth, pattern, colour – all of these can be varied when using tiles. This gives renovators access to a library of options that can't be achieved any other way.
There's a tile for every situation, and sometimes there are too many choices to make. Our team is here to help. We know what works and can help you select the best tiles for your project.
Cues for Room Flow with Tiling
Whether you opt for square tiles or rectangular tiles, the room will still be the same size and shape. However, it may not feel the same. Tiles create patterns which have an impact – especially when you're considering how a room should flow.
This consideration is especially relevant in rooms with more than one entry. Tiles can be used to describe movement patterns within the room.