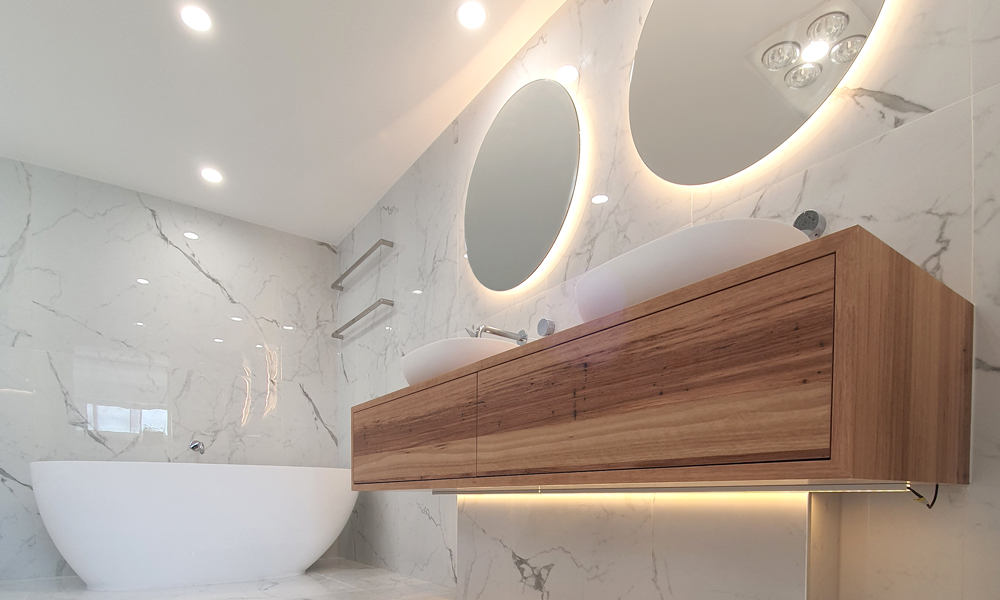 Whether you're undertaking a kitchen or bathroom makeover, tile selection is always one of the most important decisions you will need to make. Tiles impact the style, functionality and budget of your makeover project. Armrock Constructions specialises in bathroom renovations on the Gold Coast, and we are here with a wide range of options to assist you including tile selection, purchasing and installation. Read on to learn more about tiling in your renovation project, or book a free renovation appraisal and quote with our team today.
How Armrock Can Help
Armrock Constructions provides a total bathroom renovation service – our team includes all tradespeople necessary to complete a bathroom renovation. You can learn more about this on our services page. No bathroom renovation would be complete without tiling, and our team is here to ensure you are able to connect with the right tiles and skills needed for your project.
Tile Selection Process
When it's time to select your tiles for your renovation, our team is here to help. Talk to us to get some expert input into your project – we can inform you on the advantages of different approaches, and guide you to our local tile distribution (Gold Coast) who will be able to help you organise the tiles you need for your project. It's always best to look at tiles when they're laid out (rather than looking at small samples) so you can get a proper appreciation for how they look when they're occupying a larger space, such as a wall.
We can also advise you on tiling solutions that are popular and ones that have longevity. Some options are enticing but quickly tire. We can help you find the right tiles for your bathroom and also creating a specific style in combination with other features, such as fixtures and fittings, for a more complete and lasting style.
In the example below, we've used a mosaic wall tiling in conjunction with brushed-brass tapware, a circular mirror and a custom vanity unit. Learn more about this project here.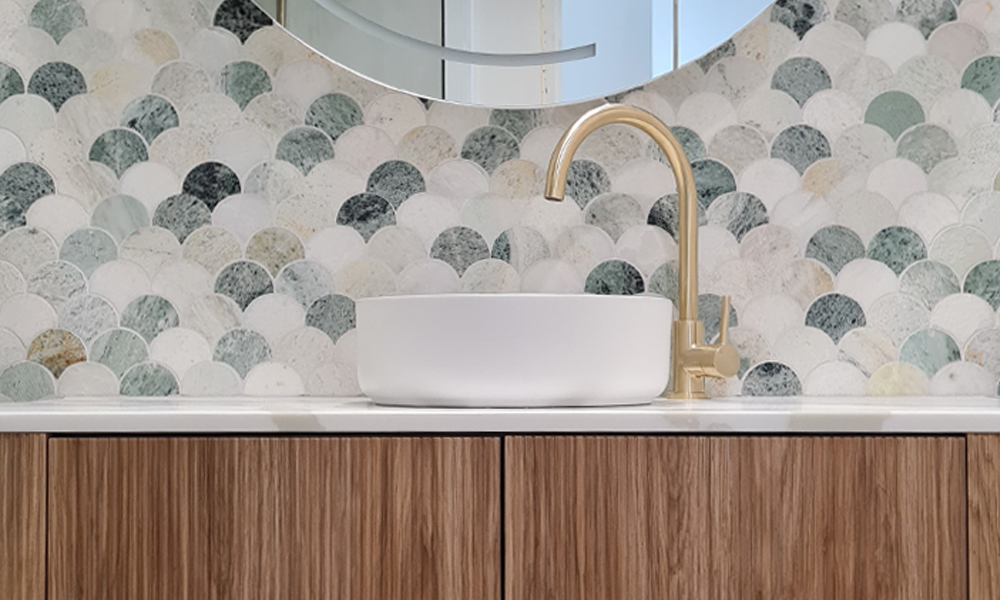 Budgeting For Tiles
Tiles come in a wide range of sizes, qualities, and prices. From the point of view of budgeting for your renovation, it's important to carefully consider your choice with tiles and how this will impact your total renovation. The great thing about the wide range of choices in tiles is that you can adapt your tiling to suit your budget, as long as you are willing to compromise on stylistic aspects to some extent. We can help you connect with local providers who provide great prices for tiles – just ask our team for help with this.
Tiling in Your Project
Tiling is an important part of any renovation project, and involves a sequence of stages, all of which must be undertaken in order and some of which require a period of waiting before undertaking the next stage. Because Armrock Constructions organises the entire renovation project for you, we can optimise time consuming tasks such as tiling to fit in with other works as efficiently as possible.
Using Tiles for Your Splashback
Tiles are a great solution for splashbacks – whether as a continuum of your tiled bathroom walls or as a distinct tiled section. In a bathroom renovation, you may also consider other options such as a laminated splashback, or other materials such as acrylic or glass.
Marble Tiles
Marble-look tiles are a popular Gold Coast renovation trend which create an amazingly opulent effect for any bathroom. Marble swirls bring old-world style into the modern bathroom, and our tilers can deploy this effect in a variety of different looks, with tiled niches and LED illumination to really set off the marble effect.
Tiling in Your Bathroom Renovation
Armrock Constructions specialises in bathroom renovations in the Gold Coast QLD and tiling is an important part of most of our projects. Apart from including tiling as part of our service, we work with our clients to help them come to terms with the implications of different choices in tiling, tile options, and strategies to maximise the impact of tiling in the renovation space.
Organise a Free Quote for Your Bathroom Renovation: