No two renovation projects are the same, and one of the reasons our clients love working with us is our flexible approach. With our expertise, experience and team on the job, we guide our projects towards an optimal resolution, working closely together with you to make sure everything is just right. On this job, we have elevated the impression of this Gold Coast property with an elegant, simple upgrade. Check it out:
Detail: Custom Vanity Unit
A custom vanity unit has a number of advantages. Leading the pack are the ability to customise the vanity to suit the available bathroom space and the ability to optimise the vanity to fit in with the rest of the renovation. The options around custom vanities are wide-ranging. You can talk to our team about tapware, basins, benchtops, drawers, cupboards, and handles. Best of all, we can help you to take your vision and turn it into a reality. Learn more about custom vanity units with Armrock Constructions here.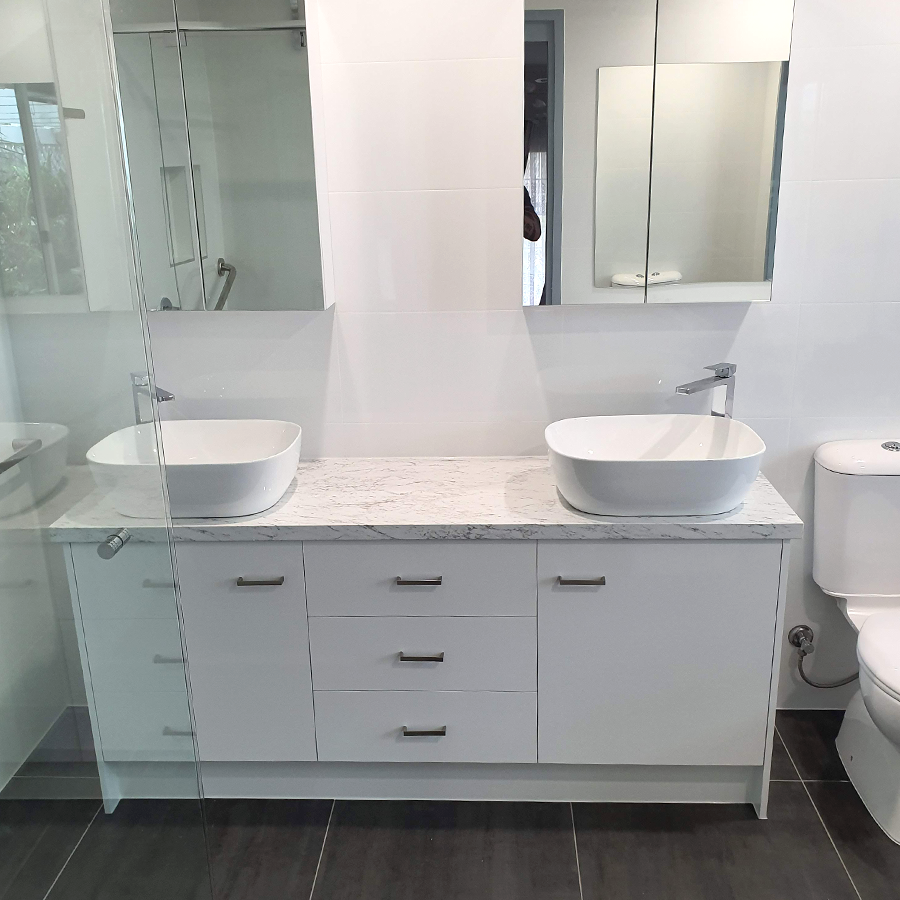 Detail: Ornate Chair
In the quest to install personality in bathrooms, thinking often stops at popular inclusions such as standard fixtures and fittings. The inclusion of a chair is a great way to lift the room and has functional benefits as well. A great benefit of bringing a chair into the bathroom design is the fact that it's not fixed – you can change it up which will make the room feel different again. In this renovation, our client has opted for an ornate iron chair which creates visual interest and brings old-world charm into the bathroom design. Plus, who wouldn't like a custom make-up station as part of their bathroom?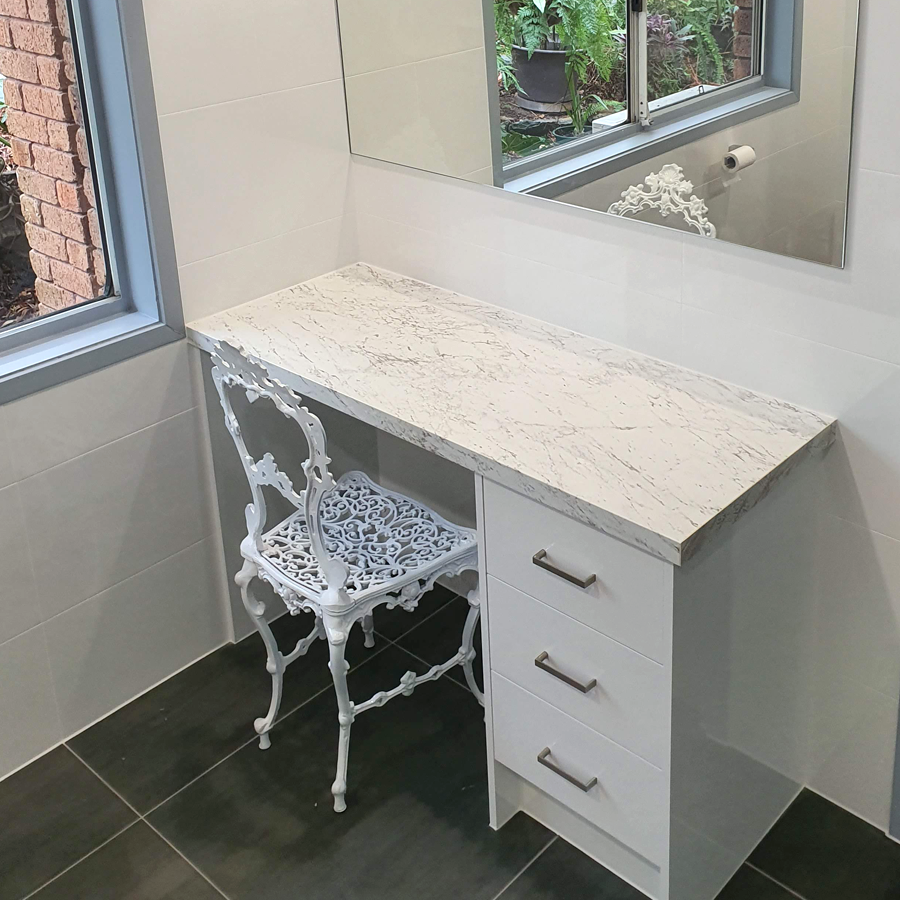 Double Mounted Basin Vanity
This is a popular bathroom design trend our clients are loving at the moment. Mounted basins reinforce old-world notions and combine with more modern bathroom elements for a juxtaposed style that makes a statement. With separate mirrored wall cabinets, there will be no confusion about toothbrushes and if the family is in a rush, there's plenty of room for everyone!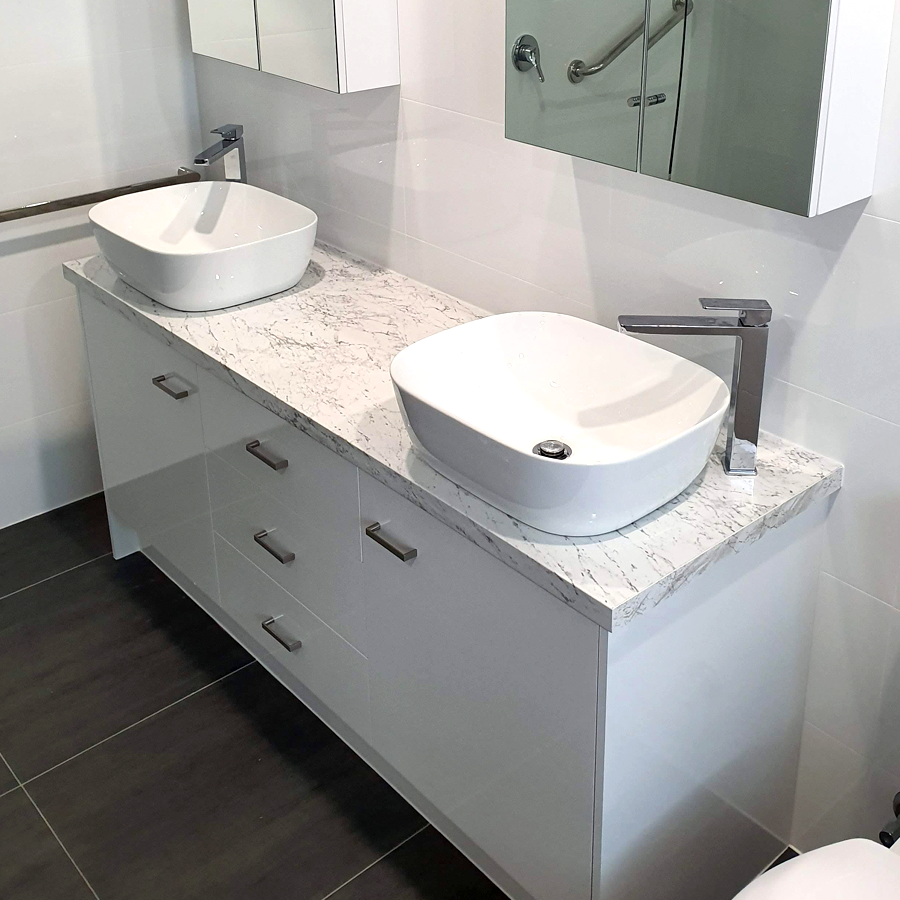 Connecting Your Bathroom
Looking beyond the interior isn't always possible, but it can be truly advantageous to be able to integrate your bathroom with the outside world. The main restraint on this is usually due to privacy considerations, but in this Gold Coast renovation, it was not only possible but achievable. The garden creates a lovely contrast to the interior and the ornate iron chair also enjoys a relationship with the latticework. This type of thinking elevates this simple renovation into something on another level!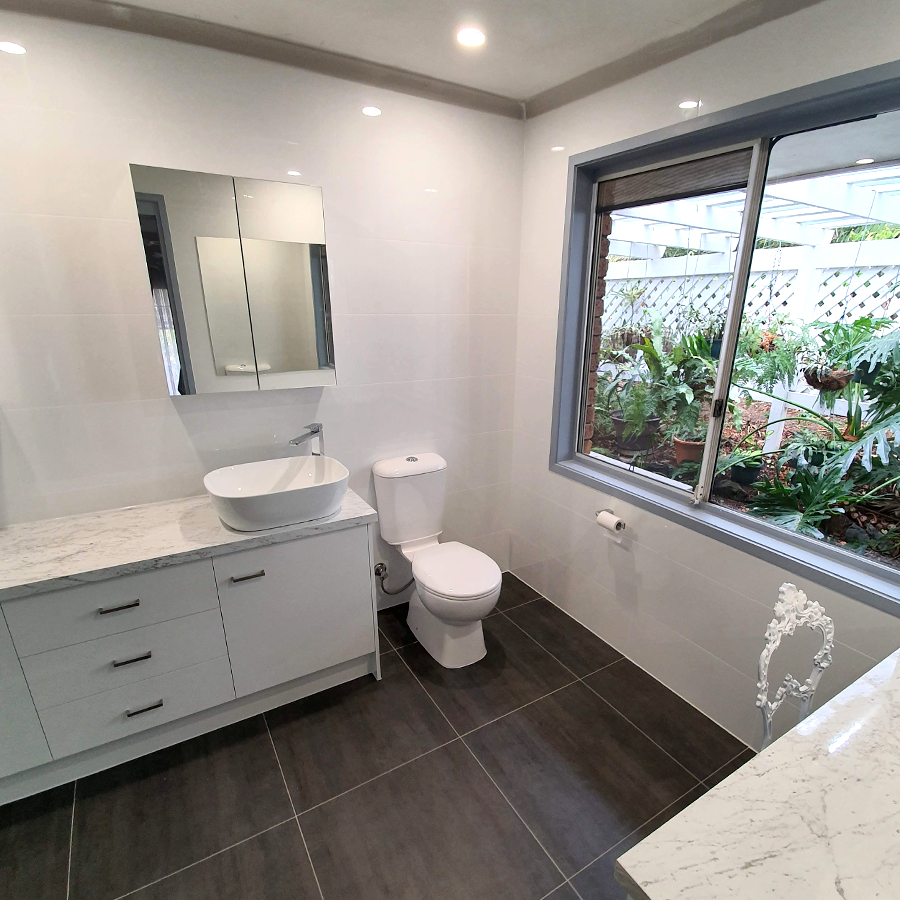 Bathroom Renovations Gold Coast
If you're looking for a bathroom renovation on the Gold Coast, talk to the team at Armrock Constructions today. With flexible solutions, an experienced team and a can-do attitude, we're determined to simplify the renovation process for our clients and achieve outstanding results as well.