Armrock Constructions specialises in bathroom renovations on the Gold Coast QLD. A tiled niche is a great addition to a bathroom that adds functional value to the design. In our recent Gold Coast bathroom renovations, we're finding tiled bathroom niches to be a popular addition. In this article we're going to explore this option, with examples from our projects.
What is a "Niche"?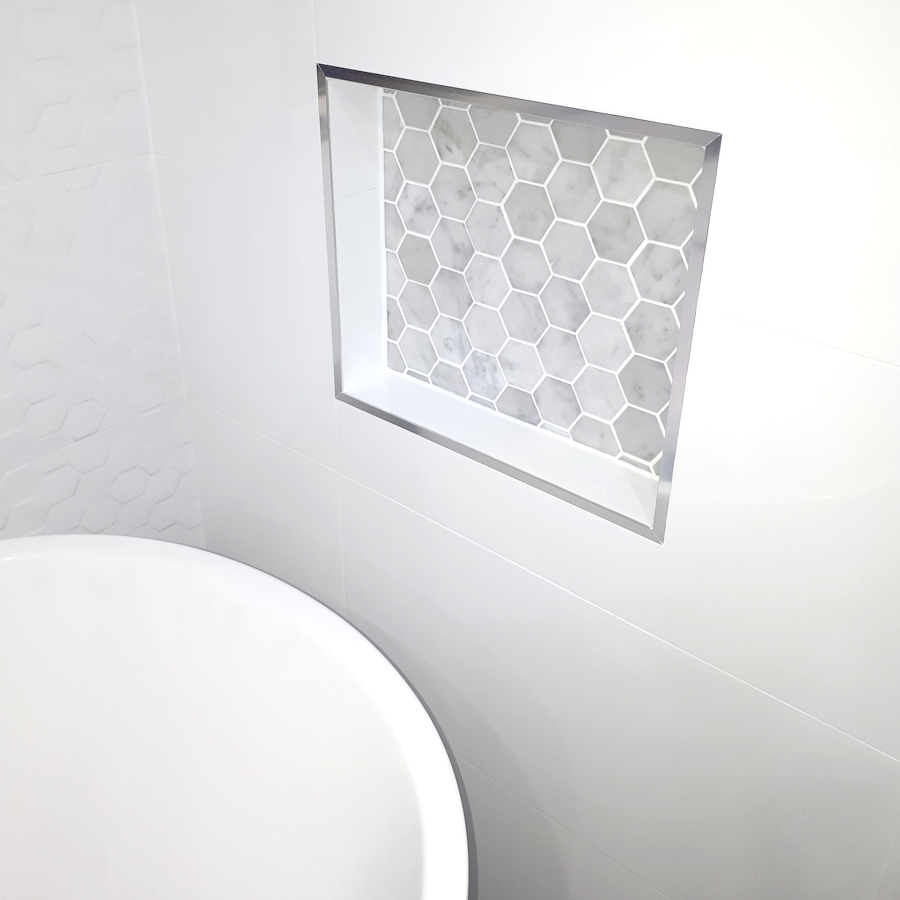 A 'niche', 'cavity' or 'recess' is a step into the wall that basically works as a shelf. In a shower, this shelf may hold common items like shampoo and soap. A niche is a built-in attribute that forms a sturdy and practical shelf on which to place items.
Advantages to a Bathroom Niche
Niches perform the function of storing items in bathroom walls, but they're not the only solution. Other popular methods include:
Built-in niche
Built-in shelf
Removable holder / shelf
Niches have advantages over all of these. Unlike a shelf, niches don't extrude – they're set into the wall. Temporary solutions, on the other hand, are either hung or fixed with suction caps. Despite manufacturing promises, these plummet to the ground at the most inopportune moments, sending soap and shampoo flying – or coffee and beer, when misused by certain family members who insist on consuming these while showering.
LED Illumination
A popular trend is LED-illuminated niches, as can be seen from this recent bathroom project. These offer a designer-flavour to your Gold Coast bathroom and are a fantastic complement to Armrock's tiled niches. Because our team includes all of the bathroom renovation trades, our builder-led team can handle your tiling, your tiled niche, and your LED illumination – as well as everything else too.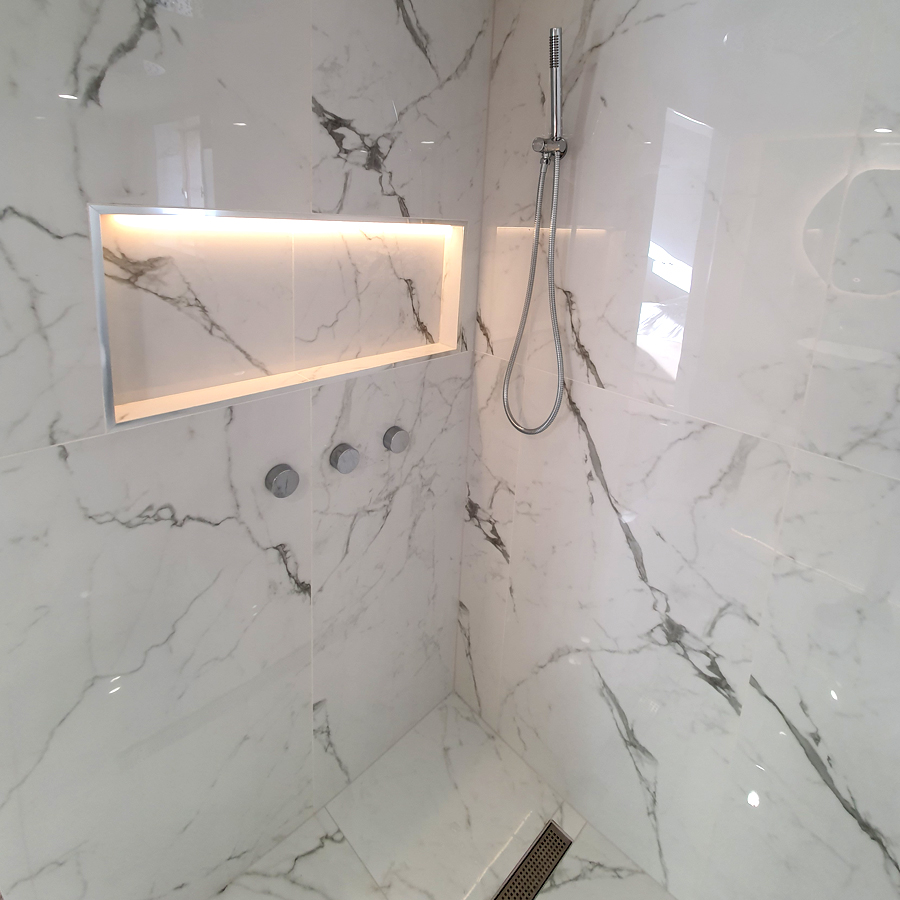 Types of Bathroom Niches
Bathroom niches come in three variants – prefabricated units, custom-made niches, and tiled bathroom niches. Prefabricated niches are purchased ready-made and come in a variety of designs. Custom-made niches are made to order. Tiled bathroom niches are a custom-made niche that's made with tiles.
Tiled Bathroom Niche Design
First and foremost, the advantage of a tiled-bathroom niche is in the design. It's an opportunity to create depth and interest in the bathroom. The niche itself makes a design contribution, which can be enhanced by the type of tiles used. These may be the same as the rest of the wall or a subtle, or significant contrast can be created.
There is also the opportunity to echo themes present elsewhere in the bathroom.
In the above example of our Gold Coast renovation work (Hexagonal Tiled Bathroom Niche) we've used hexagonal tiles within the niche which reflect the same pattern on the feature wall for repetition and continuity:
Tiled niches are fast becoming an Armrock signature. They're a popular, practical option. A tiled niche creates a feature from an everyday item and because the niche is drawn from the same tiles as rest of the wall, an inherent compatibility is created so that the feature comes from the wall and is of the wall.
That means the niche looks like it was meant to be there, while at the same time giving more interest to the bathroom as a whole.
Niche Location Options
Tiled niches can be placed anywhere they are useful in the bathroom. We generally install them within the shower or next to the bath specifically for the purpose of holding shampoo, soaps, sponges and other bathing accessories.
Tiled Shower Niches
Tiled shower niches create interesting effects. Set into the grid created by the existing tiling, the result is three dimensional. Even when the same tiles are used, as is the case in this example, the tiled shower niche makes for a more visually interesting impression.