Bathroom design changes over the years. Here's our top-ten bathroom renovation trends from recent projects we've done on the Gold Coast QLD.
1. Timber-Style Laminates
Access the look of a variety of timbers at a fraction of the price with a timber-style laminate benchtop. We're achieving some amazing results working with modern laminates, some of which now include texture for a complete result. Learn more about timber-style laminates here.
2. White & Grey
White and grey is a modern colour scheme that's popular – and timeless. The style of white and grey adds value to any kind of bathroom renovation, especially when so many fixtures are white anyway. See it in action in this renovation, or learn more about working with gloss white here.
3. Tiled Wall Niches
Tiled Wall niches help create space, simplify storage and add design flair to even the simplest bathroom. Learn more about our tiled wall niches here.
4. Concrete & Silver Style
Concrete and silver bring an industrial style to bathroom design which can compliment modern home design in different ways. It's popular at the moment, especially with polished concrete tiles being readily available. Check out this renovation to see the results when paired with a timber-style benchtop.
6. Monostyle Accents
Monostyle accents is achieved when you use one style for all of your fixtures such as door-handles, vanity-handles, tapware, rails, plugs, and drains. Using monostyle accents helps to achieve a continuity through the design and a modern style. There's an example in this black and white bathroom renovation.
7. Saving Water
Being more conscious of our choices with fixtures & fittings is important to achieve a bathroom that is functionally sound and also environmentally conscious. Learn about the WELS scheme and selecting water-friendly bathroom products here.
8. Round Mirrors
Round mirrors are a fantastic way to integrate your bathroom design without overwhelming it. Whether you use or or two round mirrors, they're a great way to enhance your bathroom and get you on the road to renovation. Learn more about round mirrors here.
9. Large Tile Sizes
Large tiles are in! That doesn't mean they will always be the best option.. but it's worth considering how they might add value to your renovation.
10. Table-Mounted Basins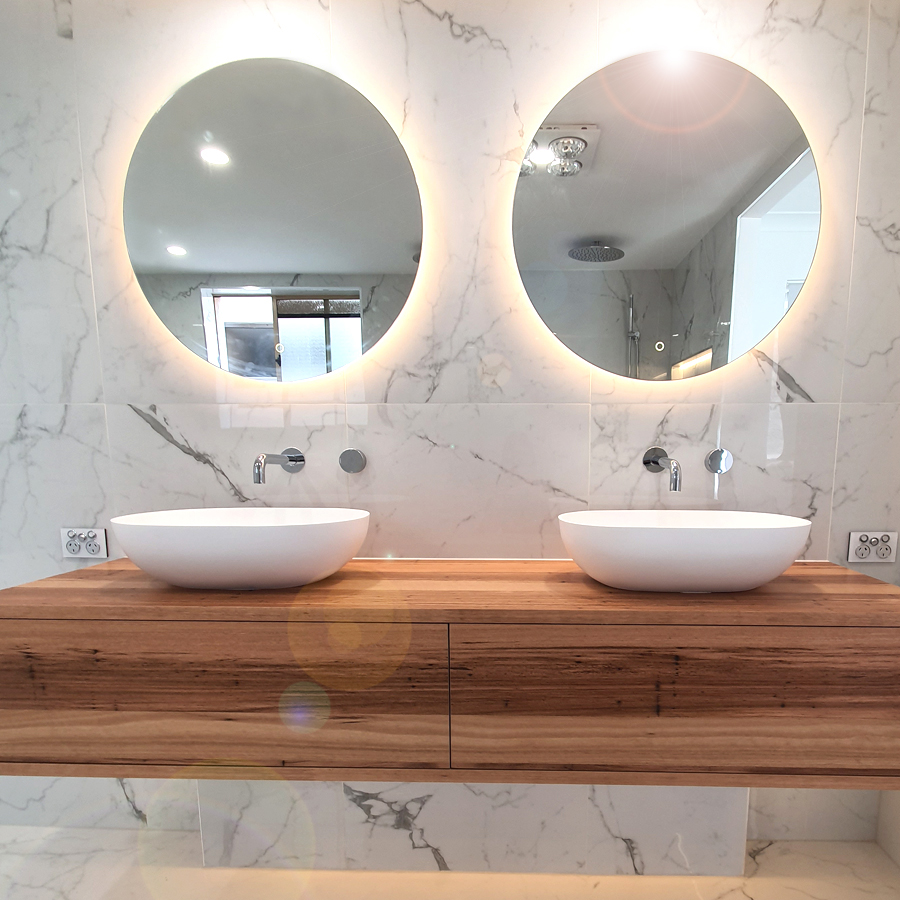 Raising the basin above the vanity creates an immediate standout result. Paired with the right tapware, this lifts bathroom design with a modern take on an old idea. Learn more about Armrock's custom bathroom vanities here, or visit Marble Tiled Opulent Bathroom Renovation to see more images and information about the project pictured above.